This is part of my ongoing series in which I compare four translations of Final Fantasy VI with the original Japanese script. For project details and my translation notes from Day 1, see here.
After some initial setup, the game opens up and lets the player freely explore the world. This makes it hard to specify where each article starts and ends now, but I'll try to do my best to keep things organized. For this article, we'll be starting from the beginning of the World of Ruin and ending shortly after getting the airship and finding Cyan.
Video Archive
This article covers content from two and a half live streams. You can see the archived videos here:
Notes
My notes below are just a fraction of all the translation topics I covered during this stream. So if you want to see more changes, mistakes, and such, check out the first half of the video above.
English-speaking fans of Final Fantasy VI use the terms "World of Balance" and "World of Ruin" to refer to the two different parts of the game. I don't know where I picked up the terms, but even I remember using these names back when the game was released.
Whenever this happens, my first instinct is to check the popular magazines from the time. And indeed, it seems the official English strategy guide used those specific terms with strength:
I never owned the official guide until now, so I can only assume I encountered the name via an issue of the Nintendo Power magazine. I'm curious, though – do you remember how you first came to know the "World of Balance" and "World of Ruin" terms? Let me know in the comments!
Anyway, a reader was curious about what terms are used in Japanese. I checked my big stack of official Japanese guides and materials and there doesn't seem to be a specific term for either thing. At most, they're referred to as something like "pre-destruction world" and "post-destruction world", but even then there are variations on how those phrases are written in Japanese. In short, there don't seem to be specific terms for these two worlds in Japanese, at least not in the same way that there are specific terms for them in English.
One of the biggest and most famous changes in Final Fantasy VI's Super NES localization happens here. Basically, the world has been torn apart and Celes and Cid have been on a deserted island for about a year.
Once you take control of Celes, you're able to nurse Cid back to health or let him suffer and die. If Cid dies, then Celes is filled with sorrow and runs to a cliff on the north side of the island. In the Japanese version, she jumps off the cliff to commit suicide. In the Super NES version, text has been changed and moved around to indicate that jumping off the northern cliff is a good way to cheer up when you're feeling down. This change was done to comply with Nintendo of America's content policies about death and depictions of death.
Editing or removing the entire scene would've required a lot of technical work, so the simpler alternative was to leave the scene in but change all the surrounding text to change the reason for Celes' jump. Despite these changes, I seem to recall that fellow Super NES players could still tell that something wasn't right. Some of the old FAQs from back in the day saw right through it and talked about her trying to kill herself. Even the official Nintendo Power guide phrases it in a way that suggests Celes was doing more than trying to "perk up":

Meanwhile, one of the unofficial strategy guides just comes right out and says it:
All this is to say that despite Nintendo of America's content policies, the changes to the scene were hardly convincing.
These changes were dropped in the Game Boy Advance translation a decade later. The fan translation sticks close to the original text, but it does make a number of translation mistakes while doing so. For all the details about specific lines, see the video archive listed above.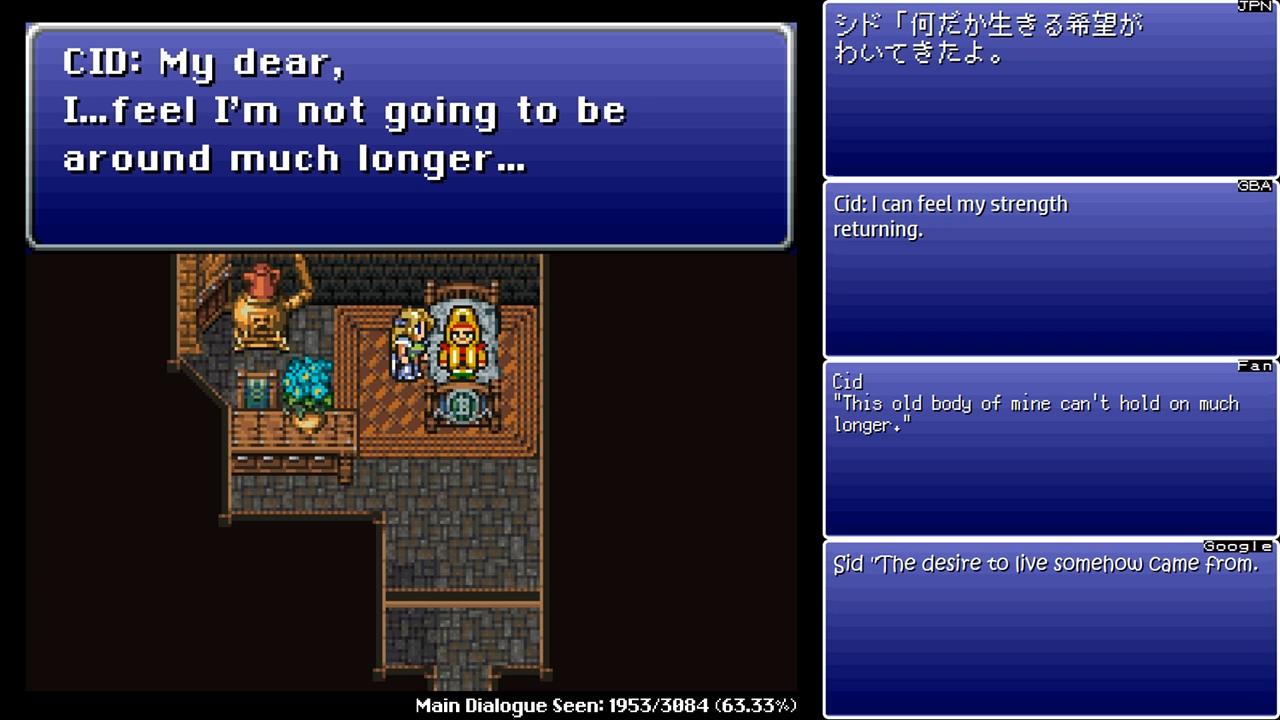 If you work hard to keep Cid alive, he'll eventually say in Japanese:
I'm somehow filled with the hope to live.
The Super NES version of the same line says something very different:
My dear, I… feel I'm not going to be around much longer…
That's the exact opposite of what he's supposed to say! And we can see that the fan translation is simply a rephrasing of the incorrect Super NES line. The Game Boy Advance version of this line doesn't mention hope, but it at least gives the player the correct impression that Cid's health has improved.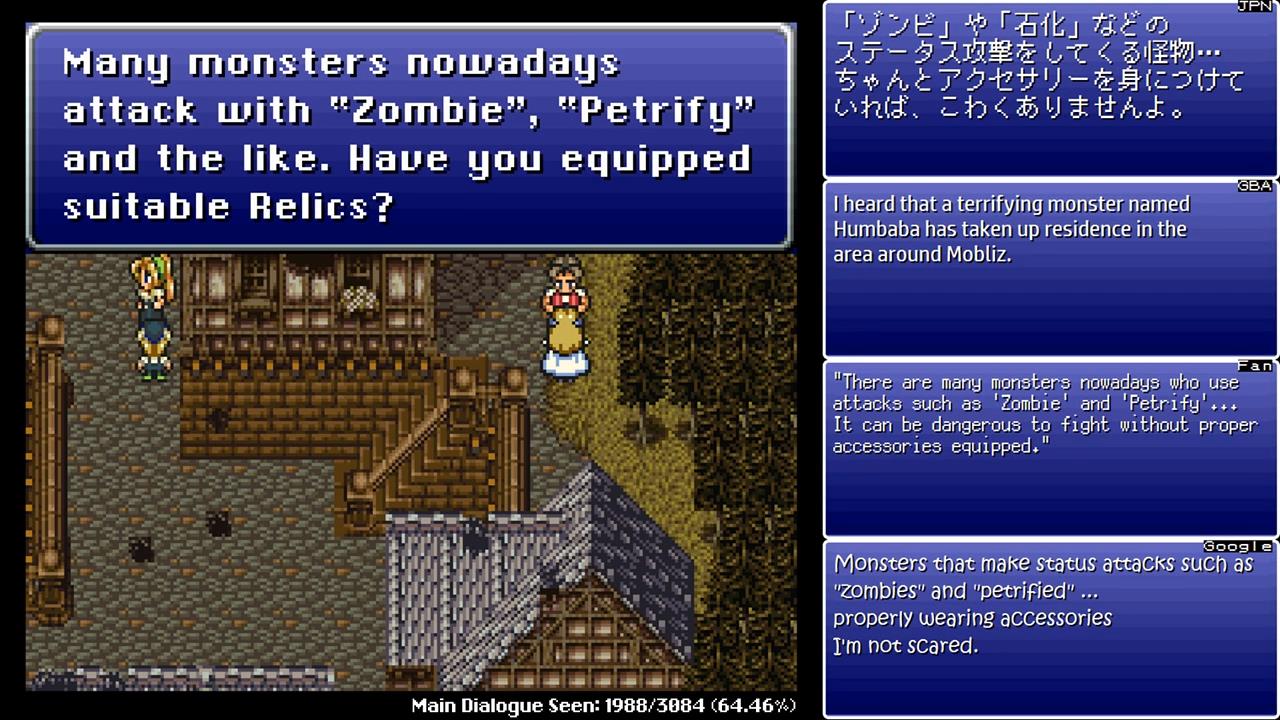 In the Japanese Super Famicom version, this character gives you advice about using relics to avoid dangerous status ailments that enemies can inflict. The Super NES translation and the fan translation also give this same advice. The Game Boy Advance version of this line has been completely changed though – instead of giving advice about equipment, he mentions recent events in a different town.
Out of curiosity, I checked the Japanese GBA version of the game and it too has been changed in the same way as the English line.
| | |
| --- | --- |
| | |
| Japanese GBA script now talks about Mobliz | English GBA script also changed to talk about Mobliz |
I wonder how many other lines from the original Japanese release were changed like this for the GBA release. If you know Japanese and are also interested, I found a list of Japanese text changes here, but it doesn't appear to be comprehensive.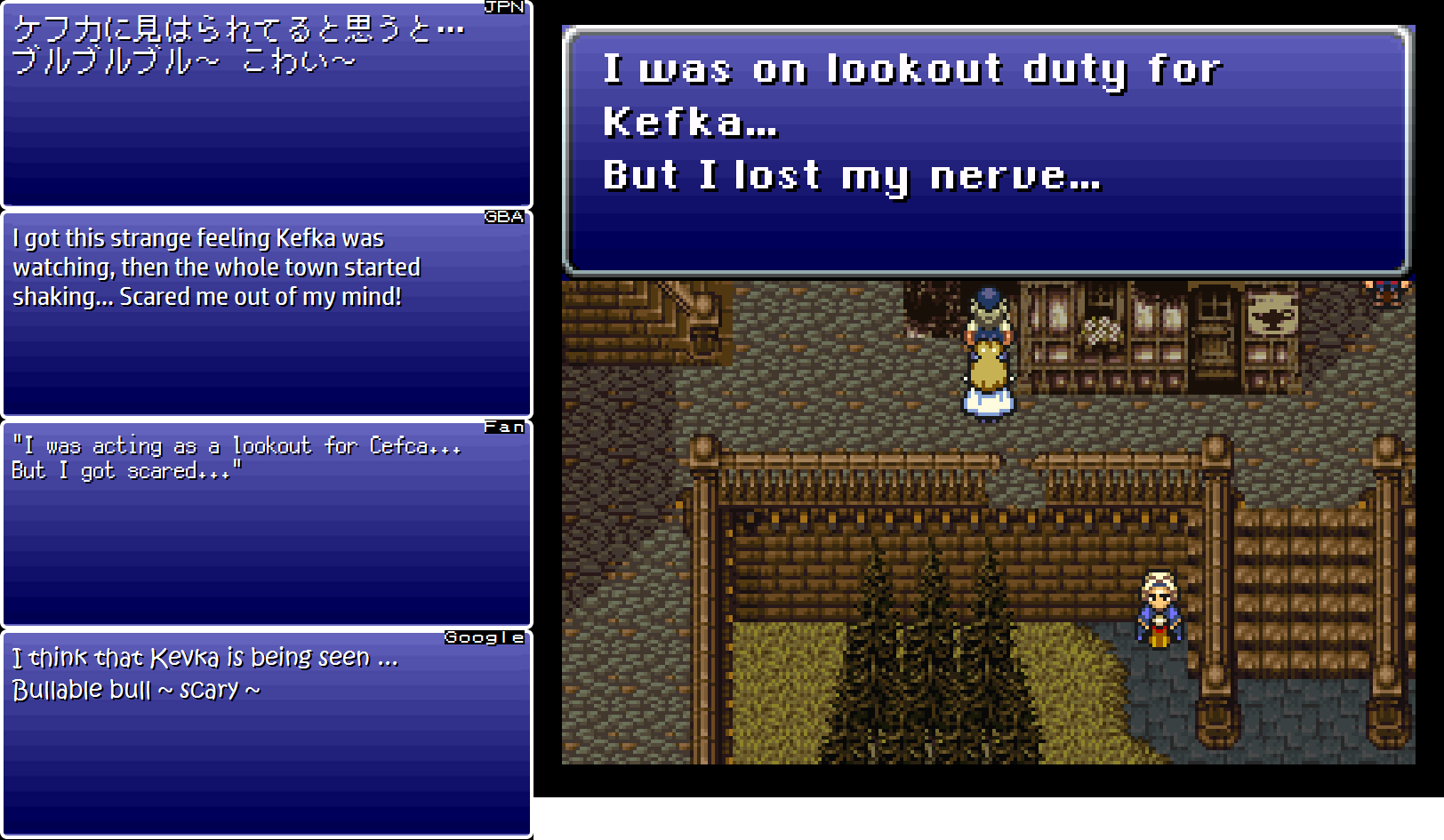 This man in Tzen says in Japanese:
Whenever I think about Kefka keeping watch over us… *shiver* Talk about scary!
The Super NES translation gets this line exceptionally wrong. You can kind of see how the mistake came about, though: Kefka is mentioned, the idea of keeping watch is mentioned, and the guy talks about being scared. It feels like the Super NES translator was racing through this line like a student rushing to finish their homework while the teacher is collecting it. The fan translation is a rephrasing of this faulty Super NES translation.
The GBA translation goes a slightly different direction with the translation, but the translator took it to mean that the whole town was shaking rather than just the man himself shivering. As far as I know, the Japanese phrase ブルブル (buruburu) is only used for people trembling/shivering/shuddering, so this feels like a mistranslation to me as well.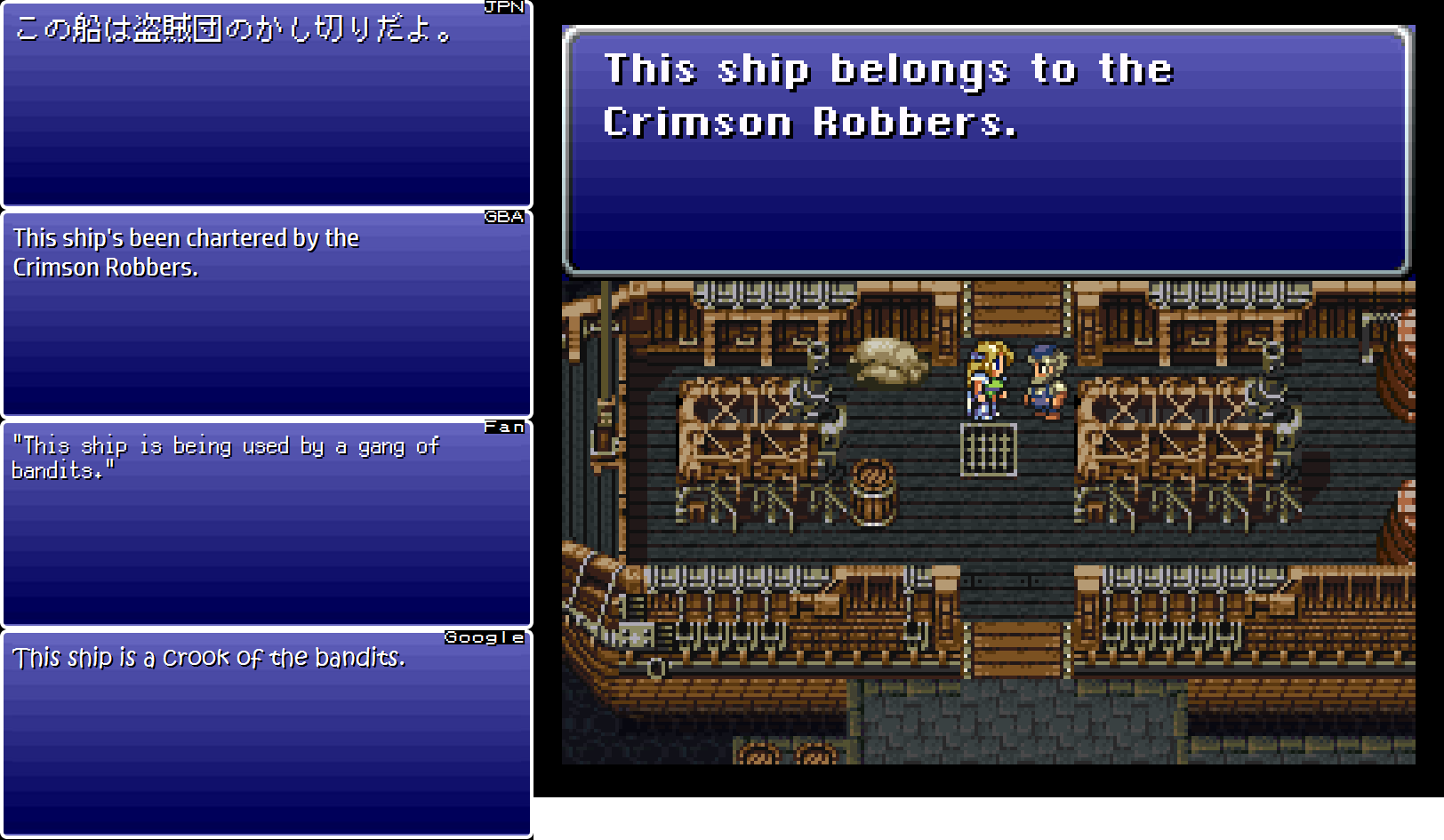 A bunch of bandits team up to steal back their treasure from Castle Figaro. In the Super NES version, these bandits call themselves the "Crimson Robbers". They don't have a group name in the Japanese script, though – it was an addition by the Super NES translator. The GBA translation retains the new name.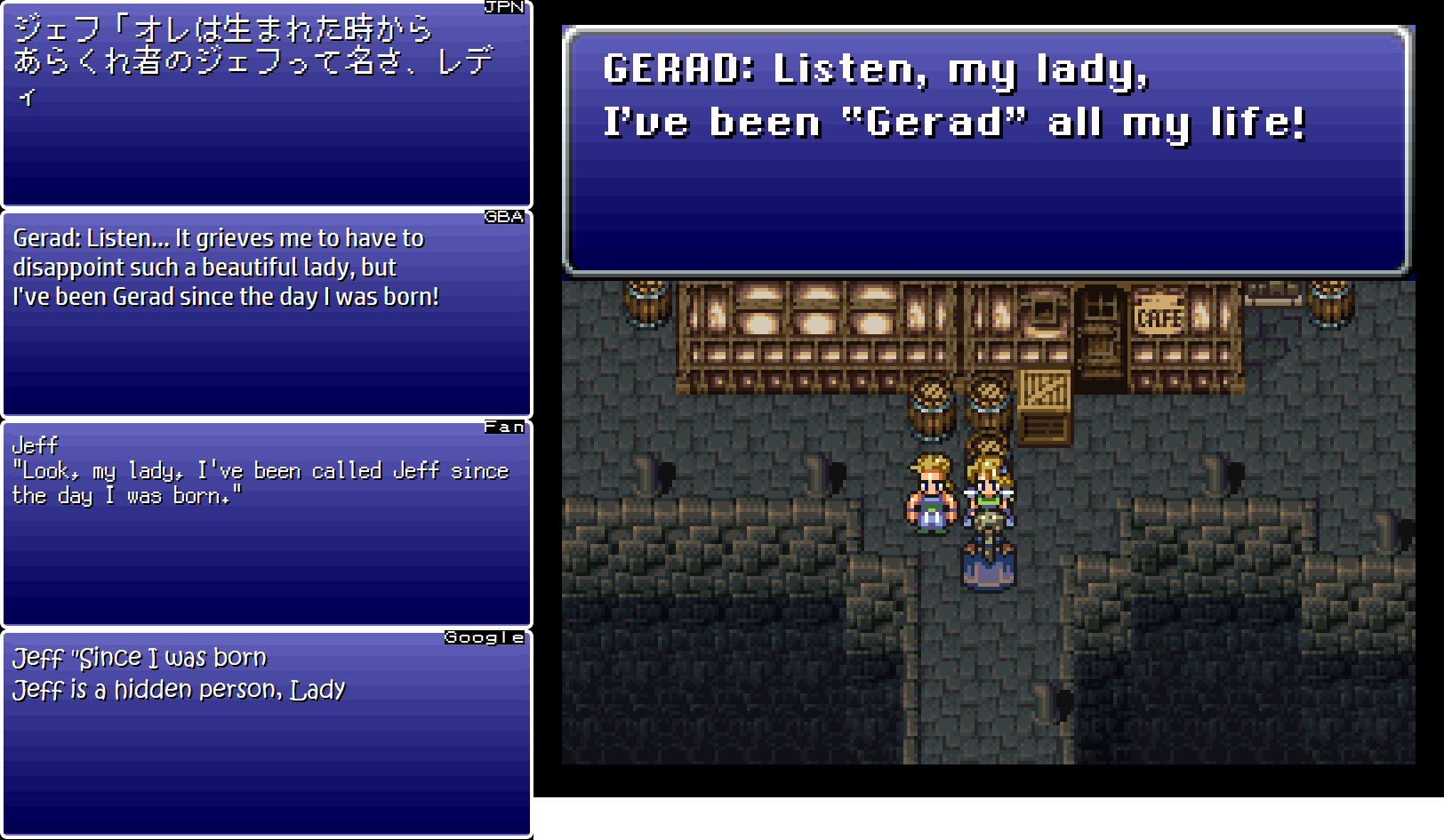 Edgar goes undercover and pretends not to be the king of Figaro for a short while. In Japanese, his fake name is "Jeff". In the Super NES translation, he instead goes by "Gerad", which astute players might recognize is "Edgar" with the letters rearranged. The GBA translator kept this "Gerad" name in the English GBA script. As a player, I feel that "Gerad" is more clever and has more creativity, and is arguably an example of a translation outdoing the original. But I wonder if there was a specific reason the Japanese writers chose the name "Jeff".
---
On a separate note, Celes is able to see through Edgar's disguise because he uses the English word "lady" when speaking in Japanese. Naturally, this stands out as a unique speech quirk in the Japanese script. But since the English translation has him speaking in English already, that same speech quirk wouldn't work as well. So the Super NES version tweaks things a little and has Edgar use "my lady" instead. This small change lets Celes see through Edgar's disguise in the same way:
Super NES version has Celes mention Edgar's use of the phrase "my lady" instead:
Only Edgar would say, "my lady."
In the GBA translation, she points out Edgar's contradictory behavior in addition to the "lady" thing:
I've never met anyone else who'd flirt with a "lady" he was trying to shake off his tail…
This is a pretty minor thing and I almost didn't mention it, but I figured it was a nice example of how seeing through unique speech traits requires extra work in translation.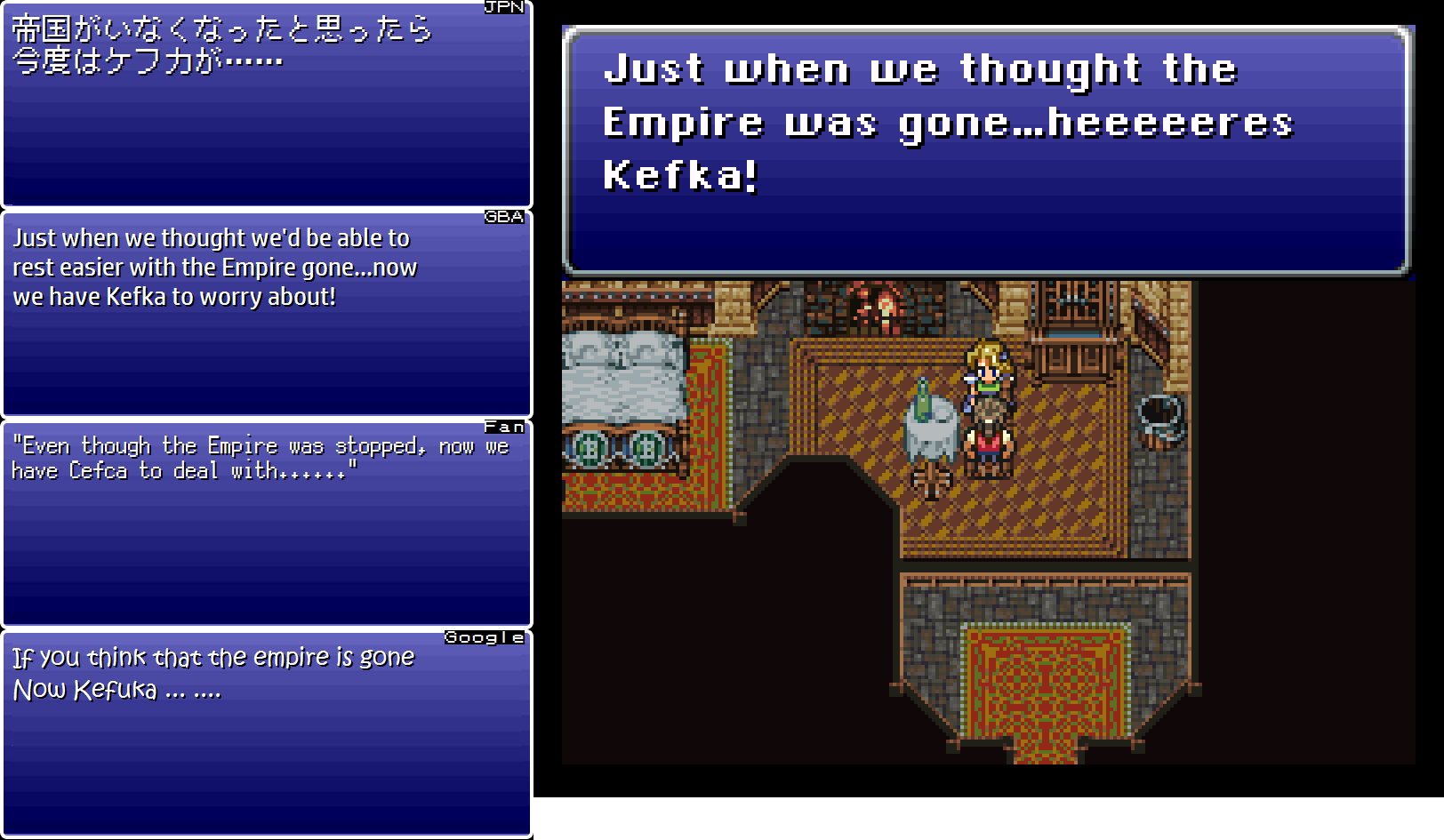 In Japanese, a man in South Figaro says something like:
Just when it seemed like we were rid of the Empire, now we have to worry about Kefka…
In the Super NES translation, this became:
Just when we thought the Empire was gone… heeeeeres Kefka!
Everyone in the stream chat seemed to agree that this was a reference to Johnny Carson and/or the Johnny Carson reference in The Shining:
This wouldn't be the first pop culture reference to be inserted into the Super NES translation, as we've already seen. The GBA translation removes the reference.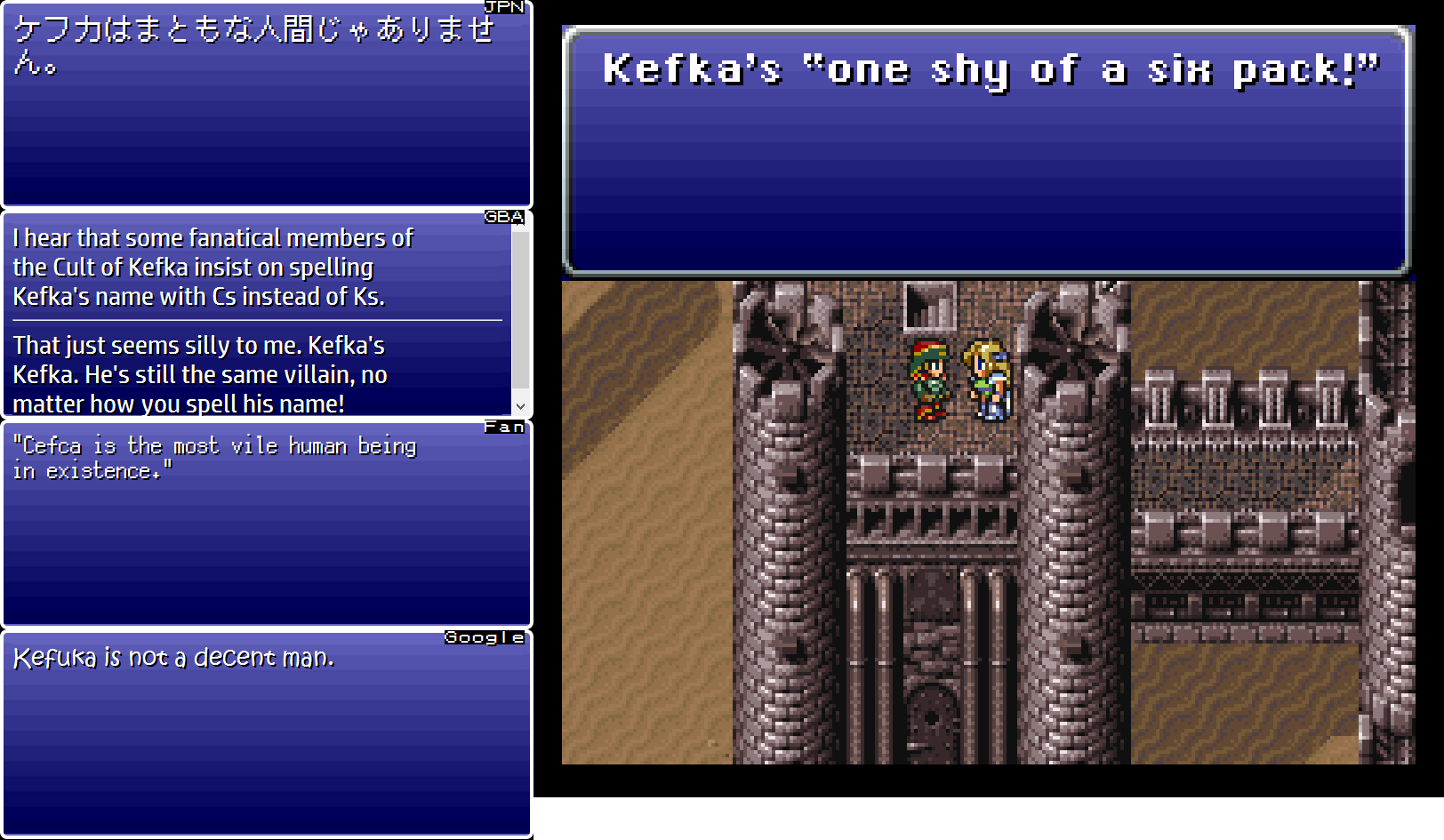 In Japanese, a soldier in Castle Figaro says something like:
Kefka is not a decent human being.
In the Super NES version, this was rewritten as:
Kefka's "one shy of a six pack!"
This is a slang phrase that means that Kefka isn't fully sane or isn't fully there mentally. It also suggests that beverage "six packs" exist in the world of Final Fantasy VI. The localization choice here feels very similar to what you might expect from Working Designs at around the same time. It always felt kind of out of place to me, but it also always felt like a filler line anyway.
The GBA translation goes a very different route than the Super NES translation:
| | |
| --- | --- |
| | |
| Final Fantasy VI (GBA, Japanese) | Final Fantasy VI (GBA, English) |
I hear that some fanatical members of the Cult of Kefka insist on spelling Kefka's name with Cs instead of Ks.

That just seems silly to me. Kefka's Kefka. He's still the same villain, no matter how you spell his name!
I don't know if the GBA translator has ever publicly commented on the matter, but this seems to be a clear stab at the "SkyRender" fan translation we've been looking at all this time. If so, then it's one of the only times I can recall a professional translation referring to an unofficial translation – it's almost like one translation is badmouthing another translation. I do know that modern Final Fantasy translations sometimes reference and/or poke fun at earlier translations, but this is on a whole different level.
Of course, it's entirely possible that it's just a reference to the fact that Kefka's name is spelled "Cefca" in Japanese materials. For example:
The fan translation uses the "Cefca" spelling because it appears in official Japanese materials, so it wasn't pulled out of nowhere. But this fact makes it hard to tell with certainty what the GBA line is specifically referring to.
Incidentally, the fan translation translates this soldier's line as:
Cefca is the most vile human being in existence.
This isn't quite what the original text said. So, strangely enough, the Google translation gets closest to the original line.
This is also a great example of something I've learned over the years: sometimes the most bland, filler-like lines can be the most interesting to look at in translation!
We've looked at the confusion between "Siegfried" and "Ziegfried" in a few previous articles – the gist of it is that the Super NES translator appears to have translated the Japanese name ジークフリード (jīkufurīdo) inconsistently. Sometimes it was translated as "Ziegfried" and other times "Siegfried". The inconsistency likely stemmed from the fact that the name is German, and German-to-Japanese name conversions don't always follow the same patterns as English-to-Japanese name conversions. It would take a lot of time to explain things in further detail, but the short story is that going from German to Japanese to English makes "Ziegfried" a very plausible, understandable mistake.
In Japanese, Siegfried always goes by a single name. The GBA translation also only gives the character a single name. It's all very straightforward and there's been no confusion or inconsistency in the Japanese and GBA scripts so far.
Things do get strange at this point in the game, though. Siegfried appears in the coliseum and says in Japanese:
Apparently an imposter has been pretending to be me recently. Don't be fooled.
Set aside the weirdness of the Super NES translation and consider this from the Japanese side of things. Why would Siegfried say this here and now? We've run into him multiple times in the past, he was always obsessed with treasure, Ultros confirmed that Siegfried was treasure-minded, and you can fight Siegfried in this coliseum for special treasure. What's more, this mention of an imposter comes out of the blue, and nothing ever comes from it afterward. So, again, why would the game's writers have him say this?
I'm not the only one who finds the whole thing mysterious, though – Japanese fans have brought up similar suspicions about this line too. One idea I've seen is that he's just pretending there's an impostor so you won't harass him for taking all that treasure earlier. Another common theory I've seen is that more was planned for Siegfried and that there was going to be more content related to a fake Siegfried doing stuff, but then it got cut before the game's release. I'm not sure what to think, but if I ever got a chance to ask the writers about Final Fantasy VI, this would definitely be one of the top questions I'd ask.
Regardless of how weird things seem or what Japanese fans think, two official Japanese books state that only the Siegfried in the coliseum is the real Siegfried.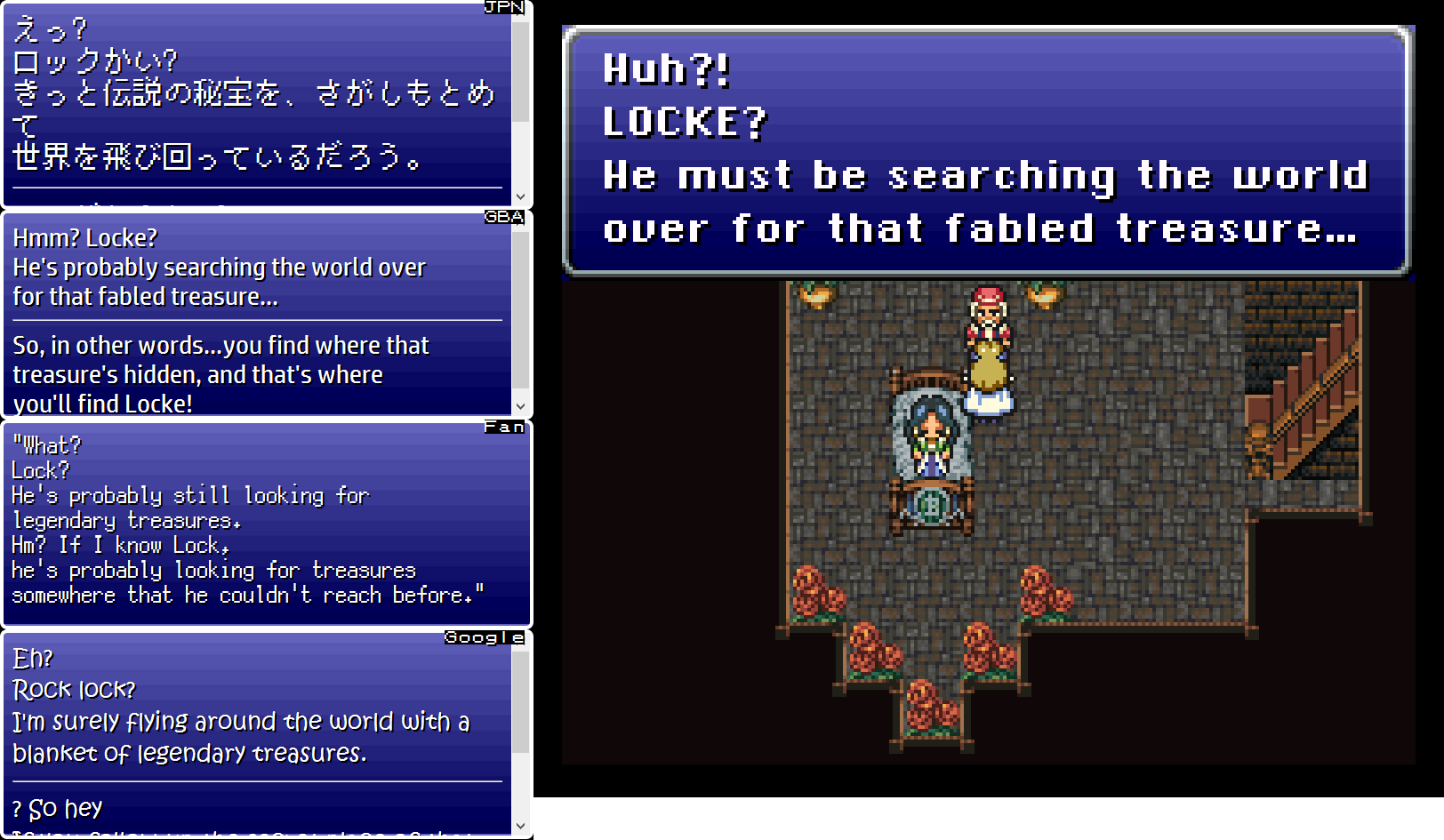 In previous articles we've seen how the Super NES translation has consistently mistranslated or cut out mention of a specific legendary treasure that Locke is searching for. Only now, about 60% into the game, does the Super NES script finally mention it. This makes it seem like Locke decided to hunt for the treasure after the world blew up, but no, he's actually been searching for it the entire game.
We saw earlier how Daryl is spelled several different ways, depending on the version of the game you look at. Here, we see that even the Super NES translation can't decide what to call it: in the main script it's "Daryl" but in the secondary text it's "Darill".
Game text comes in different types: you got the main script, then you got menu text, battle text, special scene text, and lots more. Different types of text are usually stored in different places or as different files, so you usually end up with the main script text in one file and other menu-related text in other files. Because of this, and because different files are often translated at different points in time, it's easy to make consistency mistakes like this if you're not careful. In fact, this same phenomenon might be what caused the whole "Ziegfried" and "Siegfried" consistency problem mentioned above.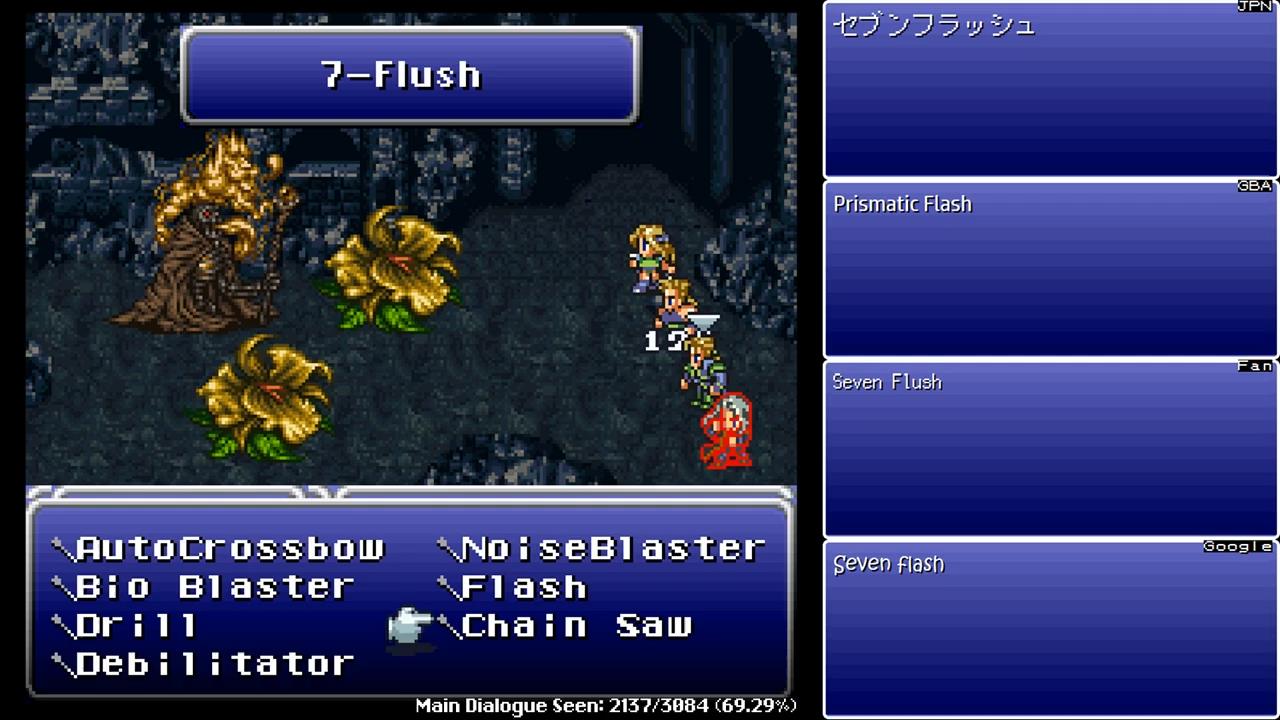 If you use Setzer's slot machine battle command and get three diamonds, it'll produce an attack in Japanese called セブンフラッシュ (sebun furasshu). Because of the Japanese A/U spelling confusion problem, it's hard to tell at first if this should be "Seven Flush" or "Seven Flash". Here, we see that the Super NES translator went the "flush" route. The fan translator did the same.
I never though about this name much, but the actual attack involves rainbow-colored light that shoots upward out of the ground, so "Seven Flash" does seem more logical now that I think about it. So what's the deal with "seven"? Wouldn't it make more sense for this attack to be used if you get three 7s in the slot machine?
At this point in the stream, I explained that different cultures depict rainbows as having different colors. In Japan, rainbows are depicted as having seven colors, which for some reason I vaguely recall is a point of pride but I don't remember why. I remember a big Japanese essay assignment I had long ago that was about this very topic, and that it seemed to focus on the fact that Japan uses more colors than most other countries, so maybe that's what I'm thinking of.
Still, here's a look at some Japanese infographics about this rainbow color stuff:
It always feels weird to me to categorize things as "Japan thinks this" and "America thinks this" and "Germany thinks this", because we're talking about millions of different people spread across wide regions. So chatters in the stream were like "wait, what? I learned ROY-G-BIV growing up, which is seven colors", I was reminded of that feeling.
Anyway, the point I'm getting at is that in Japanese, the very phrase "seven colors" is synonymous with "the colors of the rainbow". And since this "Seven Flash" attack happens when you get three diamonds, it's referring to the prism effect. The GBA translator put all this background cultural information and scientific phenomenon together to reach a different name for the attack: "Prismatic Flash".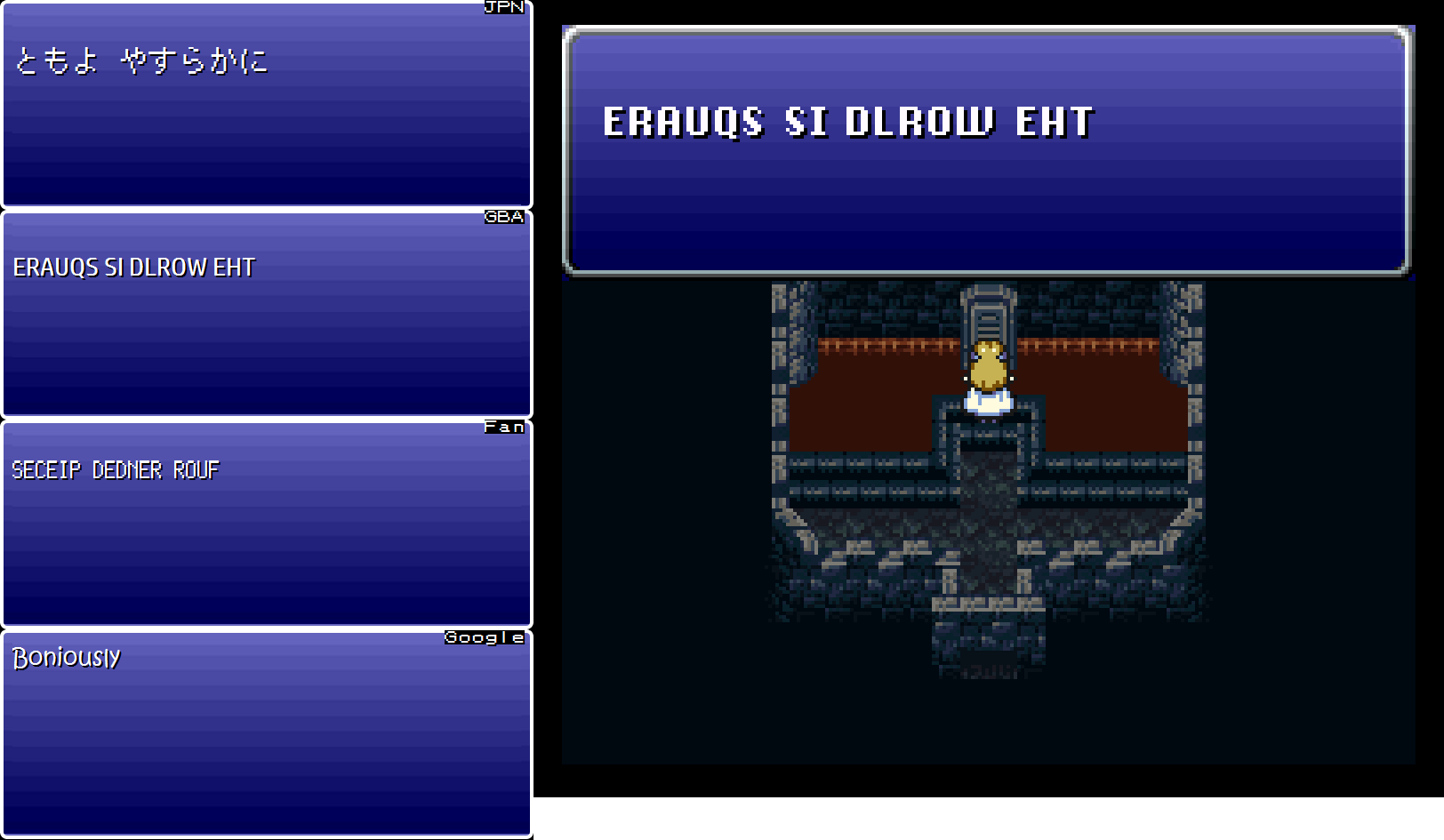 Darill's Tomb has a password puzzle that leads to a helpful item. In Japanese, this password consists of four parts:
When put in a different order, the final result is tomoyoyasurakani, which means something like "Rest in peace, o friend". And since this is the tomb of Setzer's friend, the password makes perfect sense.
For the Super NES translation, the password was changed, and each piece of the password was written backwards to make it harder to tell what the password is. The final password ends up being: "ERAUQS SI DLROW EHT", or "THE WORLD IS SQUARE" backwards. Someone in the chat mentioned that "The World is Square" was Squaresoft's marketing slogan at the time, but I don't recall that. At the time, I thought it was a clever joke about the company's name and how the world map in Final Fantasy VI was square-like in shape.
The Super NES password became iconic and memorable among fans, so the GBA translation uses the same password.
The fan translation doesn't stick with the theme of the original Japanese password, so the new password has nothing to do with a friend resting in peace. Instead, the fan translation does the same backwards text thing found in the Super NES translation, but with a different phrase: "FOUR RENDED PIECES". Except the fan translators got it wrong – it actually says "FUOR RENDED PIECES" when you solve it!
And poor Google had no idea what was going on with any of this password stuff. I don't think Google's AI is at the level yet to recognize such word puzzles and use creativity to localize them.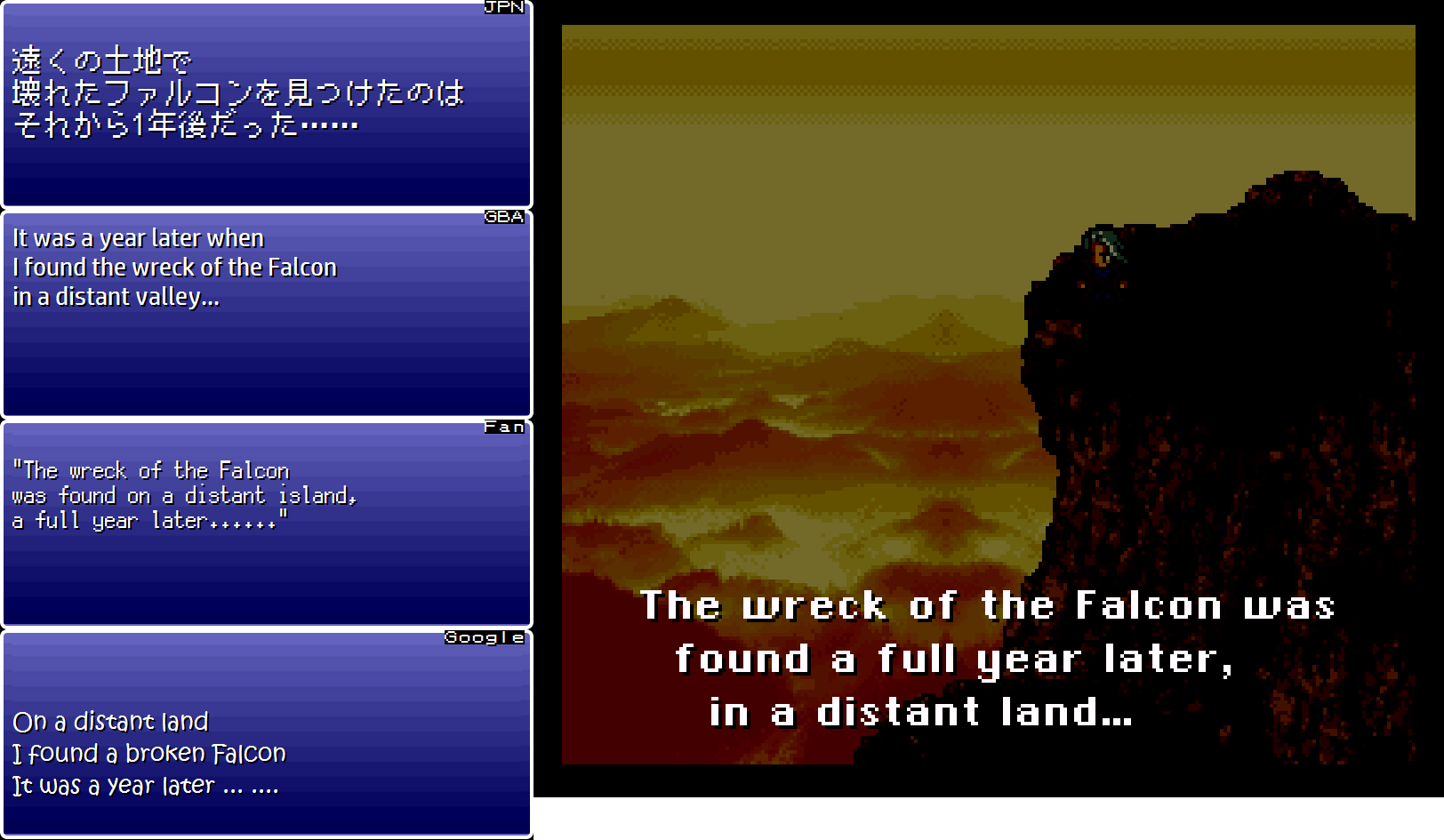 Setzer explains that Daryl, an old friend of his, died in an airship crash. During the explanation, he says in the Super NES translation:
The wreck of the Falcon was found a full year later, in a distant land…
Some chatters were curious about who found the airship. The original Japanese text doesn't specify, but the verb used seems to imply that it was Setzer who found it. This is why the GBA translation uses "I" in the line while the Super NES and fan translations talk about it in the passive form.
The Japanese line also simply says it was found "in a distant land", which the Super NES version keeps intact. For some reason, the GBA line says "in a distant valley" while the fan translation says "on a distant island".
So again, despite the weird phrasing, the Google translation somehow manages to handle the details the best here. What's going on anymore?!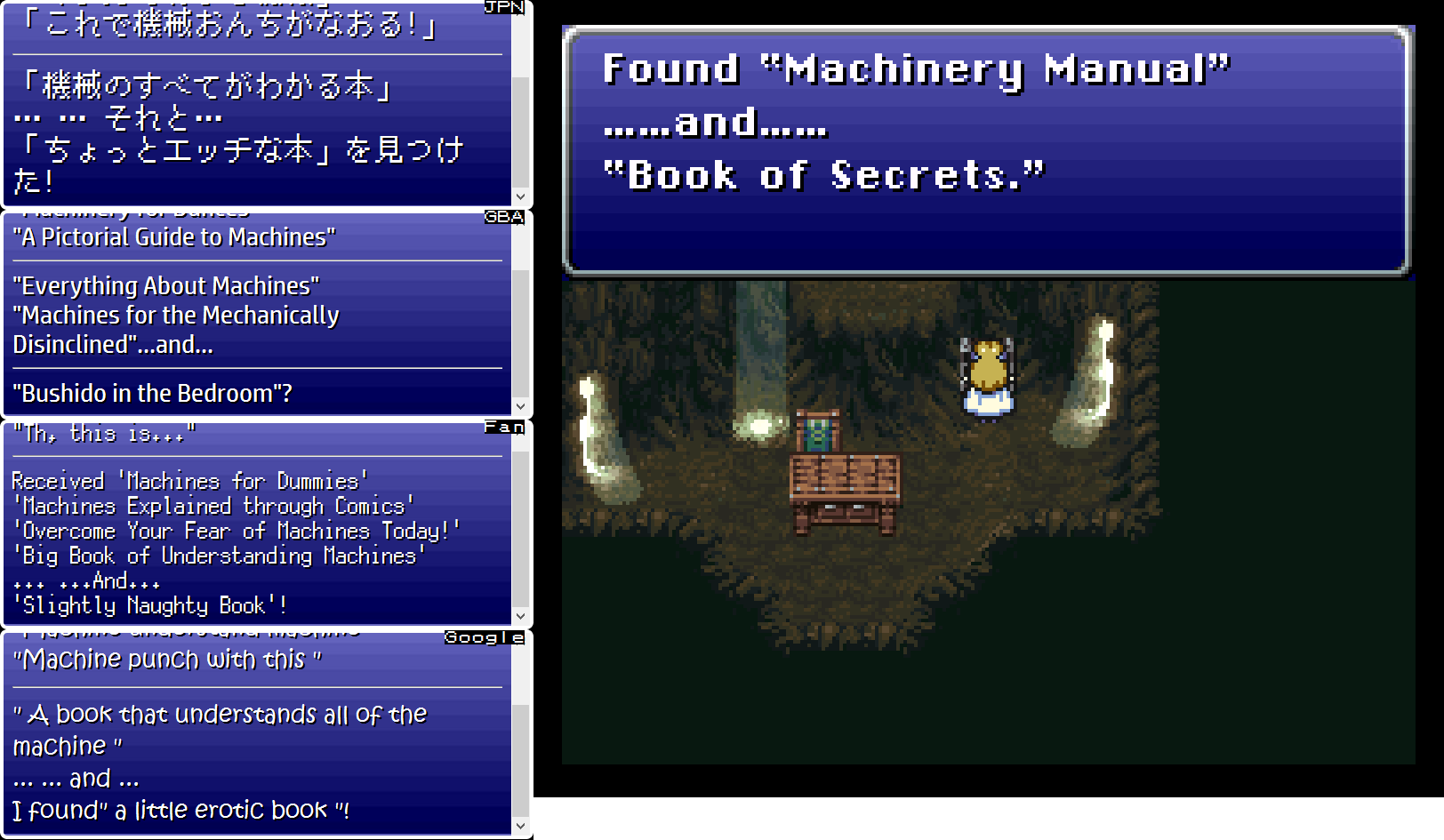 Cyan has a bunch of books about machines locked away in a treasure chest. If you find the key and look inside, you'll find that the final book is on a different topic.
In Japanese, this extra book is called something like a "Slightly Naughty Book" or "Slightly Erotic Book". This playfulness wouldn't fly with Nintendo of America's content policies, so the book was renamed the "Book of Secrets" in the Super NES version. When I first played the game, I think I assumed this was about secret techniques or something, so the original joke was lost on me for a long time.
The GBA version was allowed to handle this sort of content more openly, so the localizer gave it a more creative name: "Bushido in the Bedroom".