This is part of my ongoing series in which I compare four translations of Final Fantasy VI with the original Japanese script. For project details and my translation notes from Day 1, see here.
We've finally reached the last area of the game. I wanted to give this part of the game its own dedicated stream and page, so it'll probably be a little shorter than the previous pages.
Also, after this update there'll be one more update that summarizes the different translations, the kinds of things we discovered during this big comparison project, and some of my own final thoughts.
Video Archive
Notes
As always, my notes below only cover a portion of the topics I covered during the live stream. So if you'd like to see and learn even more about the game's translations, translation mistakes, trivia, and more, see the video above.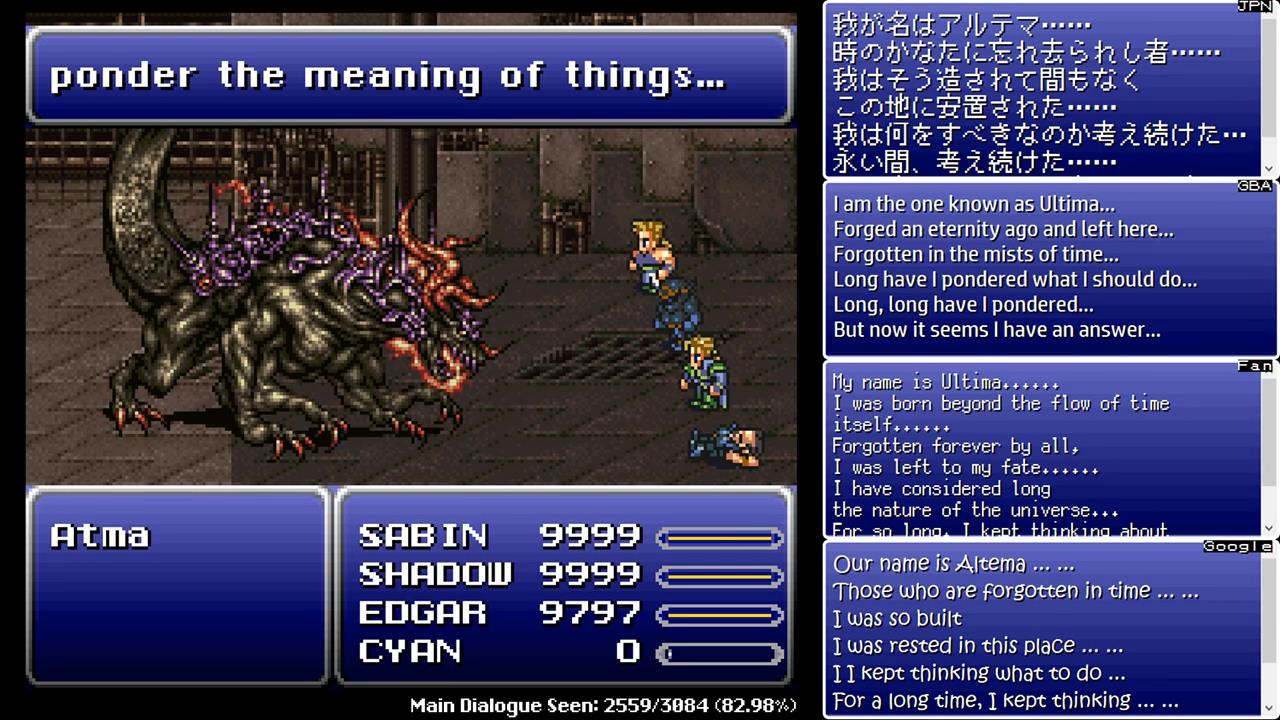 In Kefka's tower there's a creature sitting inside a jail cell-like room. The stuff it says in battle is a little more complicated than usual text, so the fan translation stumbles and gets the majority of the text wrong. The Super NES translation isn't too far off the mark, but it had to be shortened to fit. Only the GBA version properly conveys the full meaning of the original text.
There is one detail that has me curious, though: in Japanese, the monster says it "was placed here/on this land/in this place shortly after being created". But Kefka's tower has only existed for a year, which leaves it open to interpretation that it's only a year old too. In which case, all the talk about being long forgotten and having a long time to think is unintentionally amusing and kind of makes me feel bad for it. After all, it's some super-powerful and almighty being, but was left to rot in a jail cell with a toilet. I've seen some Japanese fans joke about this very thing, in fact.
Of course, I guess if you take it less literally and assume "here" refers to this planet or this dimension or something, then that could work.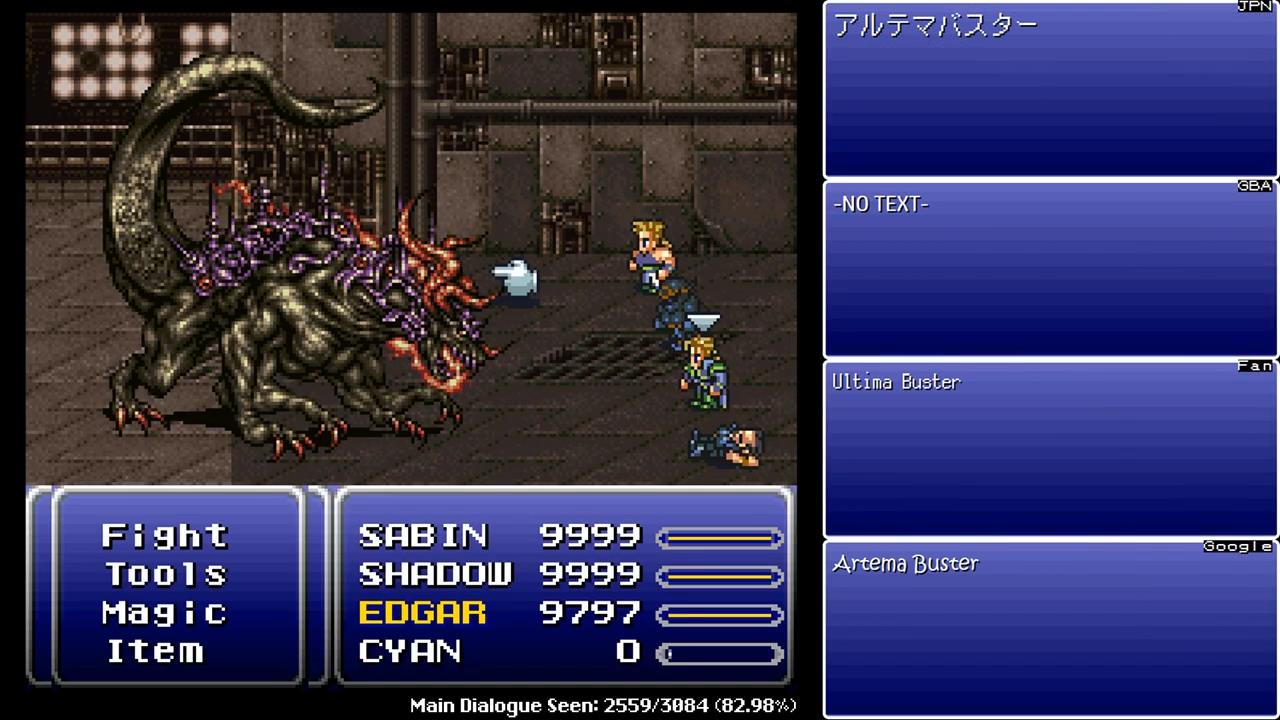 Incidentally, this monster is known as the アルテマバスター (arutema basutā) in the original Japanese script. There was a similar monster named アルテマウェーポン (arutema wēpon) back on the Floating Continent. In this particular battle, the enemy introduces itself as just アルテマ (arutema), though. So, wait, is this the same monster as before but in a new form, or is it completely different?
I don't really know the answer, but this does remind me of another question about the monster's name. By itself, バスター (basutā) would be translated as "Buster" probably 99% of the time without even much thought needed. But I do recall hearing some fans theorize that basutā is intended as the English word "bastard" here, meaning that this monster is a sort of strange variant or maybe even a fake.
I never put much thought into this bastard theory, but it is true that basutā can be used as an abbreviation for バスタード (basutādo, "bastard") – for example, the "bastard bunt" in Japanese baseball is often just called basutā for short.
The fan theory then goes on to point to things like Cloud's "Buster Sword" in Final Fantasy VII and how it was probably intended to mean "Bastard Sword". I think there's another example or two that gets brought up too.
I don't know if I buy into the theory, but I thought it was interesting enough to share here anyway, especially given how the monster introduces itself. Now that I think about it, this feels similar to the whole Siegfried/Ziegfried thing in the Super NES translation, but with a different twist to it.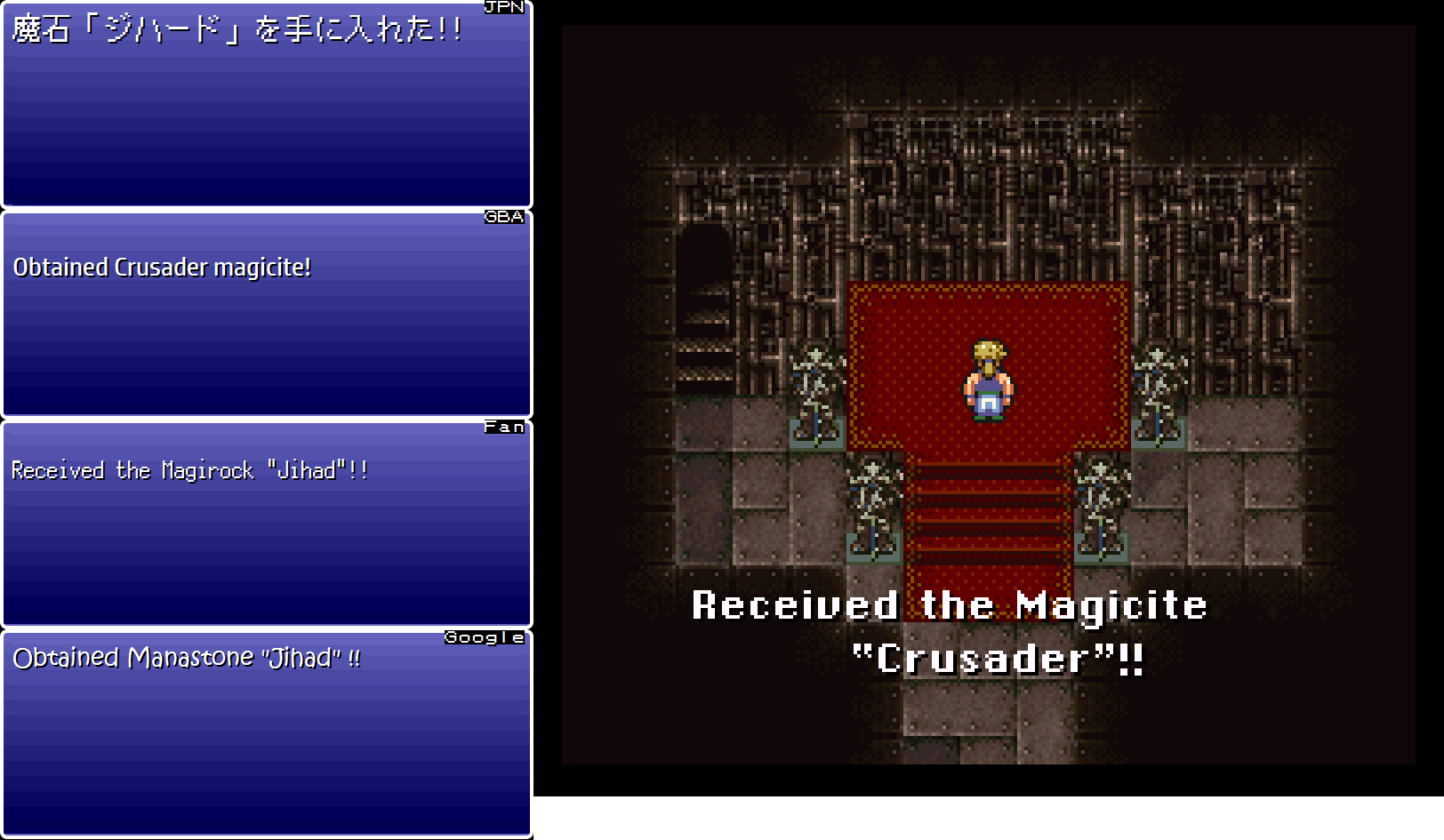 This has been known for years and years, but the "Jihad" Magicite/Esper was renamed "Crusader" for the Super NES release. I'm guessing that the original name was considered a little too religiously iffy or politically controversial. Interestingly, the replacement also has religious connections, but I guess "crusader" is used often enough in non-religious situations in American English that it's not as inflammatory of a word.
I've always been curious about the details of the word "jihad" though, so I took a quick look at Wikipedia:
Jihad is an Arabic word which literally means striving or struggling, especially with a praiseworthy aim. It can have many shades of meaning in an Islamic context, such as struggle against one's evil inclinations, an exertion to convert unbelievers, or efforts toward the moral betterment of society, though it is most frequently associated with war.
When I look for "crusader" on Wikipedia, it just says "a participant in one of the Crusades". Still, for the sake of comparison, here's how the Crusades are explained:
The Crusades were a series of religious wars sanctioned by the Latin Church in the medieval period. The most commonly known Crusades are the campaigns in the Eastern Mediterranean aimed at recovering the Holy Land from Muslim rule, but the term "Crusades" is also applied to other church-sanctioned campaigns. These were fought for a variety of reasons including the suppression of paganism and heresy, the resolution of conflict among rival Roman Catholic groups, or for political and territorial advantage. At the time of the early Crusades the word did not exist, only becoming the leading descriptive term around 1760.
It's probably just a weird coincidence, but it's interesting how the two Esper names sort of parallel each other but also represent two opposite sides of historic religious conflicts.
Also, I'm pretty sure I knew the word "jihad" by the time the Super NES version of Final Fantasy VI was released, but I don't recall how well known it was in general in America at the time. It's definitely much more well known now, but I wonder how problematic or noticeable the name "Jihad" would've been if the translation had left it as-is.
Anyway, the GBA translation kept it as "Crusader". The choice to keep it unchanged is intriguing, given that some other Esper names were revised for the GBA release. Both the fan translation and the machine translation keep the name as "Jihad".
The three magical statues from earlier in the game now appear in living form as powerful bosses. I always mix up how two of their names were translated, so for my own future reference I decided to look into them here.
---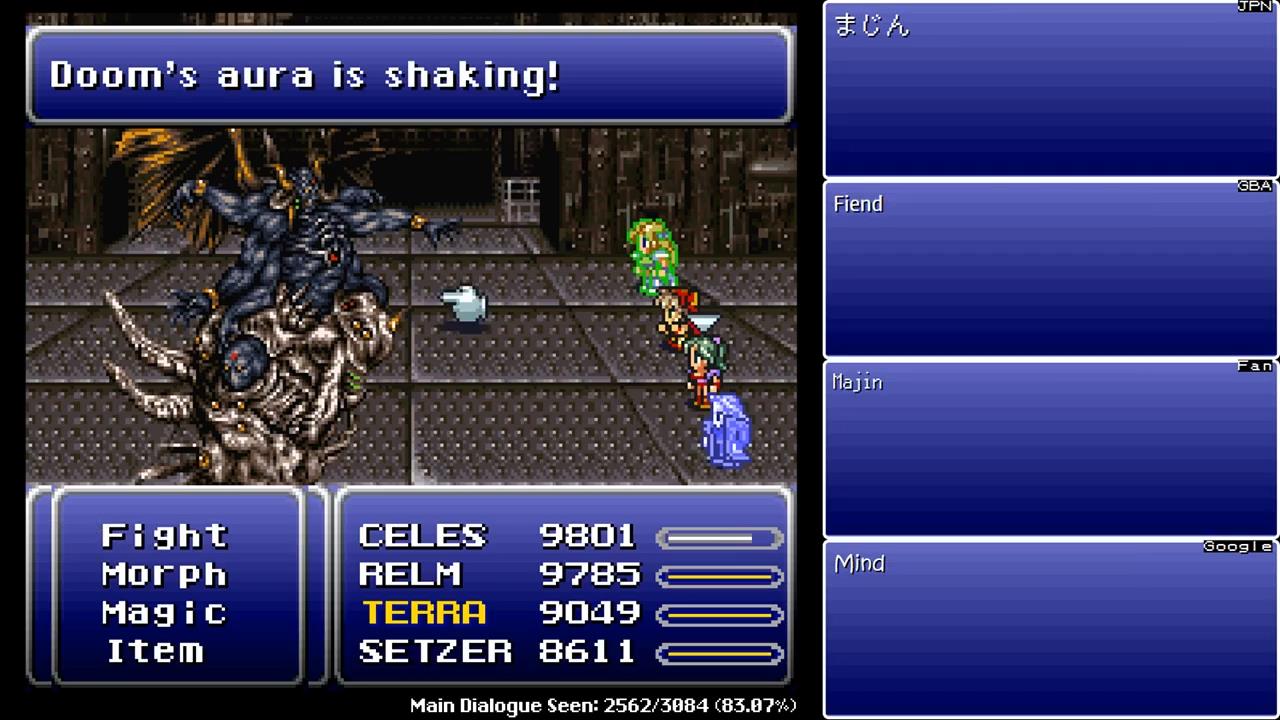 This first magical being is known as 魔神 (majin) in the Japanese battle script, which can also be spelled as まじん as seen in the enemy name window above. As always, anything that has the 魔 (ma) character is a bit tricky to translate. For more on this topic, see my in-depth article about 魔王 (maō) here.
Careful! This 魔神
majin
is different from the 魔人
majin
, which is a separate term I covered in
this other article
.
In very rough terms, this particular majin can be translated as something like "demon god". In this case, the Super NES translator went with "Doom". I assume one reason is that both "demon" and "god" were prohibited religious terms at the time. Enemy name length limits might've been another reason.
The translator also named a magic spell in the game "Doom", so it's odd to see a major boss with the exact same name. I guess it happened before with Ultima, though.
---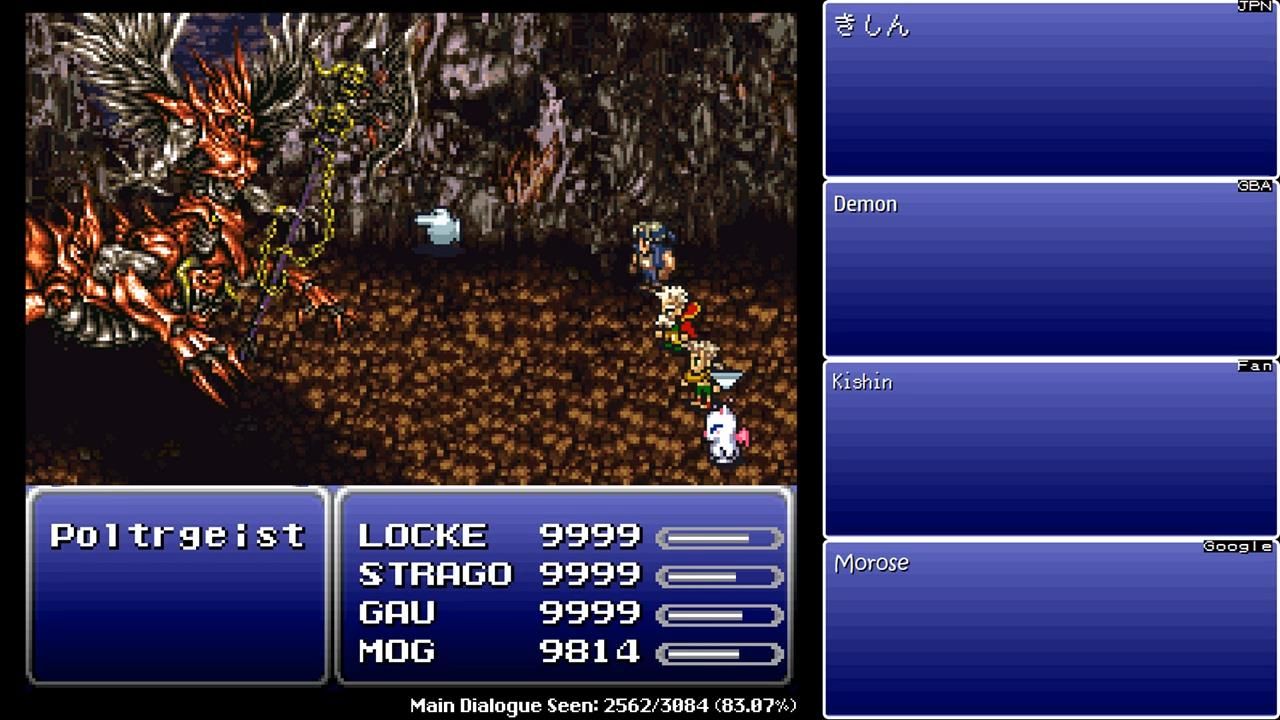 Next is a much weirder looking creature known as 鬼神 (kishin) in Japanese, which can also be spelled as きしん as we see above. This is another difficult name to translate, primarily because the character 鬼 can refer to a Japanese oni, evil spirits, demons, ogres, and other things of that nature. The second character, 神, generally means "god" or "deity".
There's rarely a good single translation for words like this, and in my own career I've had to use a couple different solutions for kishin. In this case, the Super NES translator went with "Poltrgeist", which is a compressed version of the word "poltergeist". The GBA translator changed this simply to "Demon", while the fan translator left it untranslated as "Kishin". Google got confused and translated the name as "Morose".
This kishin term doesn't come up as often in Japanese entertainment as majin, but if you've seen either one translated in other entertainment, let me know. If I can gather up enough stuff about these words, I can give them their own dedicated articles too.
---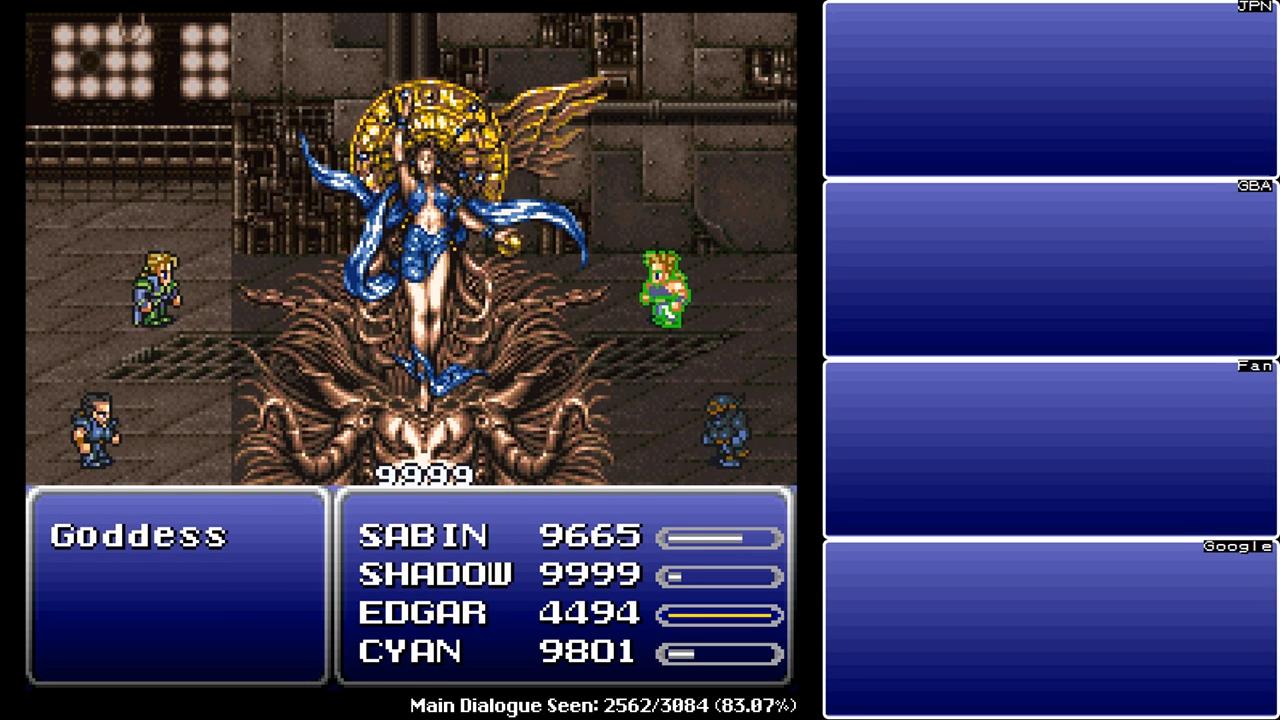 Last is this magical lady known as 女神 (megami) in Japanese, which can also be spelled as めがみ. This is a very common term that usually translates as "goddess". Indeed, both the Super NES and GBA translation call her "Goddess". For some reason, the fan translation and the machine translation leave it untranslated as "Megami".
The Super NES version of this boss was also slightly edited to cover her up a little more:
| | |
| --- | --- |
| | |
| Japanese version | Super NES version |
I guess the original Japanese image was a little too indecent for someone somewhere. Incidentally, if you like seeing the graphical changes in this game, check out The Cutting Room Floor's FFVI graphical changes section – it lists many other examples, some of which I haven't covered here.
The heroes reach Kefka at the top of his tower. Kefka mocks the party and also shares a peek into his way of thinking.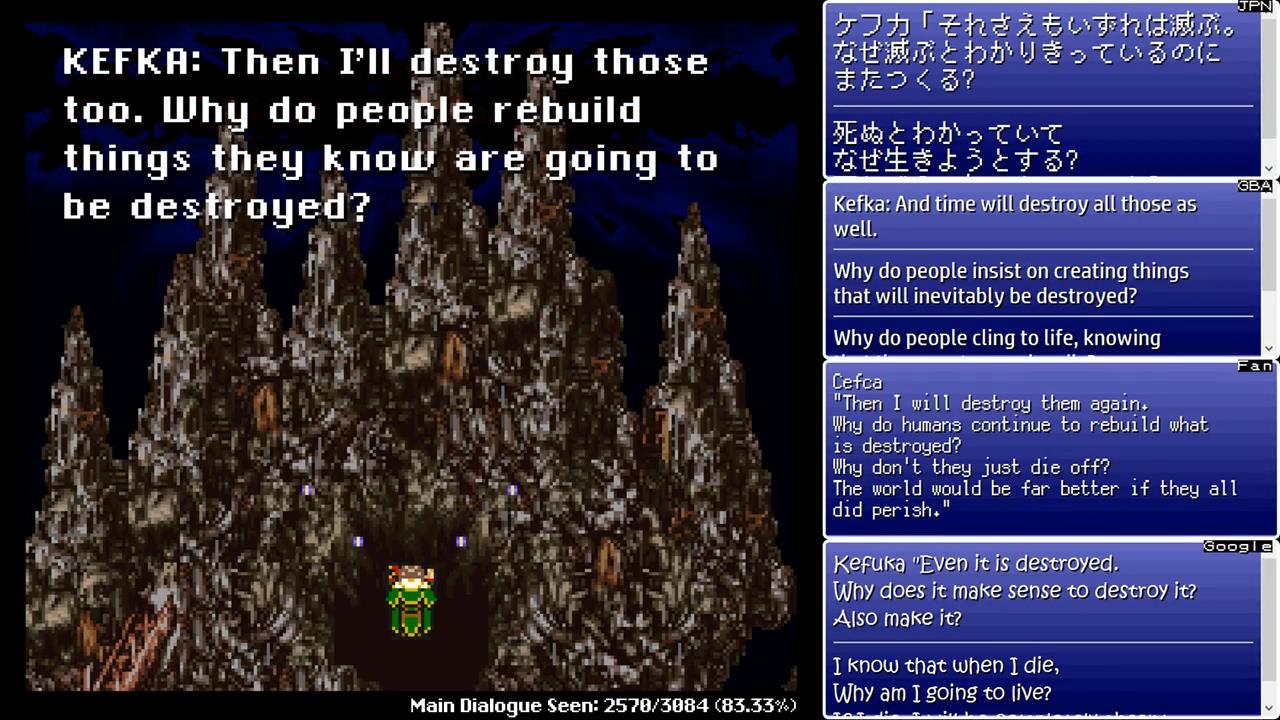 In the original Japanese script, Kefka asks the heroes why people bother to rebuild things despite knowing that everything is fated to be destroyed. It's a basic philosophical question that feels like a bit of nihilism, fatalism, and/or determinism. Basically, he's asking "what's the point of doing anything if none of it is going to matter in the end anyway?". It's a surprisingly deep question that lends some insight into Kefka's worldview.
As a translator, you always have to stop and ask why characters say the lines they say, so that you can get into their mindset and accurately portray them. It's a lot like acting, actually. So, why does Kefka say this philosophical stuff at all? He was always crazy and wanted to destroy stuff, but he never really talked about this before, either. My best guess is that Kefka has come to understand something fundamental about the world – or at least thinks he does – after gaining ultimate power and essentially becoming a god.
In any case, some of Kefka's Japanese lines are genuinely thought-provoking. The Super NES translation more or less has Kefka saying "Wargh! I'm evil! I'm gonna destroy all your stuff so I dunno why you'd want to rebuild it!".
The GBA translator recognized this clear misunderstanding and translated Kefka's speech to properly reflect the original Japanese script.
Meanwhile, the fan translation makes the same mistake as the Super NES translation and misses the point. It also mistranslates some of the text in a way that ups the "I'm Kefka and I'm generically evil and I'm gonna kill everyone" factor. We can also see that the machine translation struggles to understand any of this philosophical talk or the grammar involved.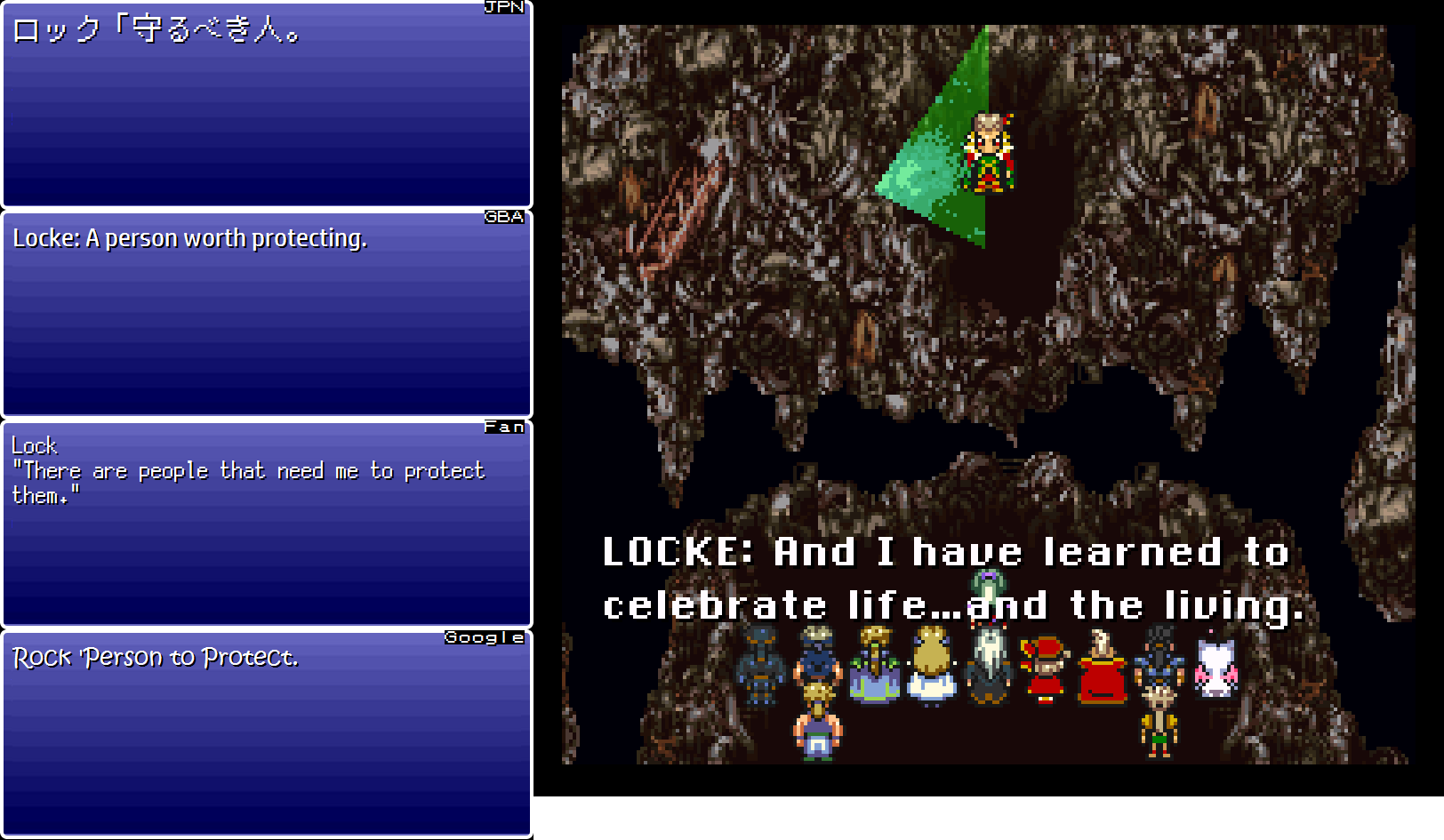 The heroes answer Kefka's question by stating what gives their lives enough meaning to keep moving forward, despite knowing everything will come to an end someday.
In Locke's case, he says in Japanese that he's gained meaning because he has someone to protect – Celes, in other words. This was changed slightly in the Super NES translation to:
And I have learned to celebrate life… and the living.
This does fit Locke's situation, given that he was obsessed with bringing his dead girlfriend back to life for most of the game. But the phrasing also points a little less directly at Celes and feels a bit more general. It could even be taken to mean that he's just moved on from obsessing about dead people. The GBA translation changes things back and puts it in line with the original script.
While it's not completely incorrect, the fan translation goes with "people that need me to protect them", when it's most likely just one specific person that is being hinted at.
After the heroes share all the things that give their life meaning, Kefka says one of his most famous English lines in the game:
This is sickening… You sound like chapters from a self-help book! Prepare yourselves!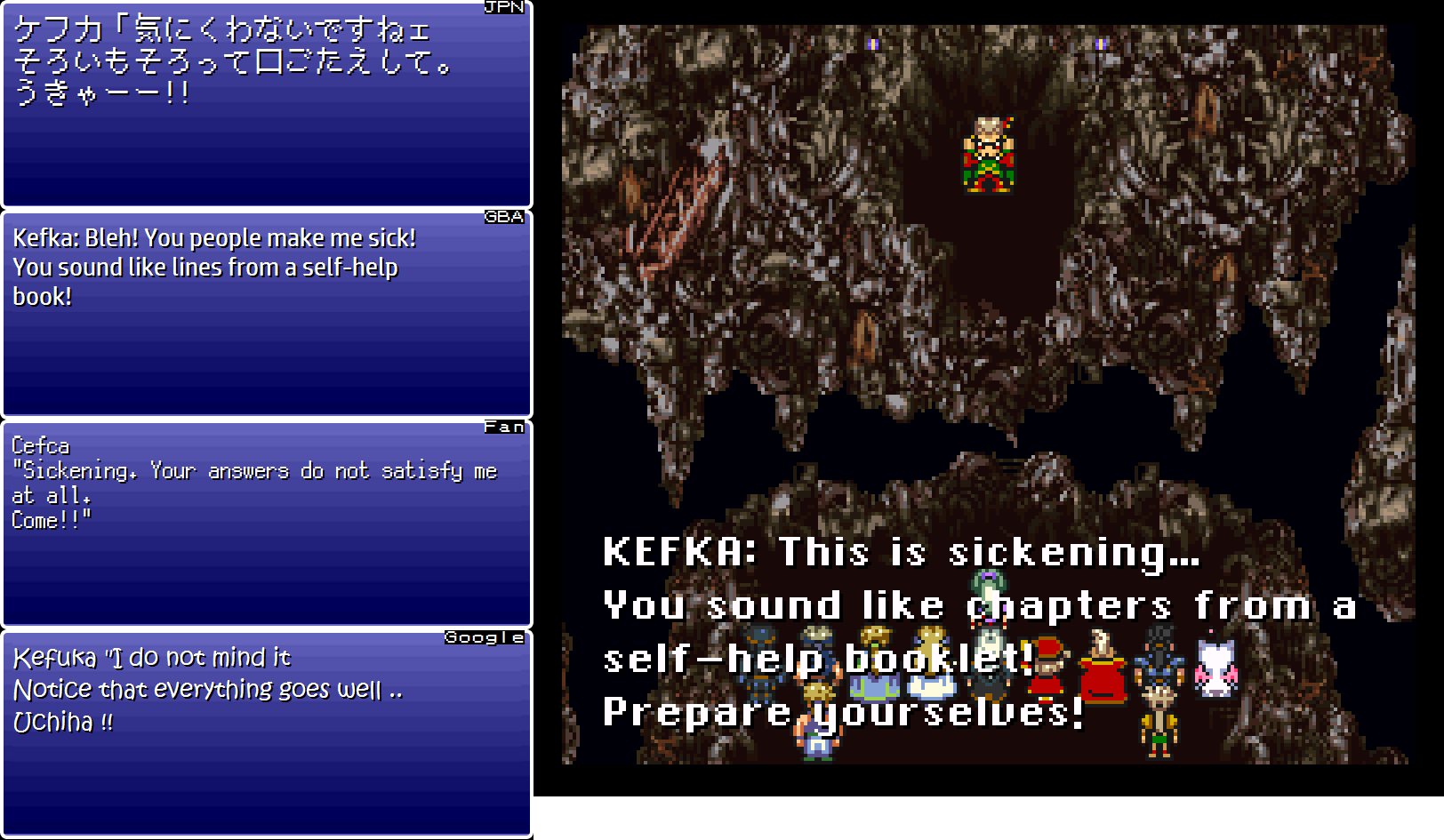 In Japanese, the line is more straightforward and is something roughly like:
You guys and your back-talk… You all make me sick. Ukyaaa!
As we can see, there's no self-help book stuff at all in the Japanese text. Kefka is sickened by the fact that they dared to back-talk him and give him sass. And his final line is actually just him shouting out in annoyance and not an actual word.
The GBA translator redid this line, but kept the self-help book reference in because it was so iconic and beloved. The GBA version drops the cry of frustrated annoyance, though.
It's clear that the fan translator took care to stay closer to the original Japanese script here, but it makes some translation and tonal mistakes instead. Meanwhile, the machine translation gets it extremely wrong.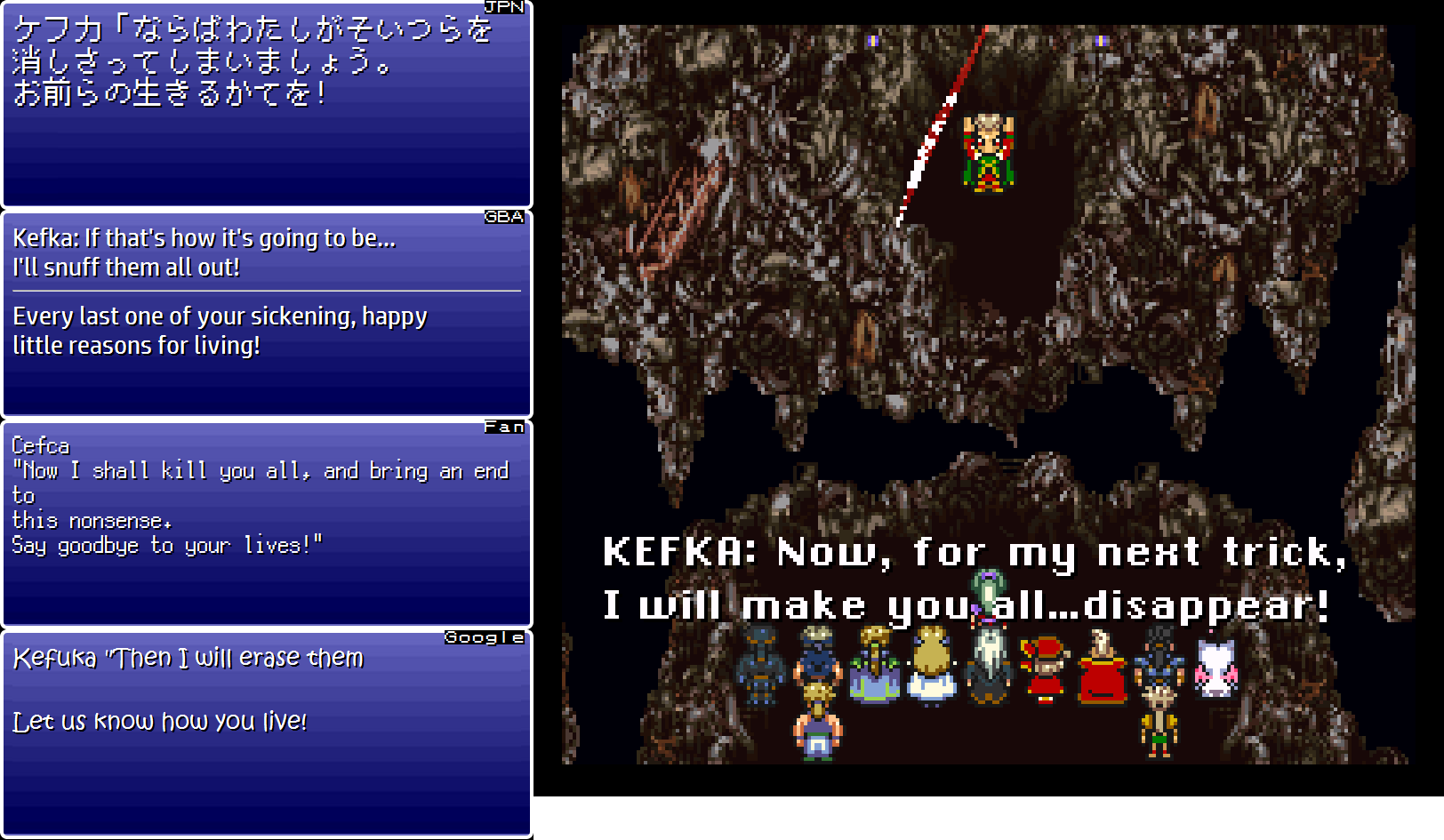 Shortly after the self-help book line, Kefka prepares to do some magical destruction. But first, he says in Japanese:
Then I will erase those things of yours that give your lives meaning!
The Super NES translator got this line completely wrong and turned it into:
Now, for my next trick, I will make you all…disappear!
So again, instead of referring to abstract things like the meaning of life and the significance of existence, Kefka now just says a generic villain threat. The Super NES line doesn't even make much sense – Kefka immediately shoots his giant laser beam at empty landmasses below and doesn't attack the heroes or cities or anyone at all.
The GBA translation fixes this line and gets closer to the original Japanese line:
If that's how it's going to be… I'll snuff them all out! Every last one of your sickening, happy little reasons for living!
The fan translation, as before, treats Kefka like a very generic fanfic villain:
Now I shall kill you all, and bring an end to this nonsense. Say goodbye to your lives!
This line seems like it could've been a creative rewrite of the Super NES line. At the very least, it's not a correct translation of the original text in any way.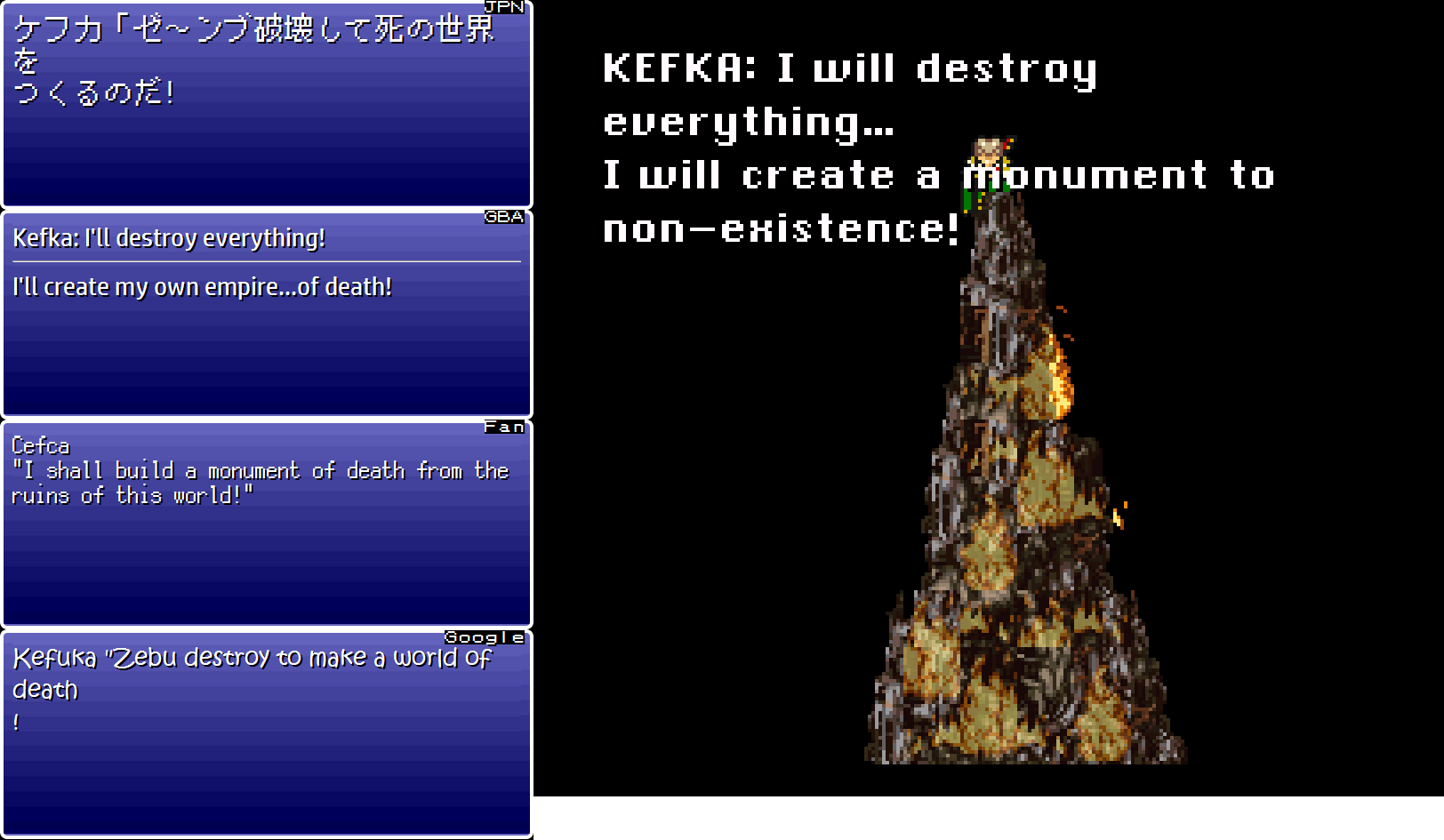 Kefka is really worked up now. He's tearing his tower apart and rearranging stuff while the heroes stand underneath the shifting, burning ground.
In Japanese, he eventually shouts:
I'm going to destroy EVERYTHING and create a world of death!
I just finished criticizing some of the translations for sounding like generic villain stuff, but now it's the Japanese script's turn to sound generic, as we can see. The Super NES translator had to dance around the "death" thing and wound up making something that I think is even better:
I will destroy everything… I will create a monument to non-existence!
In my opinion, that actually sounds cooler and ironically fits with the original script's philosophical questions about existence better than the Japanese version of this line. Plus the contradiction introduced by this new line adds a nice touch.
Of course, there's a common question that translators have argued over for centuries: does the translator have the right – or imperative – to improve on the original text? I don't think that's something that anyone will ever agree on, but I feel this is a good little example that non-translators can chew on. Personally, I feel it almost always depends on the purpose of the translation and the intended target audience.
Anyway, I'm guessing the GBA translator pondered this same question many times throughout the GBA translation project, and possibly even during this line. In the end, this line was changed back to something closer to the original:
I'll destroy everything! I'll create my own empire… of death!
The fan translation seems to be an interesting hybrid of the Super NES line, the original line, and some added flair. The machine translation kind of barfs on this line because of the way Kefka emphasizes the first word in the sentence.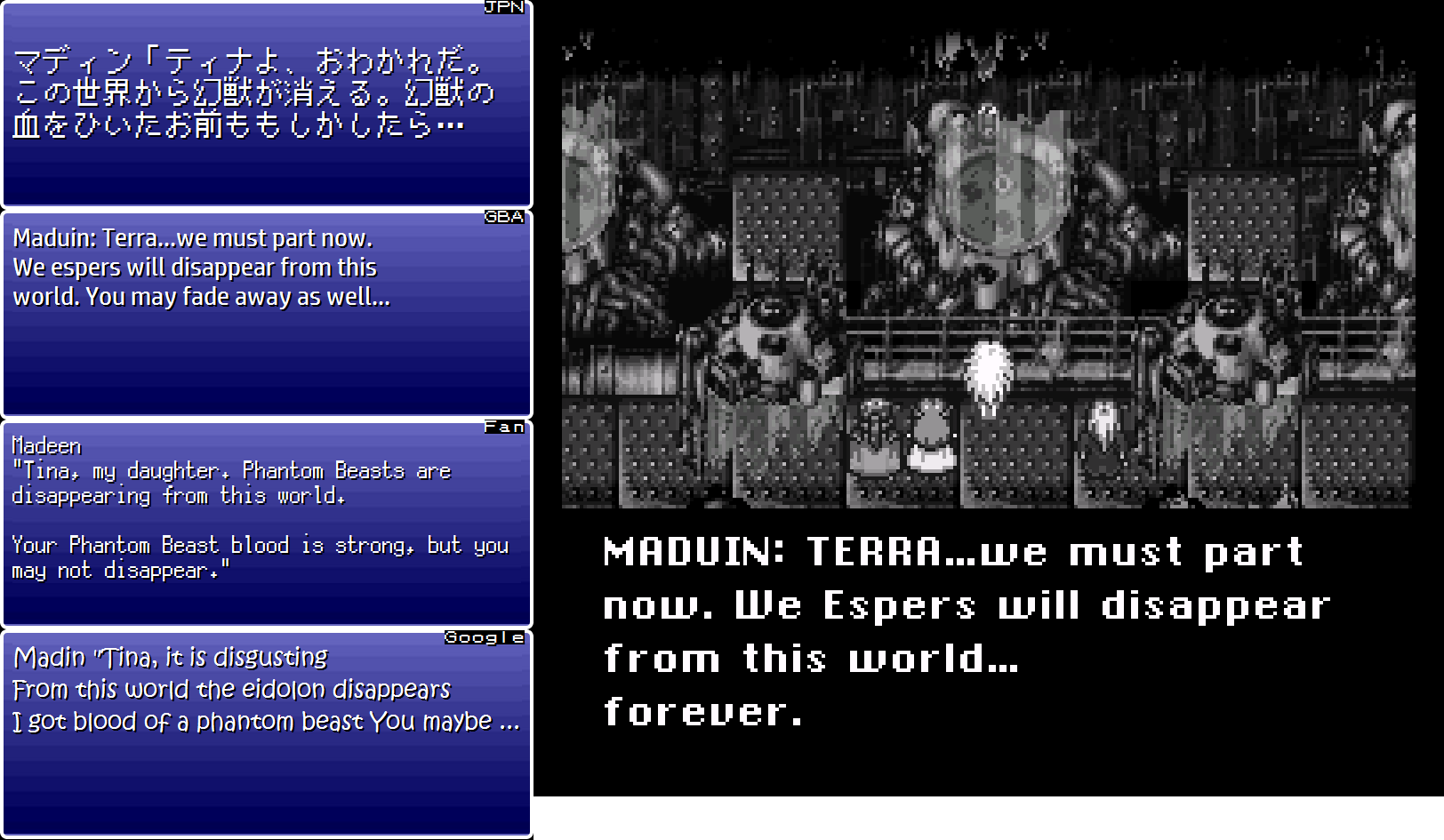 After Kefka is defeated, the tower begans to fall apart and magic begins to disappear from the world, including the Espers. Maduin gives Terra one final message. In Japanese, it's something like:
Tina. This is where we say goodbye. The Espers will disappear from the world. You have Esper blood in you, so it's possible that you, too, will…
The sentence is left incomplete in Japanese, which is pretty normal. But basically, he's saying that there's a chance that Terra will disappear or be affected in some way too, since she's part Esper. Man, it'd be horrific if only random pieces of her suddenly disappeared, now that I think about it.
The Super NES translation cuts out that final sentence and its potential consequences:
Terra…we must part now. We Espers will disappear from this world… forever.
Still, it's not a huge deal, because the following lines explain how there's a chance her human emotions could be strong enough to keep her from disappearing.
We can see that the GBA translator restored the missing line. But what stands out to me most is the fan translation, which says:
Your Phantom Beast blood is strong, but you may not disappear.
That's actually the opposite of what Maduin is suggesting might happen. There's also nothing about "strong" in the original text, and since the following line begins with a "but" or "even so", it feels to me that the translator didn't fully understand the grammar or wasn't used to handling incomplete sentences in translation like this.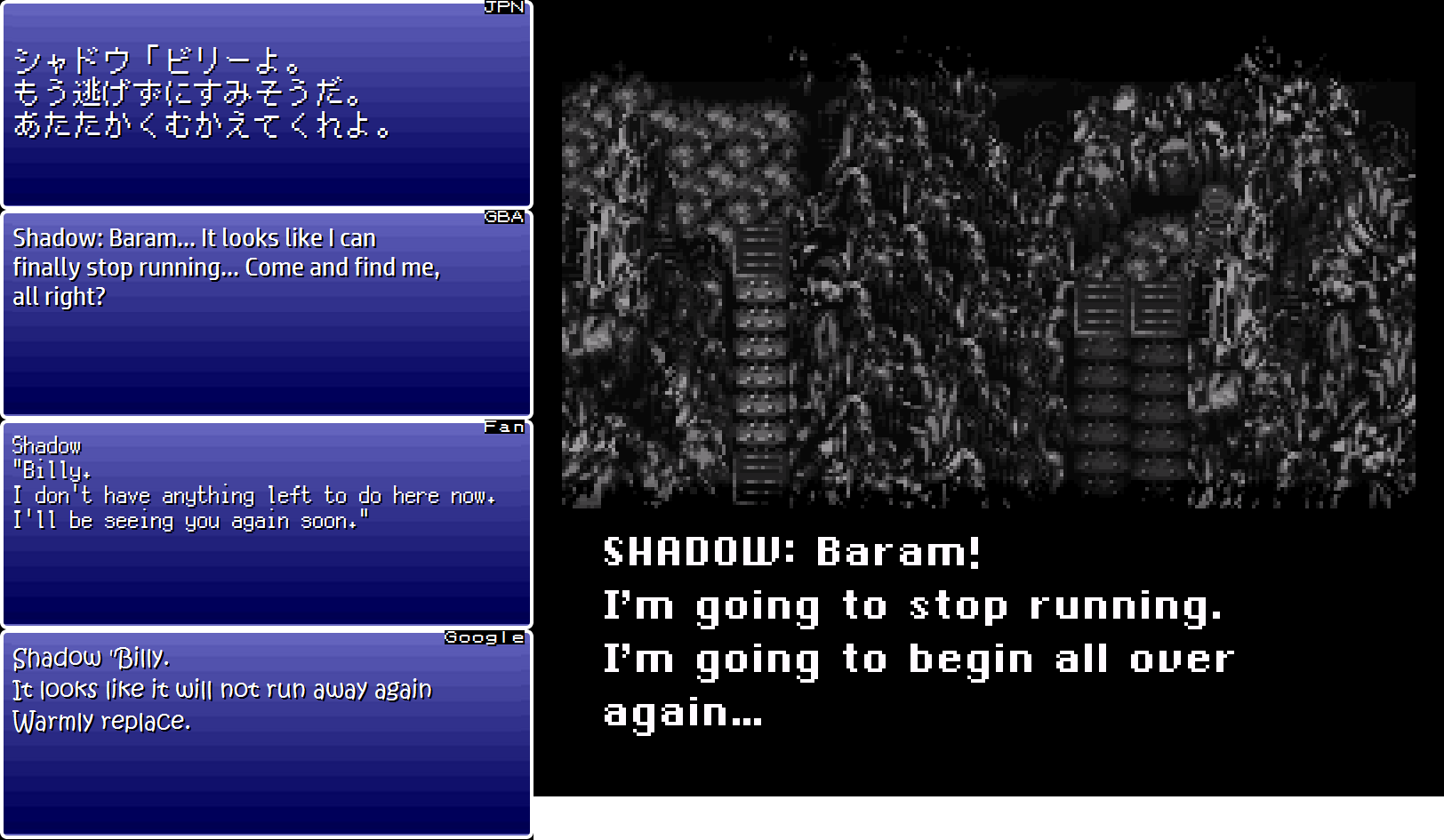 Previously, we've seen how Shadow apparently killed his old partner Billy/Baram, or at least somehow caused his death. That whole back story was mishandled in the Super NES translation, so it's not surprising to see that Shadow's final scene during the game's ending has some similar issues.
In Japanese, Shadow says:
Billy. It looks like I can quit running now. Greet me warmly.
The implication is that he's finally finished up whatever remaining business he had and is ready to die. So he decides to stay in the tower as it collapses.
The Super NES translation changes things slightly:
Baram! I'm going to stop running. I'm going to begin all over again…
I've heard different fan interpretations of this text, but I'm not really sure what the consensus is. I think many gamers could read through the lines and tell that he was ready to end his life, but that last English sentence could also be interpreted as Shadow deciding to stop running from his past and start a new life free of robbing and killing. Even so, that doesn't really fit with what happens on-screen, so maybe this was another case of the translator trying to avoid Nintendo's content restrictions.
The GBA translation changes the line closer to the original Japanese text. The fan translation rewrites the entire line and outright states the interpretation in my previous paragraph:
Billy. I don't have anything left to do here now. I'll be seeing you again soon.
The original Japanese line isn't that blunt, but I guess the fan translator really wanted to address this line and stamp out any fan uncertainties and theories.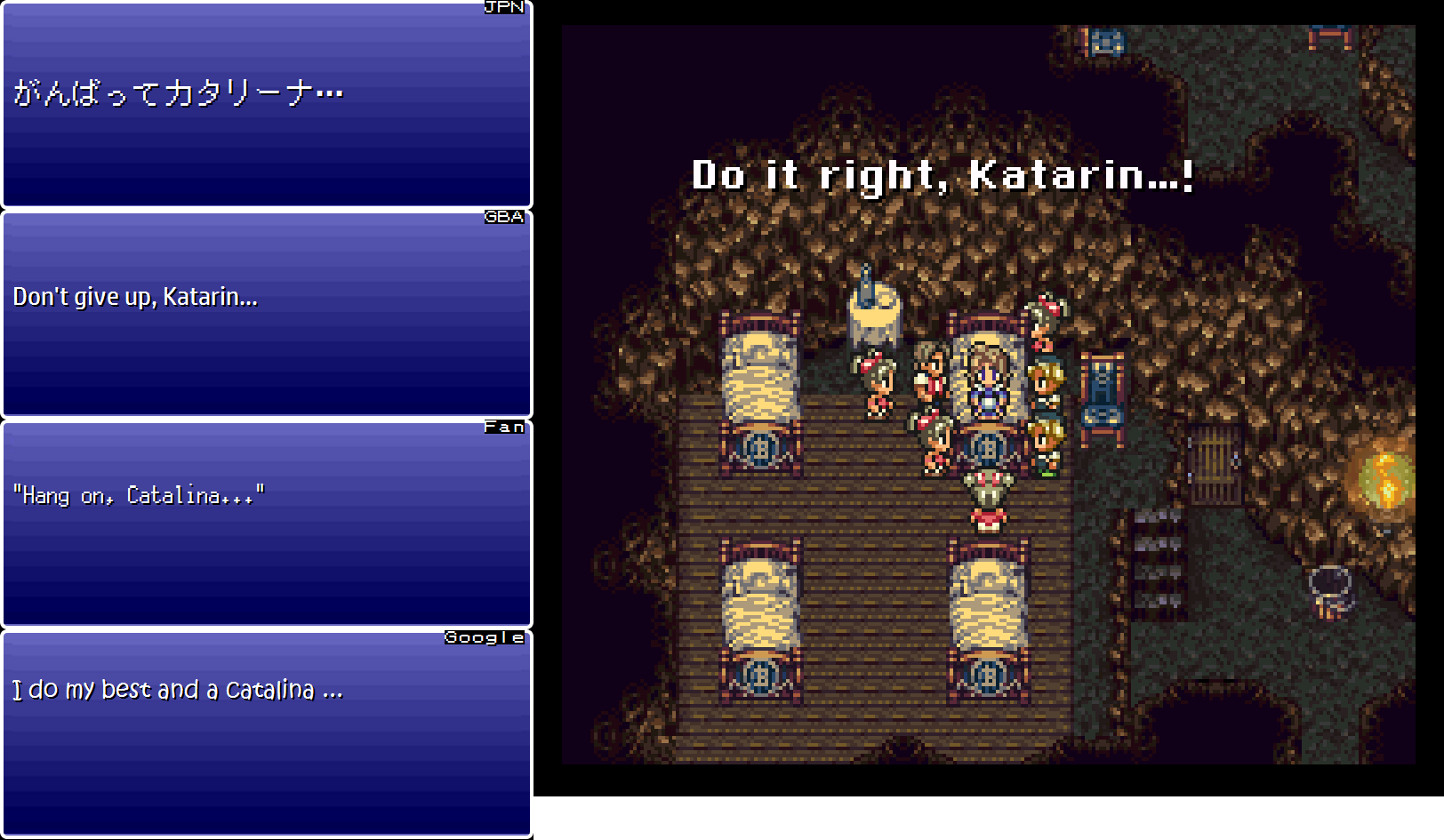 As the ending comes to a close, Terra says that she's going to try her best to make it in this new world. Then she tells Catalina/Katarin – who's about to give birth in this new world – that she should also do the same.
In the Super NES translation, this line of encouragement was worded as "Do it right, Katarin…!" which doesn't quite fit the intended tone. It could even be interpreted as "Give birth right, Katarin!", but I think most players understand what's trying to be conveyed.
The GBA translator fixed this line to match the original text more closely.
The fan translation says, "Hang on, Catalina…" but that doesn't really make sense in this context. I guess it could be considered encouragement, but it strikes me more as a "Hang on, I'm coming to help you out, Catalina!" type of line, which wasn't the original line's intention.
All in all, this is just a minor quibble that I probably wouldn't normally have pointed out, but since it's one of the very last lines of text in the game, I figured it's worth a quick mention here.
Whoa, we did it! We got through five versions of Final Fantasy VI all at once!
If you managed to read this entire comparison from start to finish, you deserve a gold medal. I wonder how big this would've been in book form.