This is part of my ongoing series in which I compare four translations of Final Fantasy VI with the original Japanese script. For project details and my translation notes from Day 1, see here.
This time we checked out everything else there was to do in the World of Ruin. Halfway through I accidentally got everyone to Level 99, but that helped speed us through some annoying parts anyway.
After this update, only Kefka's Tower and the ending remain. The end comes… beyond chaos.
Video Archive
This article covers content from three separate streams. You can see the archived videos here:
Notes
My notes below cover only a small portion of the translation topics discussed during these streams. So if you want to see even more changes, details, mistranslations, etc., check out the videos above.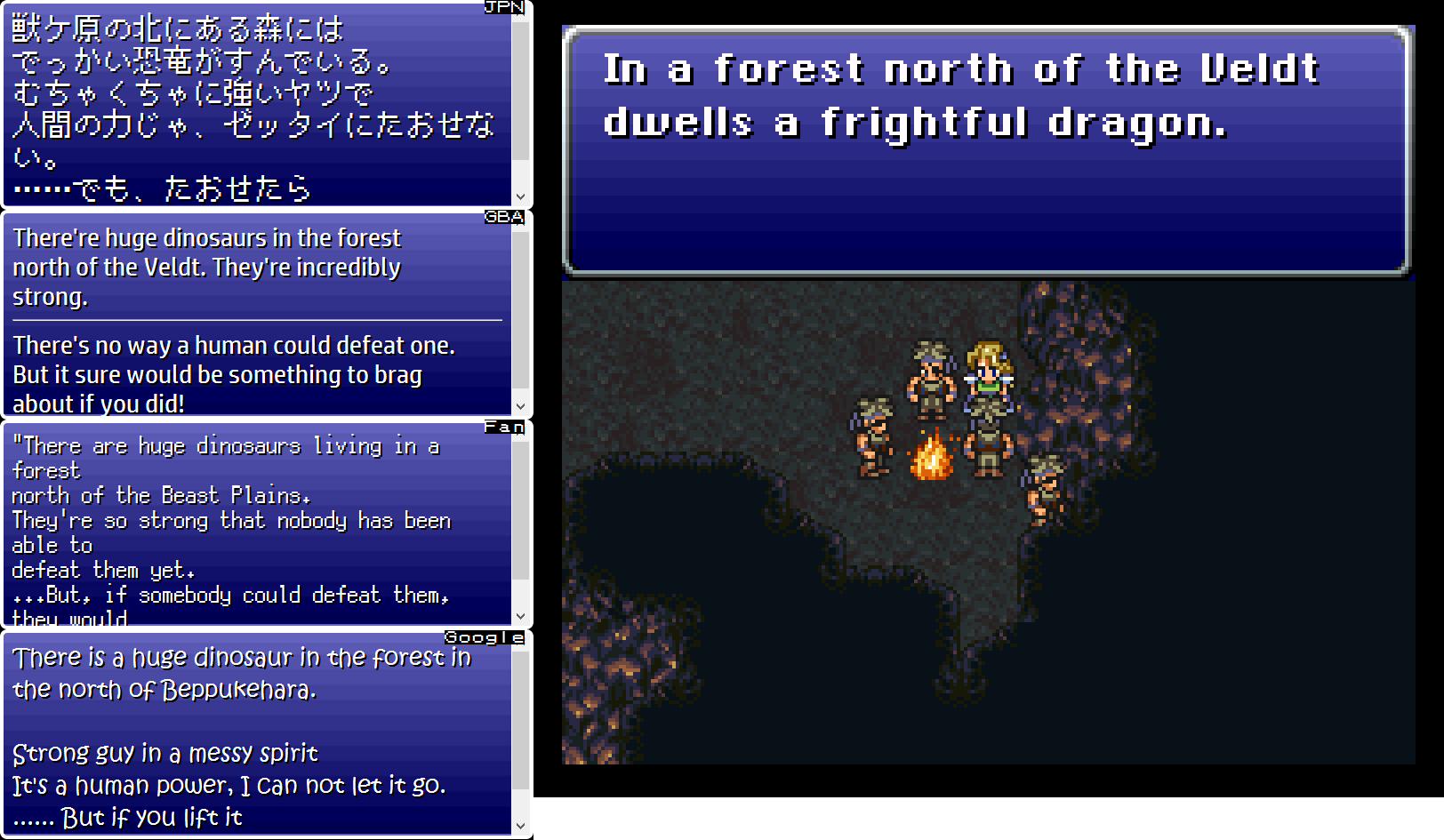 In the Super NES translation, a character in the Veldt cave says:
In a forest north of the Veldt dwells a frightful dragon.
I never thought about this too much, but I've heard that some fans took this to mean that there was a secret ninth dragon to be defeated. I imagine it led to a lot of wasted time and pointless searches, though. This is because the Japanese line says something different:
Huge dinosaurs live in a forest north of the Beast Plains.
And sure enough, there are some big, strong dinosaur enemies in a certain forest north of the Veldt:
How did the Super NES translation get this wrong? It's pretty simple: the Japanese word for dinosaur is 恐竜 (kyōryū), and 恐 means "terrifying" and 竜 means "dragon". The Super NES translator wasn't aware that 恐竜 is an ordinary Japanese word and instead mistook it for a fictional term. So he translated the word by looking at the individual characters, resulting in "frightful dragon".
The fact that there are eight dragons hidden throughout the world was an unfortunate coincidence. After looking at all these old game translations, I've started to notice that this happened with some frequency – mistranslations didn't seem like mistranslations at first due to coincidental, unintended connections to other things.
I remember fans pointing out this dragon/dinosaur mistake a lot back in the day. I also recall reading an interview with Ted Woolsey, the Super NES translator, 10 or more years ago. In it, he specifically mentioned this "frightful dragon" mistake. I can't seem to find that interview now, but if anyone out there knows what I'm talking about, let me know.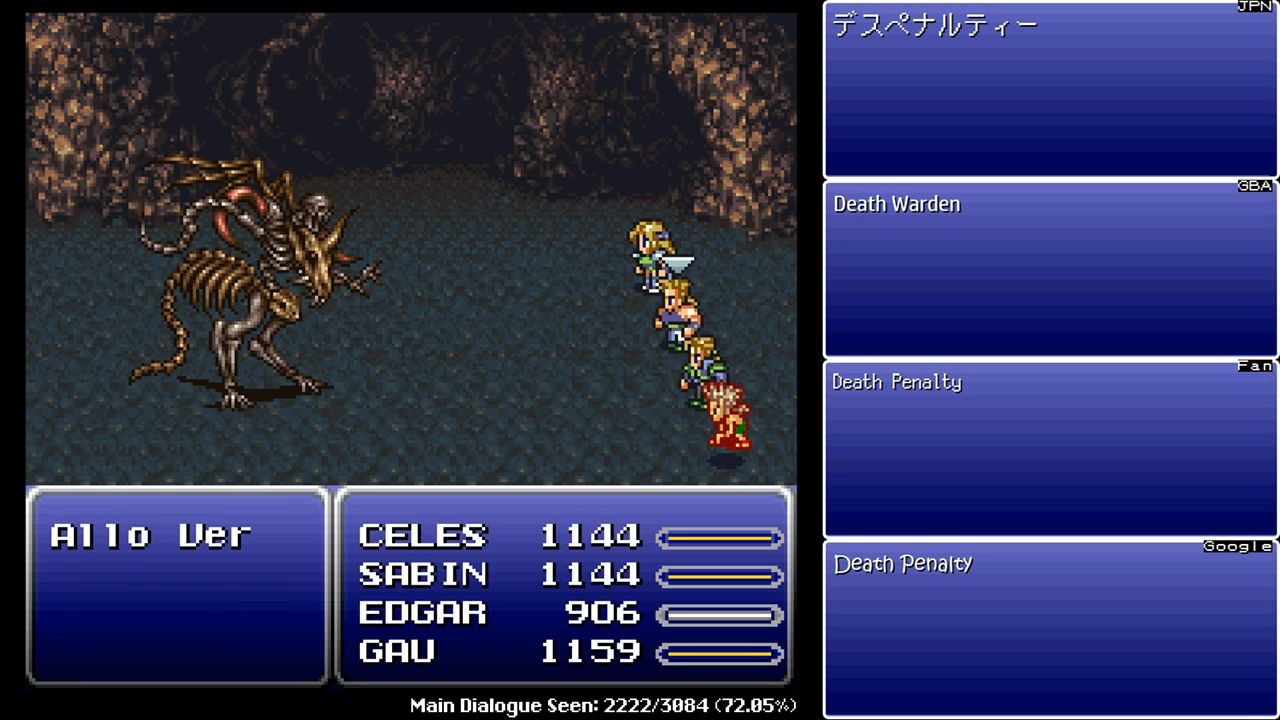 During the stream, we noticed that this enemy has a really strange name in the Super NES version: "Allo Ver". What makes this weirder is that the enemy is called "Death Penalty" in the Japanese version. By that, I mean if you had someone pronounce the Japanese name, it'd literally sound like the English word "death penalty". So what happened in the translation?
First, it's obvious that the name was changed to avoid the word "death", just as we've seen countless times before in the Super NES translation. Still, what's "Allo Ver"? After a minute or two of pondering, someone in the chat mentioned that if you put the words together it becomes "Allover"… or "All Over". Man, talk about an obtuse naming decision!
The GBA translation changes the name slightly to "Death Warden". The fan translation and Google translation keep it in line with the original name.
The Super NES version of Final Fantasy VI features a famous translation issue involving Relm and Shadow:
As we can see in the screenshots above, the issue is that the script suddenly starts referring to Shadow as "her" after using "he" everywhere else in the script. This happens because Relm appears here normally, but Shadow takes her place here if you save him before leaving the Floating Continent. Most translation issues in the game probably weren't immediately noticeable to players back in the day, but this is one that was clear as day to anyone.
So what happened? In Japanese, it's normal to drop the subjects and/or objects of sentences if it's clear what's being spoken about, and that's how these particular lines work in the original script. They don't specify who is being spoken about since it's clear from context. This means the Japanese lines could apply to anyone or anything and not seem out of place.
It's very likely that the Super NES translator wasn't aware that Shadow could appear here in place of Relm, so the line was translated specifically with Relm in mind. As a result, when Shadow appears here, the line still uses the "her" pronoun.
Whenever situations like this arise, it sometimes becomes a translation challenge to keep unstated pronouns unstated. In the GBA translation's case, we see that the first part focuses on the wounds and that the second part is changed to avoid referring to the person entirely. In the fan translation, the first part is changed to imply that some treatment has already been applied, and the second part uses the pronoun "them".
This is one of those tricky situations that I could see being on a translation agency's application test. It's also a good example of why context is important when translating. If a developer had left a note for the Super NES translator, or if the Super NES translator had had more time to play through the game, this situation could've been easily avoided.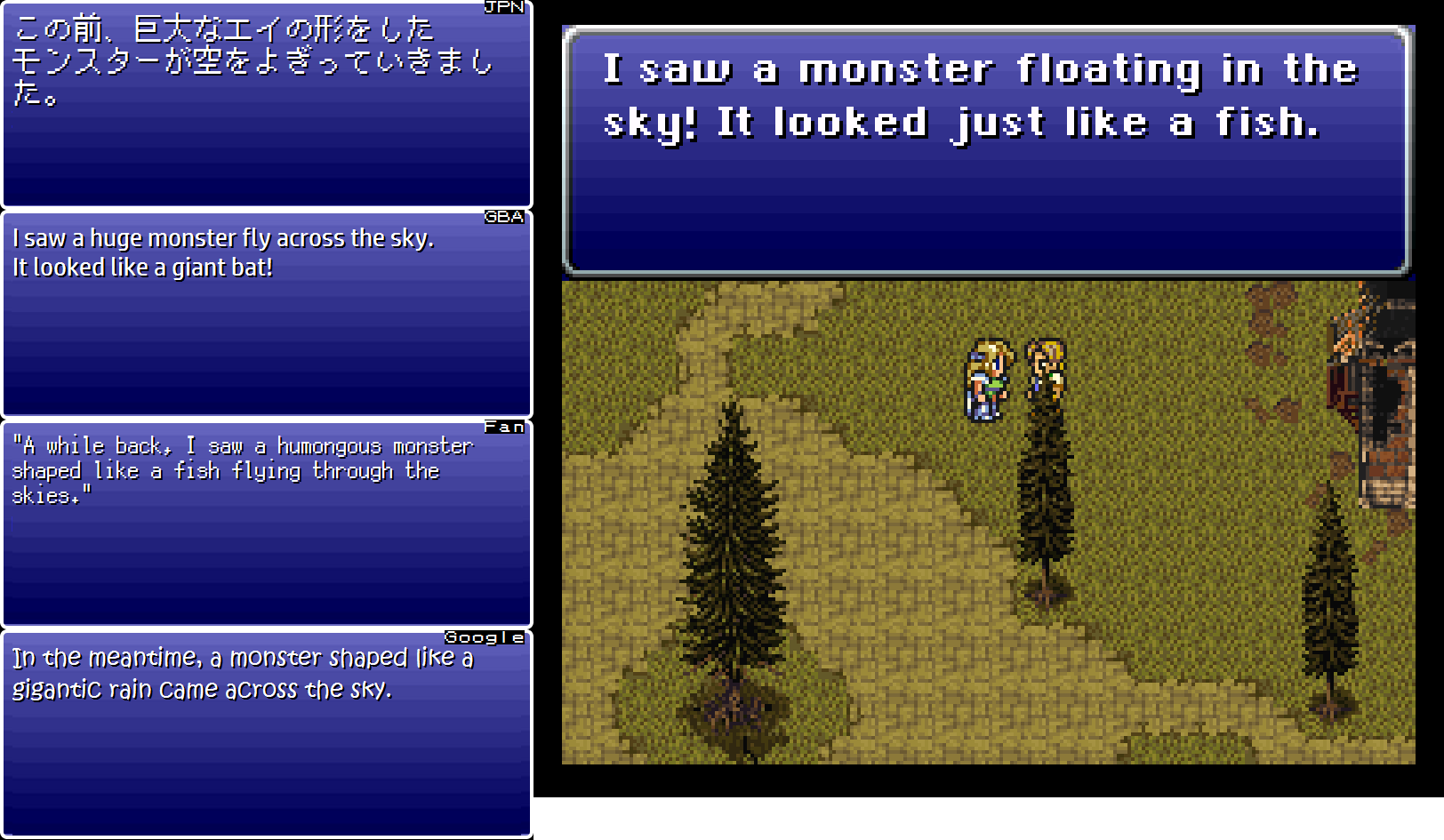 In the Japanese script, this character says he saw a monster flying through the sky and that it looked like a giant ray.
In the Super NES translation, the guy instead says the monster looked "just like a fish". I'm no fish expert, but this doesn't strike me as a fish: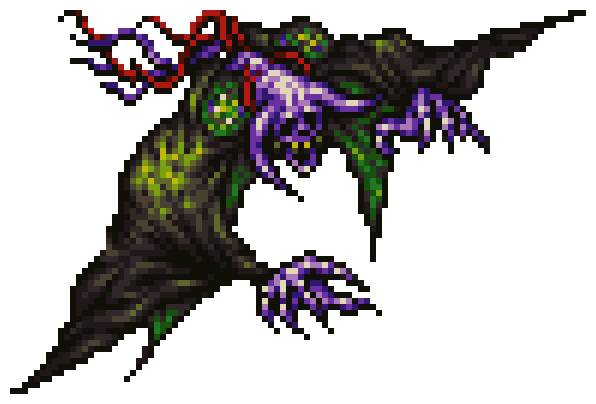 The Game Boy Advance translation also uses a different comparison and says the monster "looked like a giant bat". This is much more believable than the Super NES translation and fits with the idea of a flying monster.
The fan translation borrows from the Super NES translation and says the monster was "shaped like a fish". Meanwhile, the Google translation says the monster was "shaped like a gigantic rain". Based on my own Google translation experiments, I believe Google actually had the right idea by going with "ray", but was ultimately thwarted by its tendency to tweak words at the last minute for no reason, resulting in "rain" here.
In the end, none of the translations reflect what's said in the original Japanese line.
In an optional side quest, the heroes take Gau to get some nice clothes before reuniting with his father. The Super NES translation is a complete mess during this scene, from start to end. I think the fact that it's optional and that it offers few contextual clues made it especially tough for the Super NES translator to handle.
The fan translation borrows from the Super NES translation, and the GBA translation fixes everything up as best as possible.
There's one small part involving Cyan that stood out to me, though. In Japanese, it goes something like this:
Cyan: Perhaps this hat would be perfect.

???: Talk about terrible sensu!

Cyan: Wh-what? Just how is this a sensu!?

???: ……
The joke here involves the word センス (sensu, "sense of fashion/humor/etc.") and the word 扇子 (sensu, "a folding fan"). Both words have the same pronunciation, but Cyan is dense and misunderstands.
It feels like the Super NES translator rushed through this scene at top speed. This part in particular seems to involve misunderstandings and mistranslations, resulting in a hat that suddenly disappears:
Cyan: What a jaunty hat.

???: Not at…

Cyan: Wait a minute! Where's the hat?

???: ……
Normally I'd mark something like this as a purposeful change, but the specific way it changed leads me to believe it was a genuine mistranslation instead.
If you're studying Japanese, one problem in the translation above deals with
kore no doko ga
. We can see that the "where" in the final translation likely originated from this phrase. The fan translation also includes this same basic mistake.
In straightforward text, doko does indeed mean "where", but it's not always a 1-to-1 thing. If you see "(A) no doko ga (B)" in a question – like in this case – it's asking something closer to "in what way is (A) (B)?". So Cyan is actually saying: "In what way is this a folding fan?" and not asking about actual locations.
Since this section of text involves two Japanese words sounding the same, the GBA translator replaced it with English text that works in a similar way. The unidentified character now uses the word "clown", Cyan mistakes it as "crown", and then the unidentified character gives a completely new response to round out the new joke:
Cyan: Now this is a fine and jaunty little hat!

???: Maybe if he were a clown…

Cyan: What was that? If he wore a crown?

???: Ha! We don't want his father thinking he's some kind of prince, now, do we?
Trying to explain foreign language wordplay across multiple translations while juggling mistranslations and misunderstandings is tough work. But hopefully some of this makes sensu.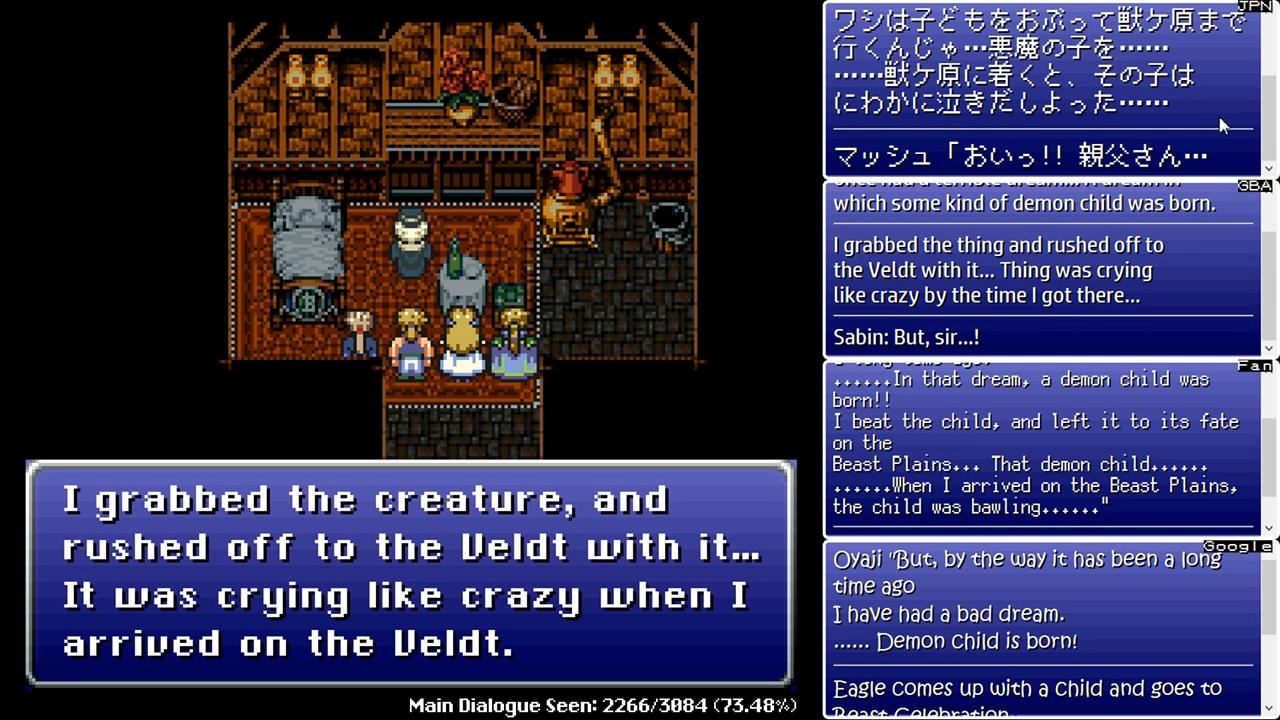 In Japanese, Gau's father says he had a dream in which he carried a devil child away to the Beast Plains. In the fan translation, he instead says "I beat the child".
…I'm not sure how it happened, but that's quite the mistake to make.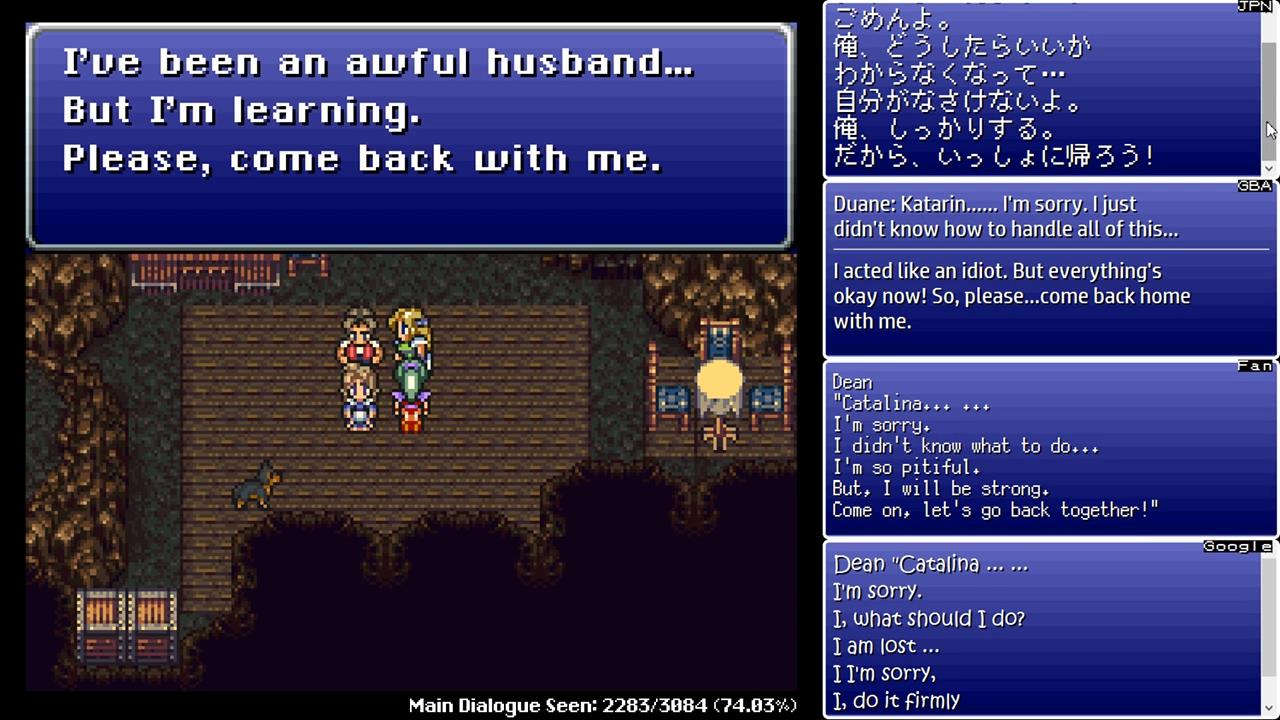 The characters Duane and Katarin were in love earlier in the game. But Duane reacted poorly after Katarin recently revealed that she's pregnant. Eventually, Duane comes to apologize to Katarin. In Japanese, he says something like:
I'm sorry, Katarin. I… didn't know how to handle this. I'm pathetic.
The issue of teenage pregnancy – or some variation of it – was probably considered iffy territory for the Super NES release, which is why the line changed to:
Katarin… … I'm sorry. I didn't know how to handle this. I've been an awful husband…
The GBA translation undoes this husband assignment, as does the fan translation. The Google translation is kind of mesmerizing in its own way.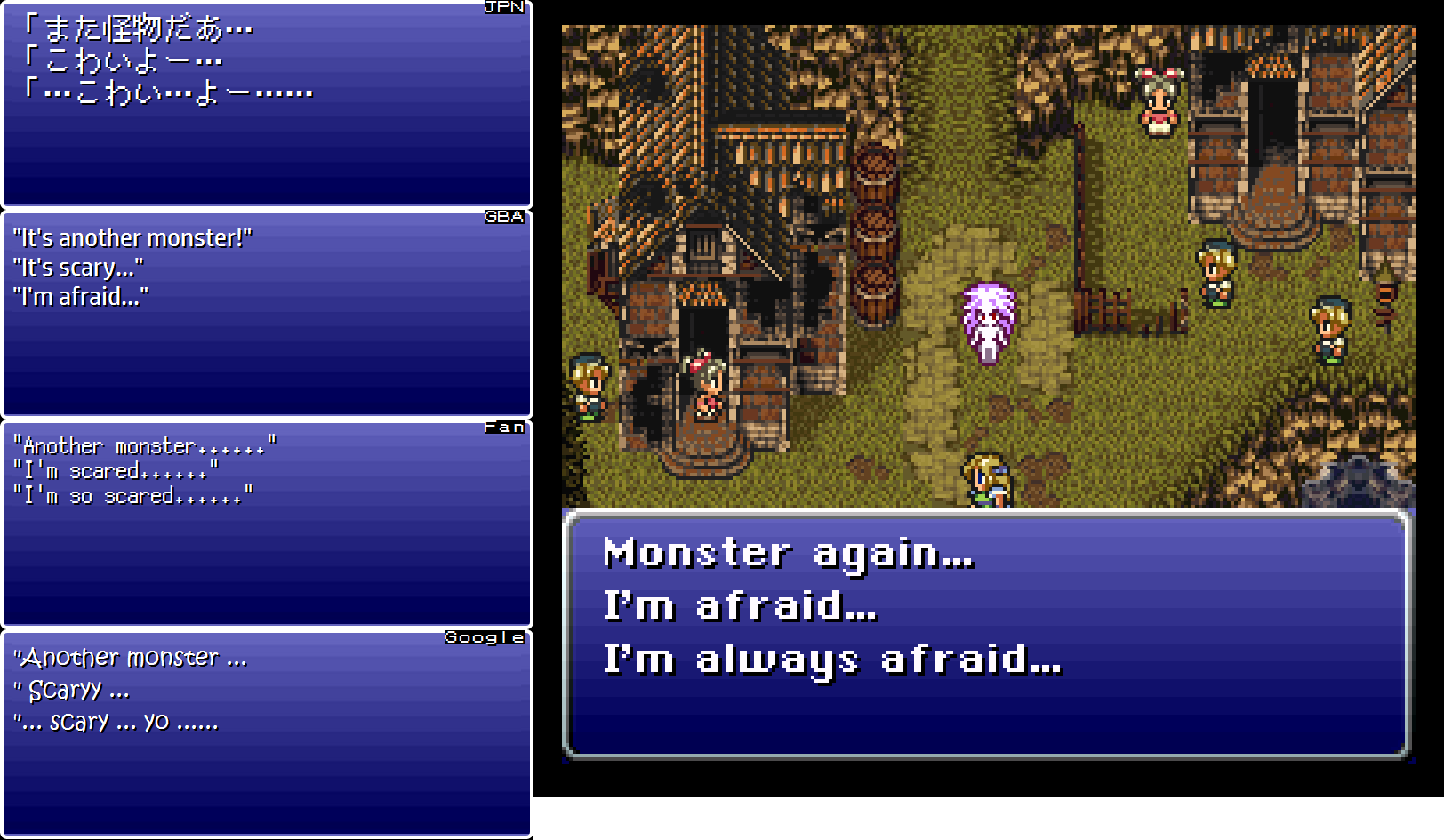 Terra transforms when a giant monster threatens the children she's taking care of. During this scene, there's some text in the Super NES text that's not attributed to anyone but is written from Terra's point of view. In Japanese, though, much of this text doesn't belong to Terra at all. The text formatting and punctuation makes it clear that it's supposed to be multiple children talking about Terra.
We've seen this happen a few times previously in the Super NES translation of Final Fantasy VI, but it's something that we've also seen in the Super NES translation of Final Fantasy IV as well, and that was translated by a different person. It's a recurring problem that I suspect secretly plagued more game translations from the era.
In this particular case, the GBA, fan, and Google translations all make it clear that there are multiple children talking, and that they're talking about Terra and not Terra talking about herself.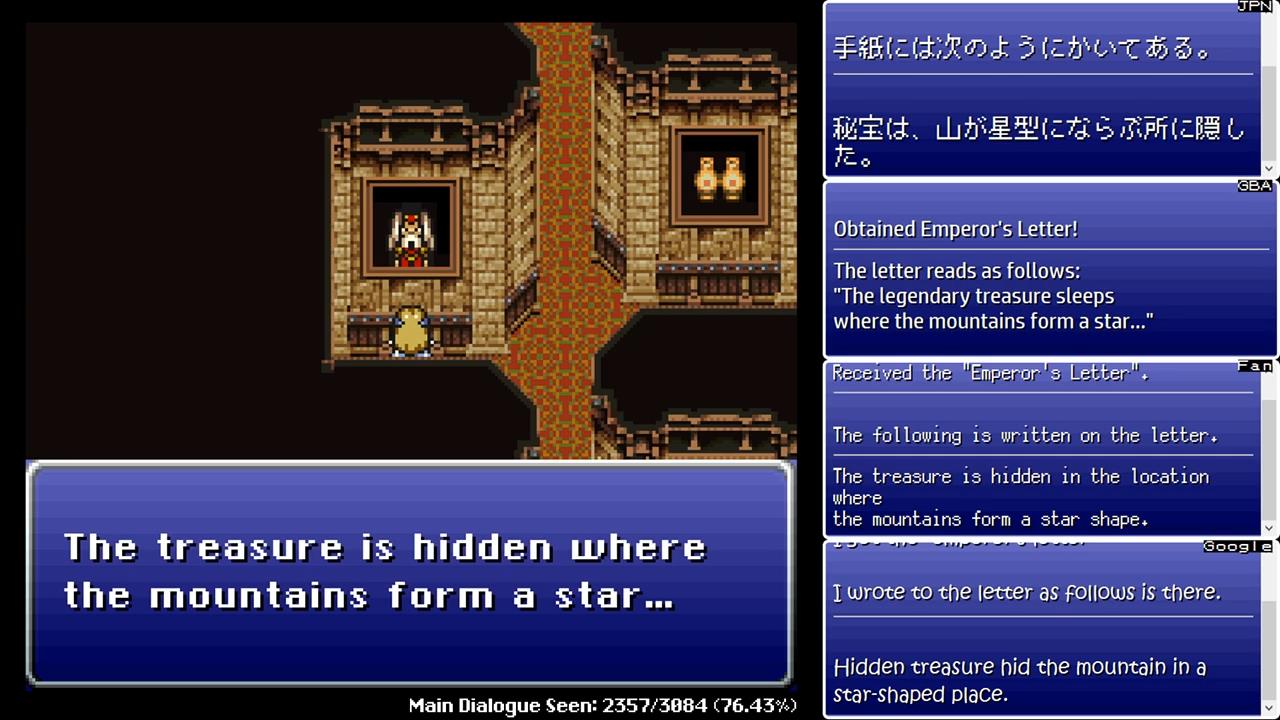 Locke has been searching for a single, specific treasure since before the beginning of the game. In Japanese, the specific word used for this treasure has been 秘宝 (hihō, "secret treasure"), and it hasn't been used to refer to any other treasure in the game. But, as we've seen in previous sections, this word has been accidentally overlooked or written out of the Super NES translation nearly every time so far. Even now, near the end of the game, the Super NES translation barely acknowledges that this treasure is on a different level than other ordinary treasure.
For example, the clue to finding Locke's secret treasure is in a letter from the emperor. In the Japanese script, the letter talks about a hihō, which is meant to make you think, "Oh! This must talking about that special treasure Locke is looking for!". But the Super NES translation just says "treasure", which could refer to any old treasure and doesn't firmly connect with anything in particular.
We see that the GBA translation places the secret treasure on a higher pedestal by calling it a "legendary treasure". The GBA translation has actually been consistent about calling it a "legendary treasure" from the start, which demonstrates a clear understanding of text details and a focus on preserving those details in a consistent way.
In the end, you still find Locke in the cave and his backstory with Rachel gets the same bittersweet resolution. But for me, it's been interesting to watch how the Super NES translation has consistently snipped this story thread along the way.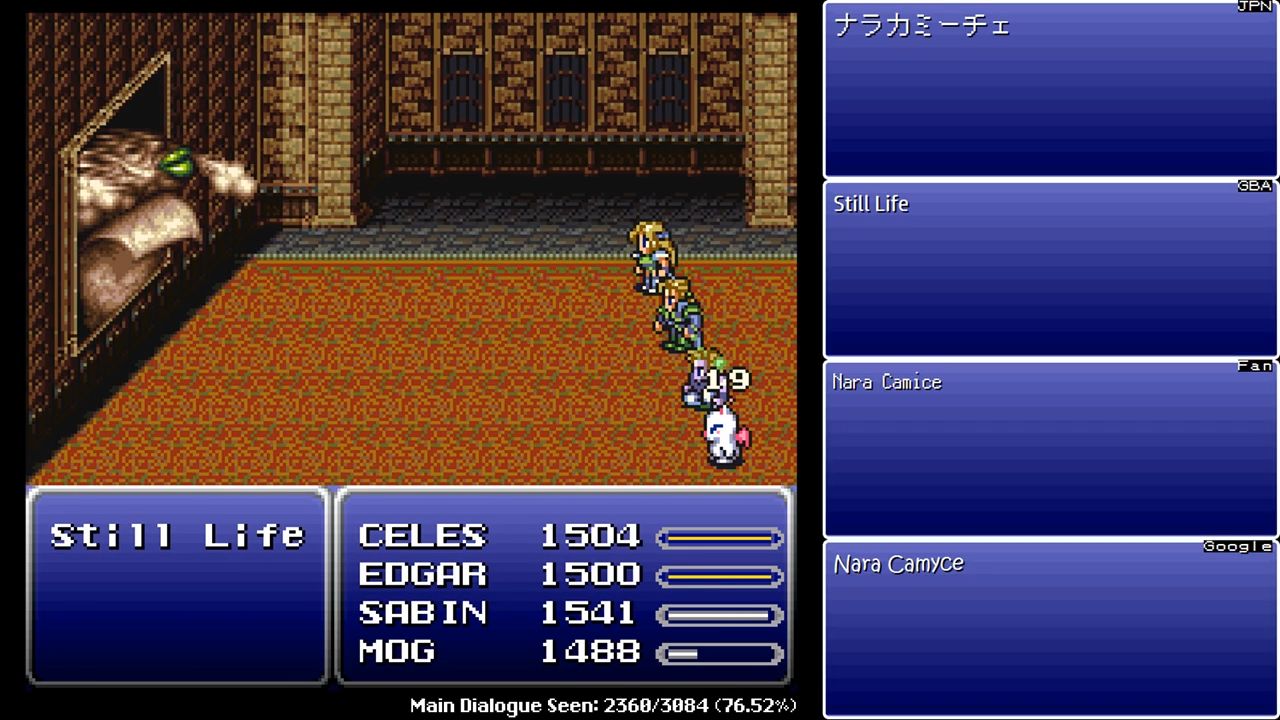 A very strange painting monster attacks the heroes. In the Japanese game, the monster is called ナラカミーチェ (narakamīche). What does this mean and/or where does it come from? It's not really clear, but there's a big Italian shirt company that's spelled the exact same way in Japanese. The company is known as Nara Camicie , and it even expanded into Japan in 1985.
So is this painting monster named after a shirt company? We'd have to ask the original developers to find out for sure, I guess. If anyone has further insight into this name, let me know.
In any case, the strange name likely baffled the Super NES translator, so the monster was given a brand new name: "Still Life". This name was carried over into the GBA translation too. Meanwhile, the fan translation and Google translation try to go with something closer to the Japanese name.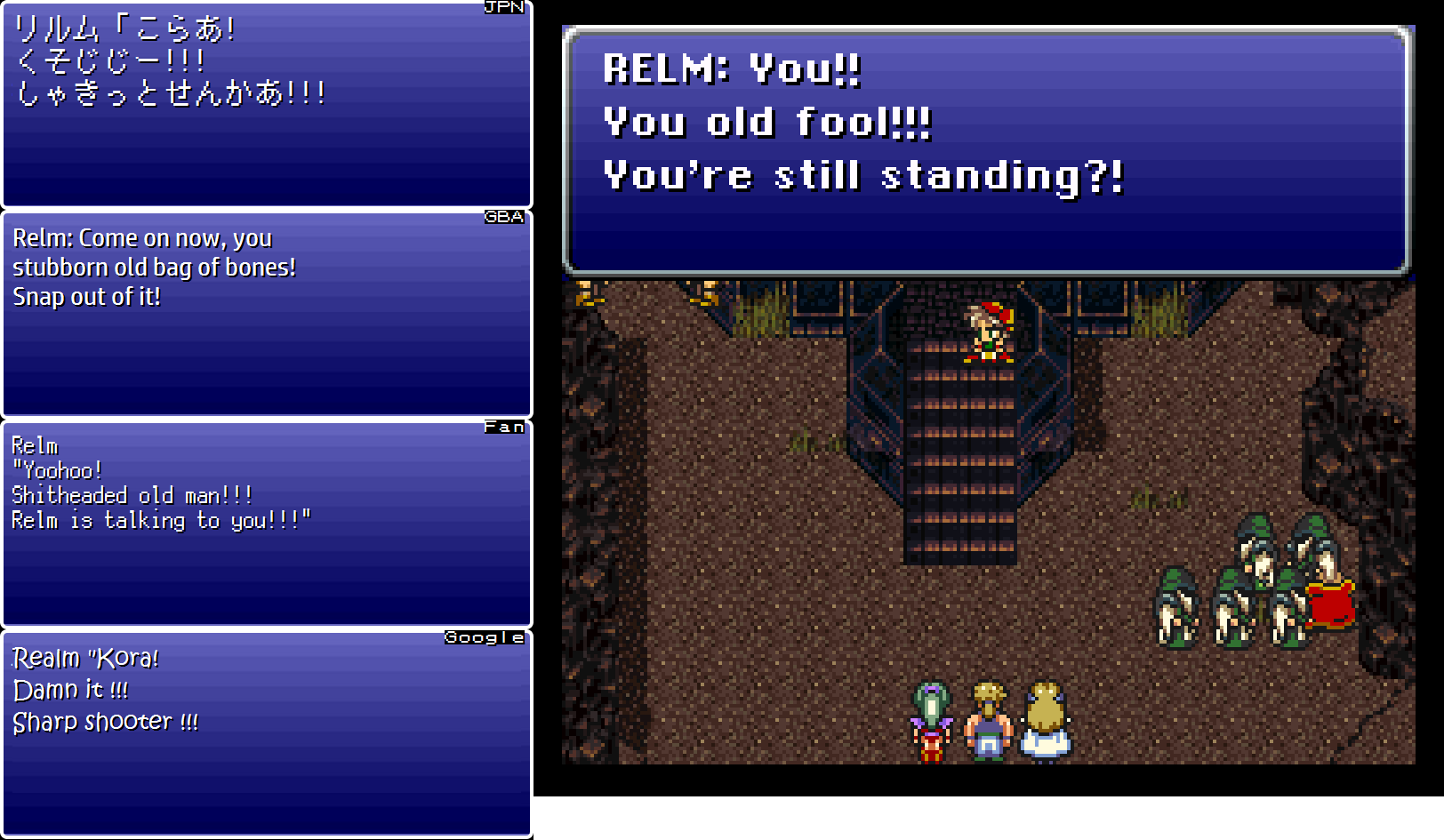 Relm discovers Strago marching around with a bunch of Kefka cultists. Upon seeing this, she yells at him in Japanese in a surprisingly rude way. Rudeness rarely converts 1-to-1 between Japanese and English, but to me the line roughly feels something like:
Hey, you! Old fart! Get your act together, dammit!
The Super NES translation couldn't get too rude, so it's a little lighter than the original line. But the main line is mistranslated anyway, so it doesn't matter too much.
The fan translation takes the rudeness to a really high level that seems out of place, but it's clear that the translator was at least trying to emulate the surprising rudeness of the Japanese line. Again, the main line is mistranslated, but not in the same way as the Super NES translation. My guess is that translator wasn't familiar with the grammar in the third line.
The GBA translation properly translates everything and handles the line in a disciplined manner without resorting to heavy swearing.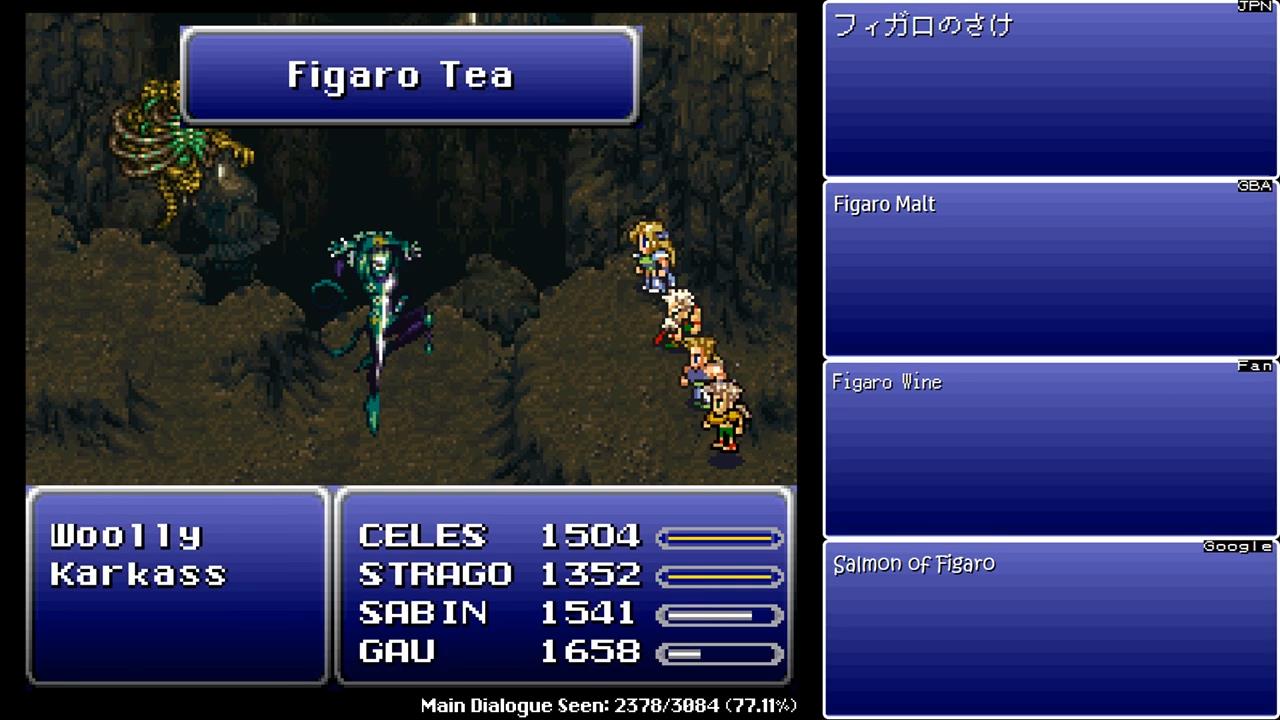 In the Japanese game, a monster inside Gogo's cave sometimes uses an attack called フィガロのさけ (figaro no sake), which means something like "Figaro Liquor" or "Figaro Alcohol".
Unsurprisingly, this was changed in the Super NES translation. But instead of doing the usual alcohol-to-coffee change seen during this era of gaming, the attack was renamed "Figaro Tea". The GBA translation goes with "Figaro Malt", and the fan translation goes with "Figaro Wine".
Japanese is full of words that sound the same but have very different meanings. This includes the word sake, which can mean "alcohol" or "salmon". It's usually clear which meaning is intended depending on the context – it's not every day you drink salmon or go fishing for liquor. But this also explains why Google gets this translation so wrong and calls the attack "Figaro Salmon".
Gogo is a secret, optional character in Final Fantasy VI who is wrapped in shrouds, mystery, and fan theories.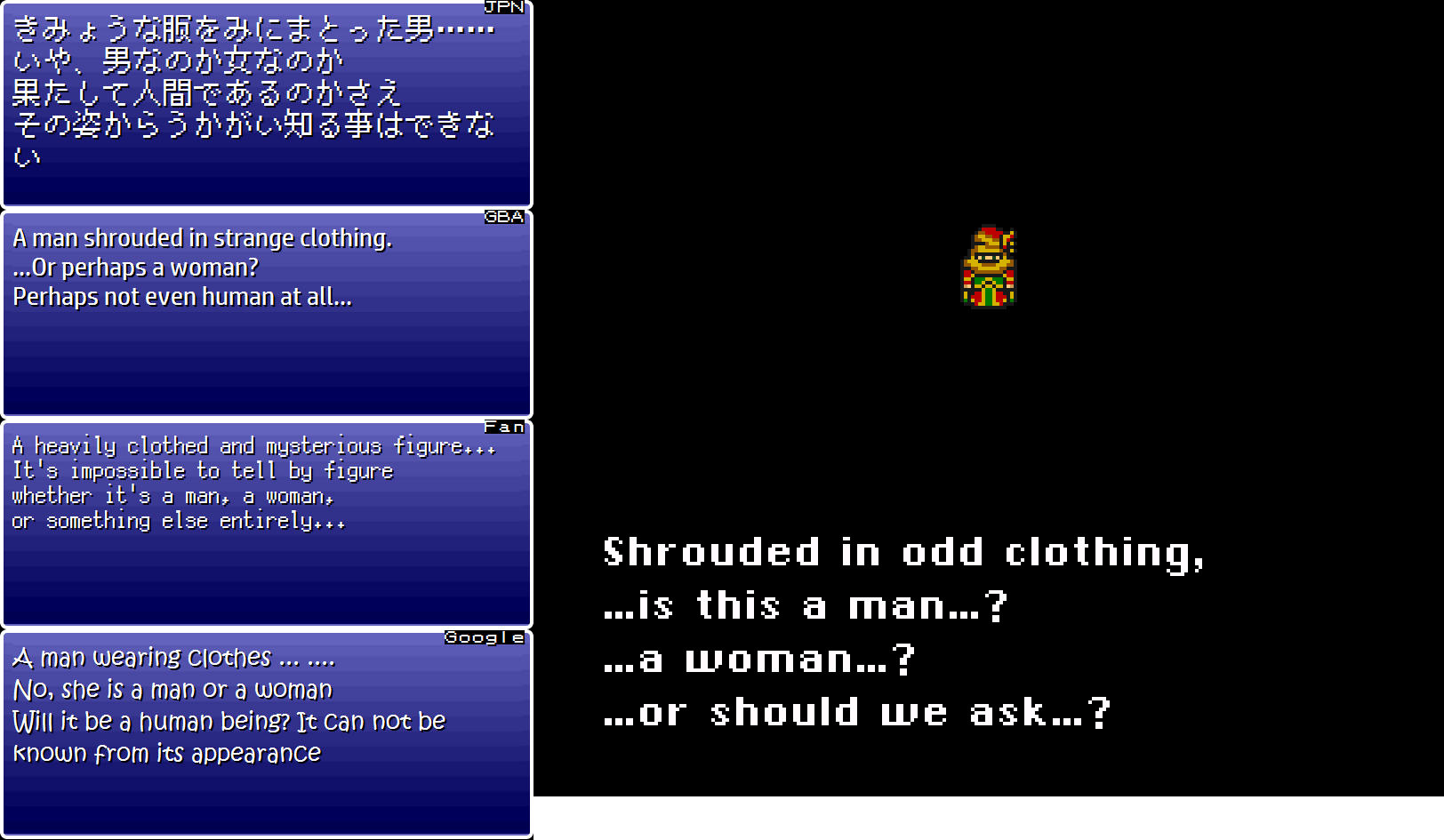 In Japanese, Gogo is introduced with something like:
A man clad in peculiar clothing… Or, wait, is it a man, a woman, or even human? It's impossible to tell from looks alone.
The Super NES translation condenses the text and drops the idea that Gogo might be non-human. The GBA translation stays closer to the original text but drops the line about Gogo's appearance. The fan translation stays close, but I can also see a minor Japanese misunderstanding in it.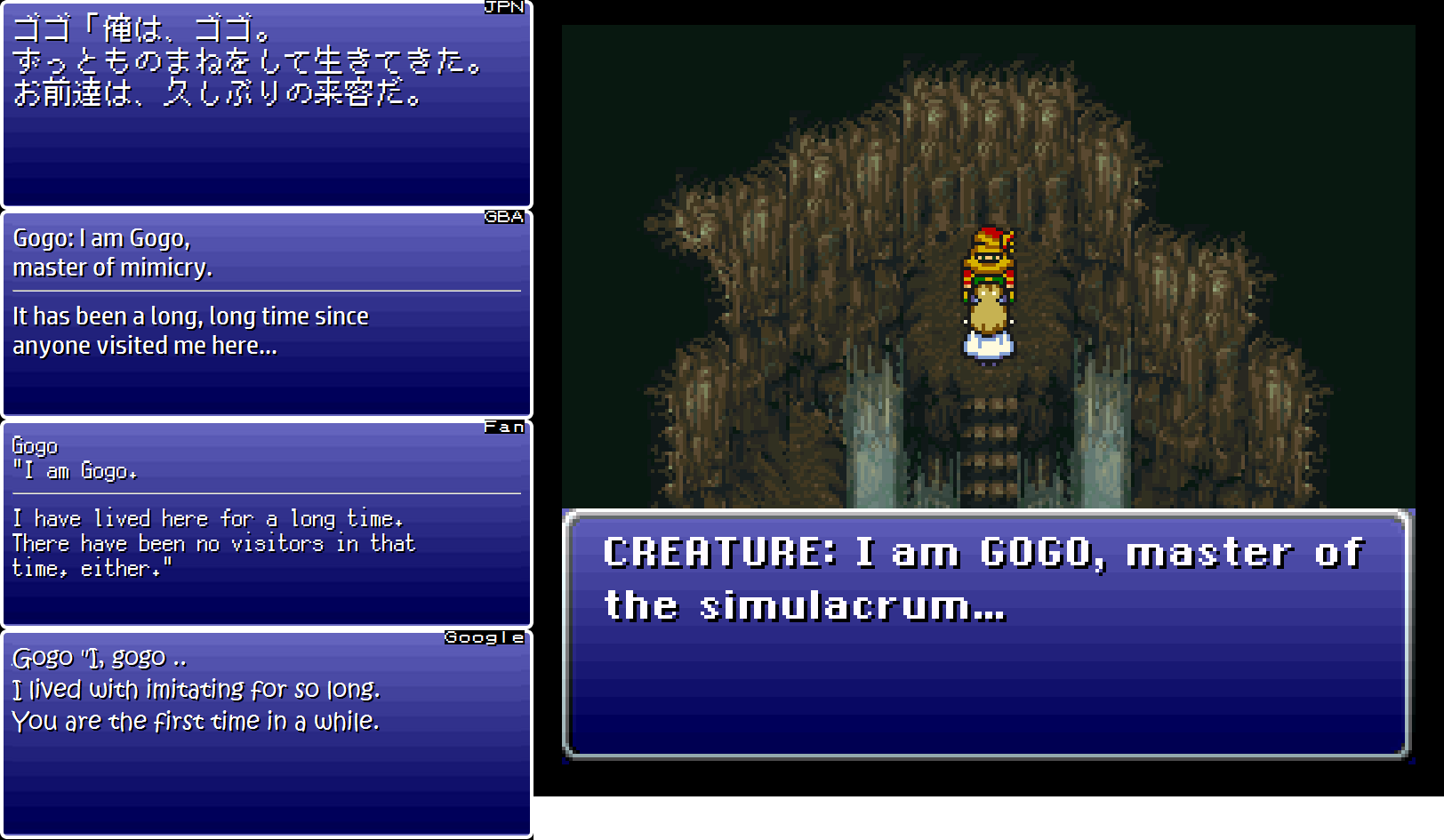 Still, despite what the introduction says, Gogo uses the pronoun 俺 (ore), one of the most masculine first-person pronouns in Japanese. Normally, you'd think Gogo would use a more neutral pronoun like 私 (watashi), so this is a bit surprising. In addition to this, one of the official Japanese guides also mentions that Gogo is male: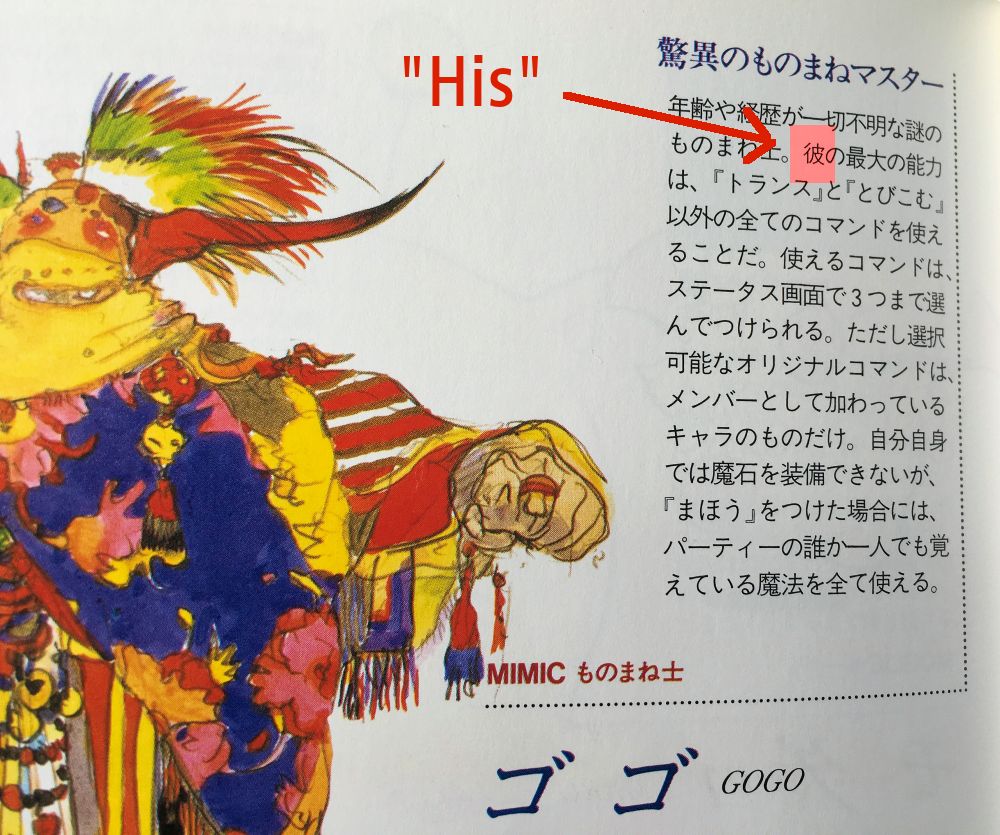 So we have at least two things suggesting Gogo is male. Still, if the game's writers say Gogo's identity is supposed to be a mystery, why suddenly solve the mystery like this? I'm not really sure what to think, but I've also heard that the Final Fantasy VI Gogo makes a secret cameo in a Hanjuku Hero game (the 4th one, I believe) and that Gogo is unquestionably specified as being male. I haven't played the game myself and haven't been able to fully confirm it yet.
Anyway, I know there've been lots of rumors and theories about Gogo over the past 20+ years, but I never paid much attention to them. I probably haven't been able to shed any new light on the subject, but I'm still curious about what all the old rumors were. So if you recall any of Gogo's rumors and/or why they came about, let me know in the comments!
Cyan's mind is invaded by three dream demons who look like children. In Japanese, these demons call themselves the "Three Dream Brothers" and are known as Rêve, Sogno, and Sueño. These names mean "dream" in French, Italian, and Spanish.
The Super NES translation changes all of this and calls them the "3 Dream Stooges", which is a reference to the famous Three Stooges, a trio of nitwits and knuckleheads. The Super NES translation also renames the demons Moe, Larry, and Curley, which were also taken directly from the Three Stooges: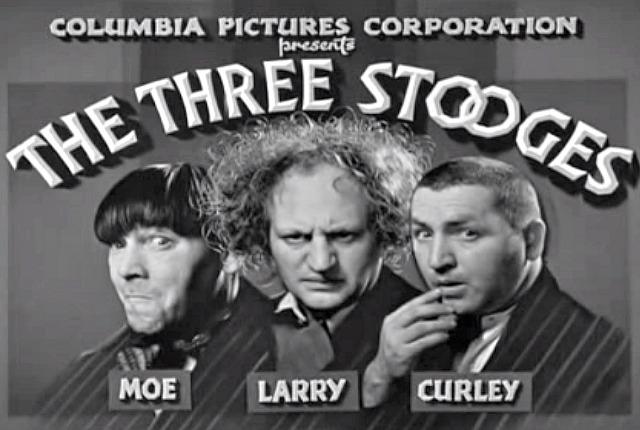 I'm a big Three Stooges fan and was happy to see two of my favorite things come together like this, but I also knew that there was no way they were called that in Japan and that the references were added in. I also remember feeling that it cheapened this part of the game and that I always dreaded it in subsequent playthroughs… but then again maybe I was just bad at this part of the game.
Now that I look back at it 20+ years later as a professional translator, it absolutely feels like a forced, unnecessary reference on par with other infamous examples:
The GBA translation calls the dream demons the "Dream Stooges" rather than the "3 Dream Stooges". It also changes the individual names again. Instead of using the French, Italian, and Spanish words for "dream" as the Japanese game uses, the GBA translation takes the previous Dream Stooge names and changes them into Moebius, Laragorn, and Curlax.
I'm guessing the "Curlax" one is a combination of "Curley" and "Snorlax", but I don't know if the other names are sleep-related. "Moebius" just seems to be a reference to Möbius stuff and "Laragorn" seems to be a mix of "Larry" and "Aragorn" from Tolkien lore.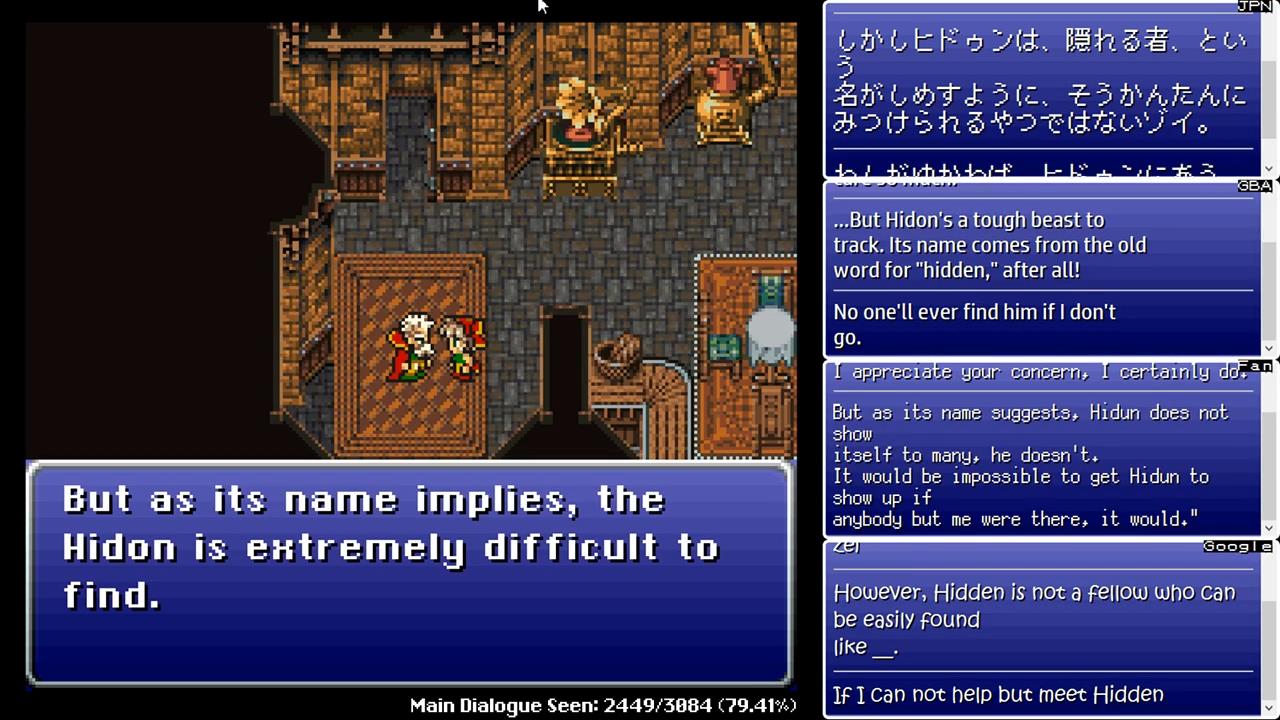 Strago and his friend have been searching for a legendary monster for a very long time. In Japanese, this monster is known as ヒドゥン (hidun). This is an unusual spelling in Japanese, but it's actually a common way to spell the English word "hidden":
The Japanese script also adds an explanation about the name:
But as the name Hidden – which means 'hidden one' – suggests, it's not easily found.
Calling a legendary, hard-to-find monster "Hidden" would sound unimaginative and pretty on-the-nose in English, and having to explain that "Hidden" means "hidden" in English makes no sense. So the Super NES translator renamed the monster "Hidon" and changed the explanatory note to say:
But as its name implies, the Hidon is extremely difficult to find.
The GBA translation retains the "Hidon" name change but changes the explanation into:
But Hidon's a tough beast to track. Its name comes from the old word for "hidden," after all!
During the stream, some of the chatters tried to come up with alternative localized names for this monster. I forget what they were, but if you have any fun ideas of your own, share them in the comments!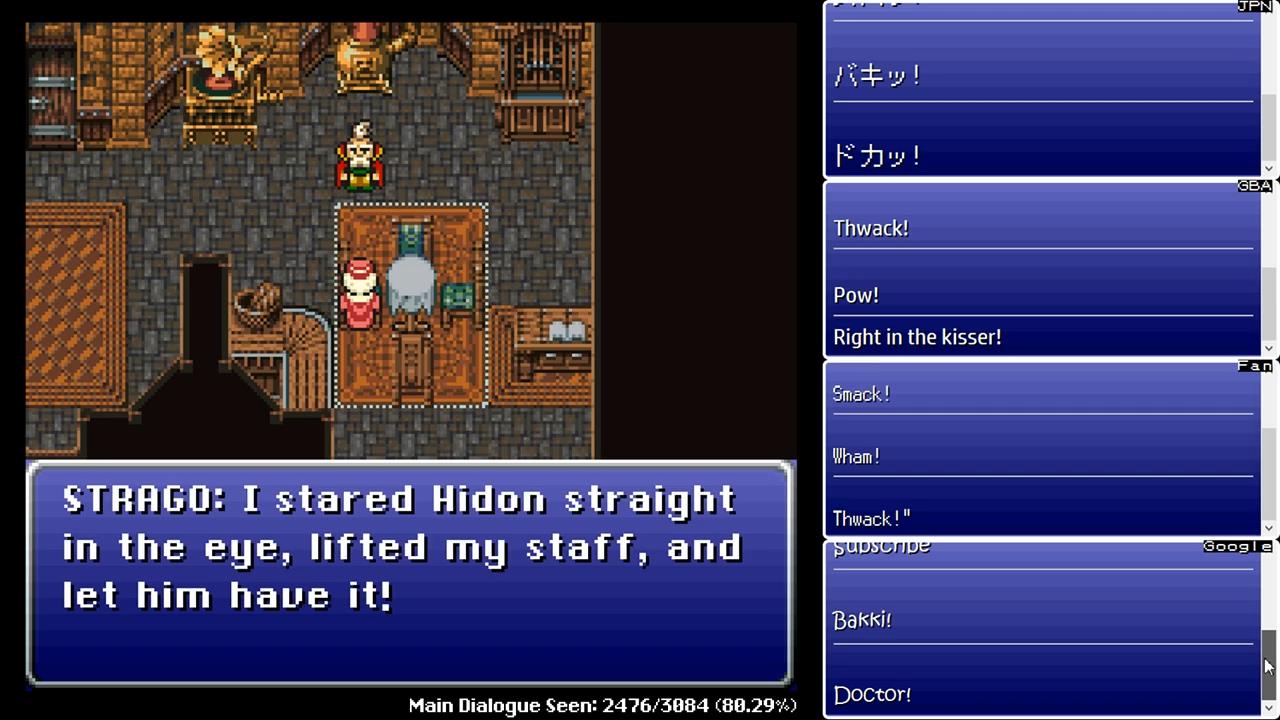 Strago finds Hidon, defeats it, and returns to brag about it to his friend. In Japanese, he tells the story in an over-the-top way that culminates in him saying stuff like: "Bam! Bash! Thwack!".
The GBA translation inserts "Pow! Right in the kisser!" into the scene, which is a reference to the old The Honeymooners TV show. Unfortunately I can't find a clip of it online, but it's one of the most famous quotes from the show.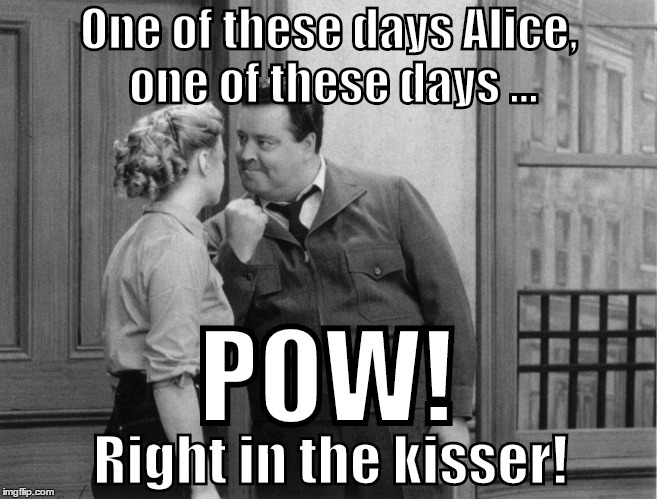 It's not as blatant as the Three Stooges reference we just looked at, but it definitely had people groaning during the stream.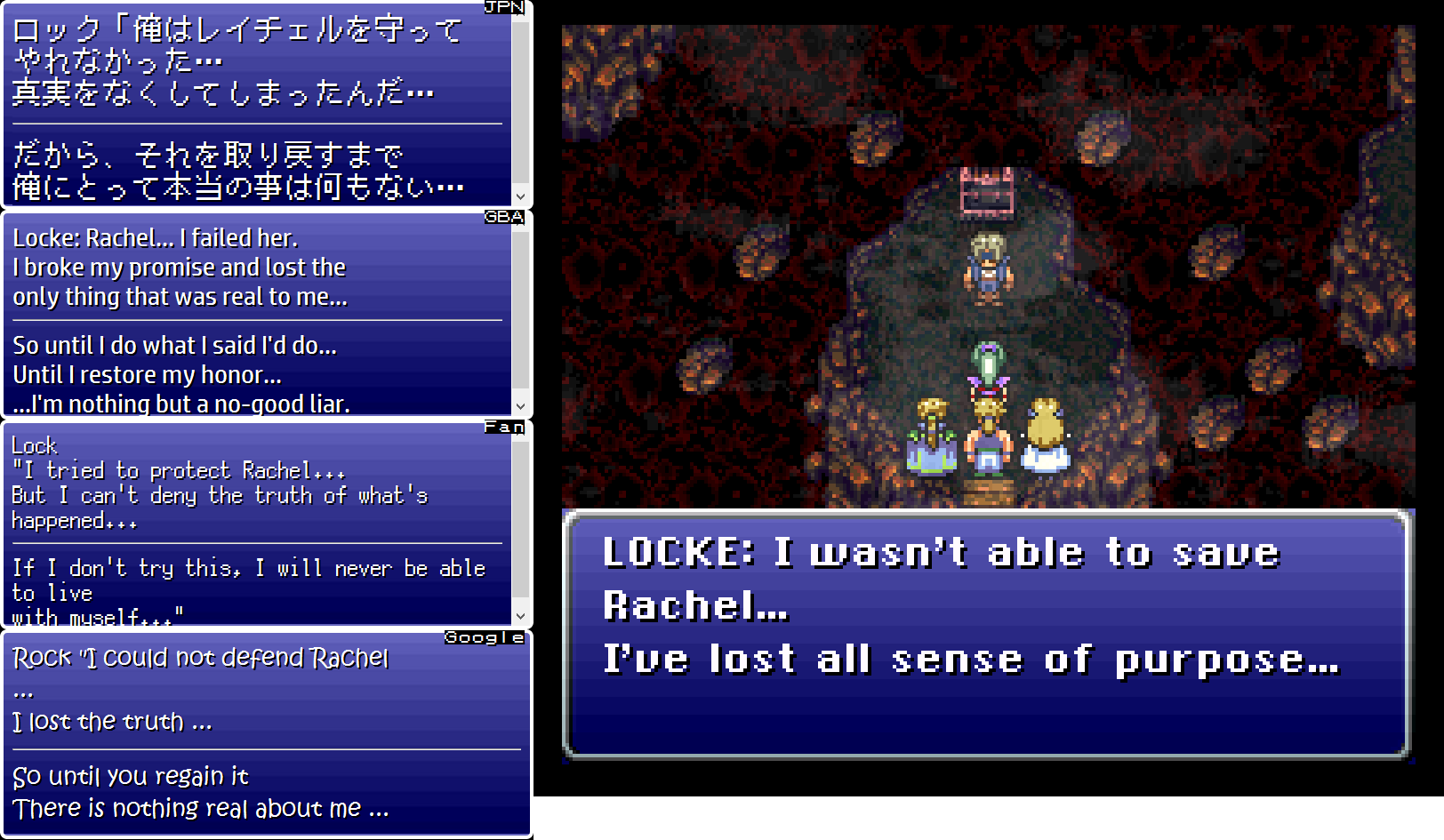 The heroes find Locke deep inside a cave. He's finally located the special treasure that can bring his old girlfriend back to life.
In Japanese, he says at one point:
I wasn't able to protect Rachel… I lost the truth. So nothing will ever be real to me until I get it back.
This is a strange line that sounds even stranger in translation. Each translator dealt with it differently, mostly by changing the text or writing around it:
| | | |
| --- | --- | --- |
| Super NES Translation | GBA Translation | Fan Translation |
| I wasn't able to save Rachel… I've lost all sense of purpose… | Rachel… I failed her. I broke my promise and lost the only thing that was real to me… So until I do what I said I'd do… Until I restore my honor… I'm nothing but a no-good liar. | I tried to protect Rachel… But I can't deny the truth of what's happened… If I don't try this, I will never be able to live with myself… |
In the Super NES version, Locke blames himself for what happened to Rachel and has lost his sense of purpose. In the GBA version, he blames himself and is hung up on his honor and keeping his promise to Rachel. In the fan translation, it sounds like he comes to terms with his failure and hopes to use the treasure to make things right for his own sake.
Again, the Japanese line is a bit odd and even some Japanese fans wonder what exactly he's trying to say. From what I can gather, it boils down to the fact that when Rachel lost her memory, Locke lost the "truth" – this wasn't how it was supposed to be. He considers his life ever since to be a lie, which is why he says nothing will be real to him until he gets the truth back. But he's also had a glimmer of hope all this time: Rachel finally remembered Locke just as she was dying. So his goal is to restore that truth and put things back to how they were supposed to be, presumably by putting her soul back into her preserved body.
Of course, this is all open to interpretation, but it's at least clear from the Japanese line that Locke does have a sense of purpose, meaning the Super NES line is incorrect.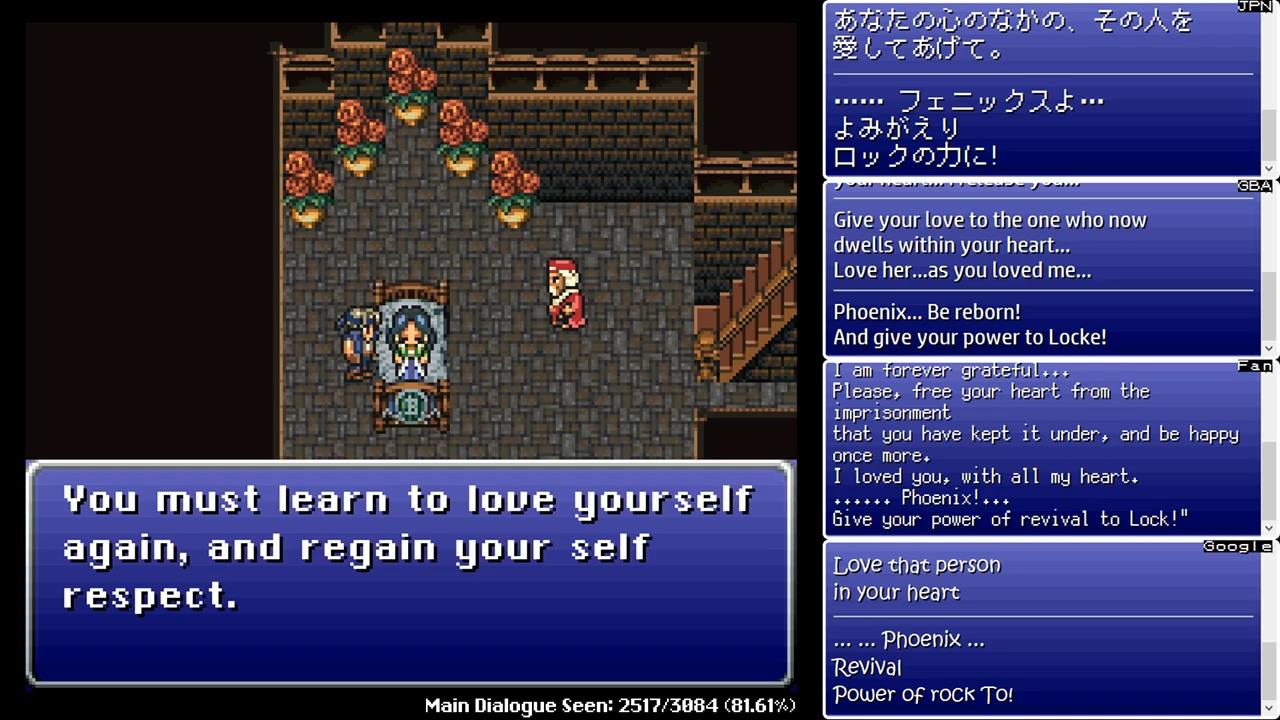 Before Rachel disappears for good, she tells Locke in Japanese:
Give your love to the person inside your heart.
The Super NES translator seems to have taken "the person inside your heart" to mean Locke himself, as the translation is:
You must learn to love yourself again, and regain your self respect.
The GBA translator saw it as meaning an external person, which we can assume is Celes:
Give your love to the one who now dwells within your heart… Love her… as you loved me…
As we can see, the GBA translation also added some extra lines for extra clarification that it's a woman being referred to.
The fan translator misunderstood the line and a significant portion of the entire scene:
I loved you, with all my heart.
In all, this is a nice example of how a translation is shaped by the translator's understanding of the source text. Each translator understood the line in a different way, so each translation wound up substantially different. Personally, I agree with the GBA translator that Rachel is telling Locke to let go of her and give his love to the other woman he holds dear.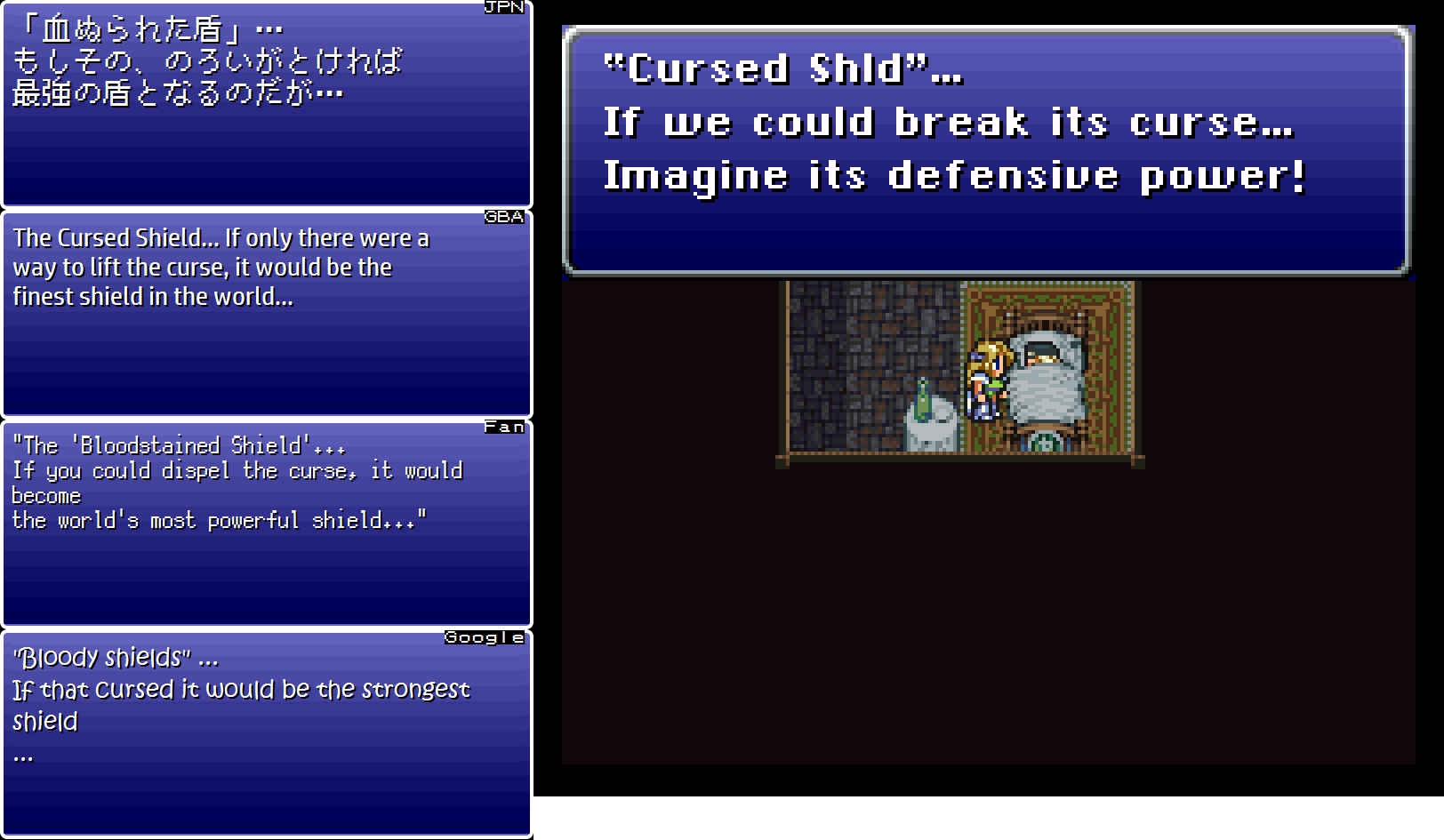 There's a terrible shield in Final Fantasy VI that no sane person would ever equip, as it causes a bunch of status ailments all at once to anyone who wears it. But if you win 255 battles with the shield equipped, it transforms into the most powerful shield in the game.
In the Japanese version, this shield is known as the "Bloody Shield" or "Blood-Smeared Shield". This was changed to "Cursed Shield" ( technically "Cursed Shld") for the Super NES translation, since the blood reference might've led into NOA trouble territory. The GBA translation retains this name, and the fan translation reverts it back to "Bloodstained Shield".
In all versions, the game says that the curse on the shield has been broken after 255 battles. But now that I think about it, maybe the Japanese name also implies that you're slowly washing the blood off the shield over time, and that's how the curse is specifically broken? I decided to look through all my Japanese guides but strangely enough I didn't find anything about uncursing the shield at all.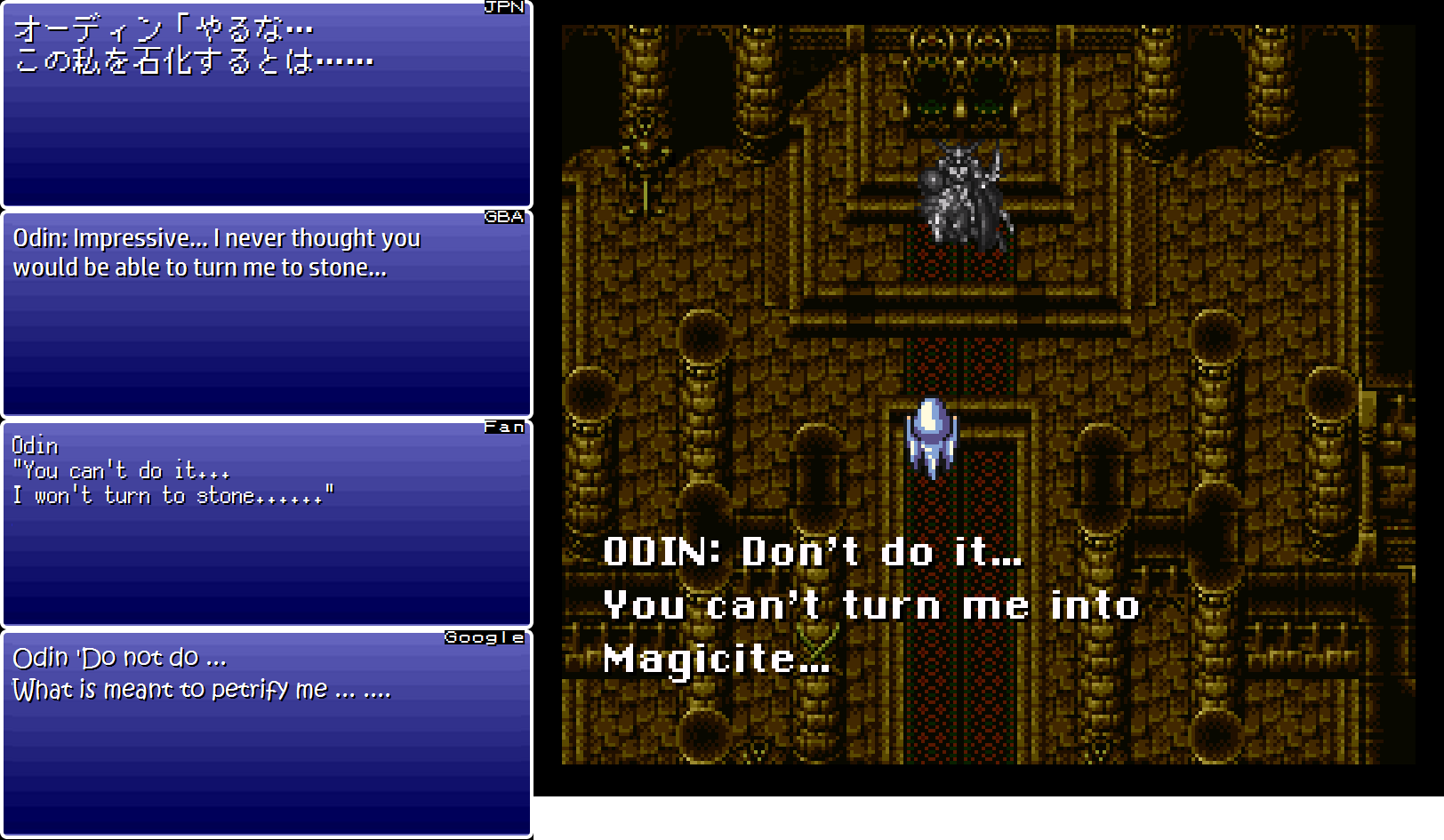 We see a flashback in which Odin fights a monster but loses and gets turned to stone. As he turns to stone, Odin says in Japanese:
Impressive. To think that you could turn me into stone…
The Japanese text is short and simple, yet tricky to translate if you're not careful. I discuss the cause of the problem during the stream, but basically the first sentence can mean "do not do it" or "you're pretty good/you're impressive", depending on the situation and intonation. Most experienced translators would be able to instinctively tell that the latter meaning is intended here, just from these two sentences alone. It's also exactly the kind of tricky question you'd find on a professional translation test when applying to a translation agency or a company.
We see that the Super NES translation gets both sentences wrong. The translator misinterpreted the first line and mistranslated the second line. We literally see Odin turning into a stone statue during this scene, so my guess is that the translator was translating this scene without context and without anything to reference.
The Japanese script uses 石化 (sekika), which means "to petrify" or "to turn into stone". We also see Odin turn into a literal stone statue, so that fits with the script. But had the Japanese script used 魔石化 (masekika) instead, then that would've meant "to turn into Magicite". Maybe the Super NES translator was rushing through and saw the wrong word, or just assumed that if an Esper is turning to stone, it must mean it's turning into Magicite.
The fan translation makes similar mistakes, but I can't tell if it's because it's a rewrite of the Super NES line or due to similar misunderstandings. Even the Google translation falls for the "do not do it" context trap. Only the GBA translation properly translates everything here.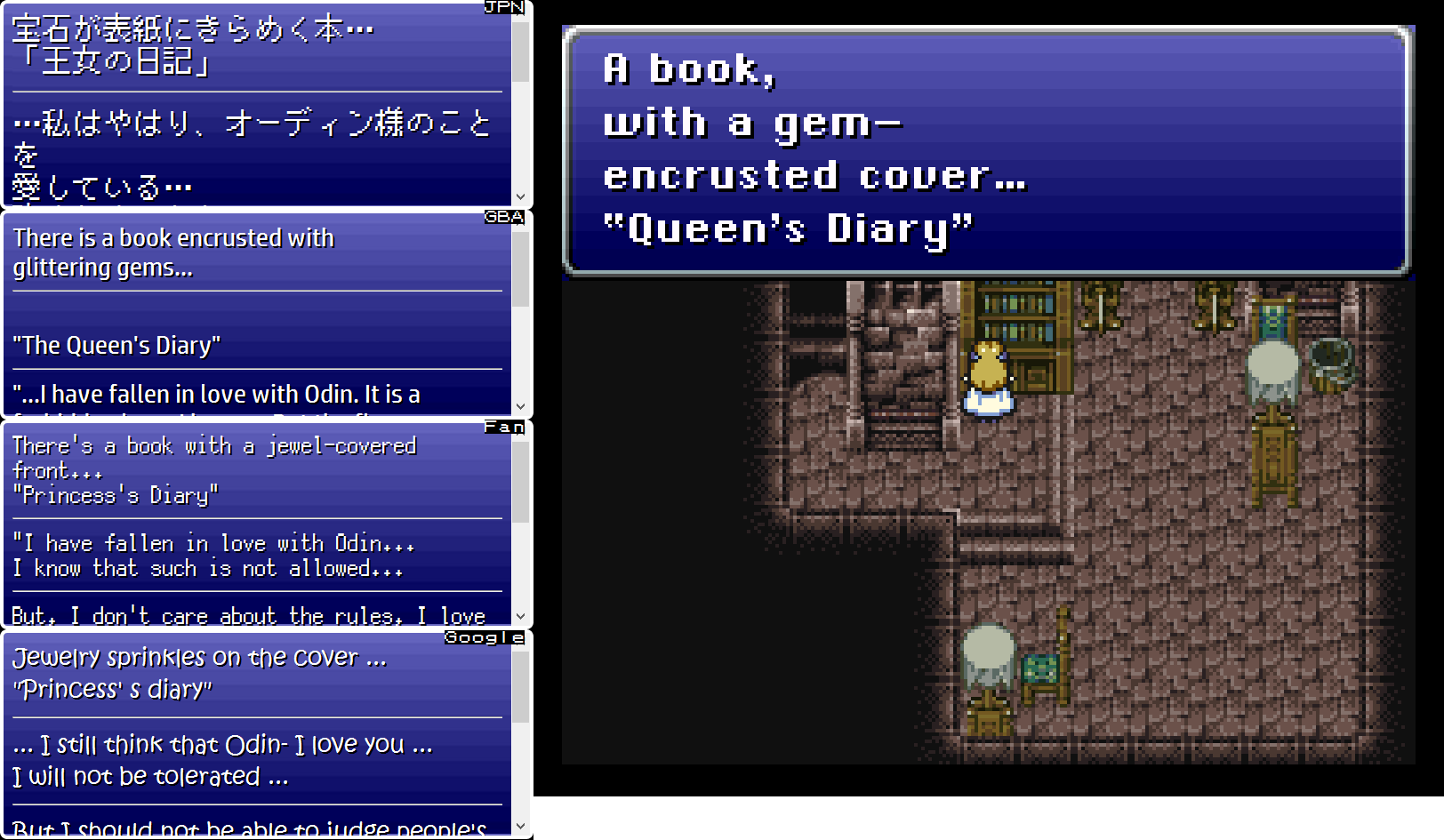 There's a secret diary in which a royal woman records her secret, forbidden love with the Esper Odin. In Japanese, this woman is identified as a princess. In the Super NES translation, she's instead identified as a queen.
This change seems minor at first, but the Super NES version implies in part that the love is forbidden because it means the queen would be having an affair behind the king's back. But the Japanese version solely implies that the love is forbidden because it was unthinkable for a human and Esper to be together. Even more so if that human is a princess.
The Japanese word used here is 王女 (ōjo, "princess, royal daughter"). The word for queen is 女王 (joō). The two words look very similar and are easy to mess up, especially if you're translating quickly. It's very possible that's what happened here. Either that, or "princess" was replaced with "queen" to make a puzzle involving the throne room a little easier to solve.
Whatever the case, the GBA translation uses the "queen" choice as well. Only the fan translation and Google translation keep the princess a princess.
We didn't see it during the stream, but apparently Terra will say an extra line if she's in the party: "Love between a human and an Esper….".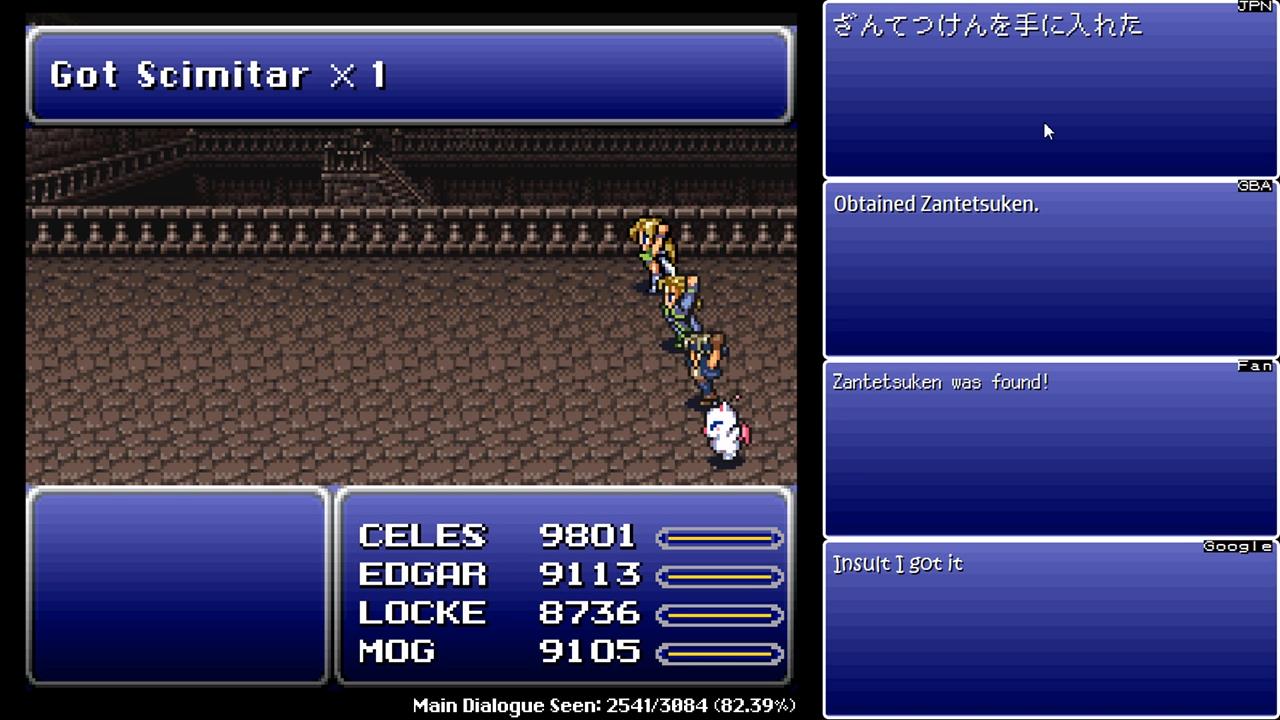 You can get Odin's sword by defeating a monster in a secret chamber. In Japanese, the sword is known as the 斬鉄剣 (zantetsuken, "iron-cutting sword"), which appears in a lot of Japanese entertainment. It's also a recurring name in the Final Fantasy series and is usually connected to Odin in some way.
In the Super NES translation, the Zantetsuken is first called "Atom Edge" during a flashback scene, and is then called a "Scimitar" when you obtain it. Later Final Fantasy games kept the "Zantetsuken" name as-is during translation, however:
Incidentally, Zantetsukens are an actual, historical thing and you can buy them given enough money, effort, and luck. Here's a good start if you're interested!
Just two more updates to go! The next one will be about Kefka's Tower and the ending, and then a final article with some personal thoughts and a quick summary of the pros & cons of each translation. Fungahhh!