This is part of my ongoing series in which I compare four translations of Final Fantasy VI with the original Japanese script. For project details and my translation notes from Day 1, see here.
After a two week break, we started back at Zozo and got right into some heavy story stuff about Espers and the Esper world. We then headed to Jidoor and then did all the opera scene stuff.
The opera is so complicated and full of so many differences that I've opted to give it its own dedicated page following this one. So this is Part 7 and the opera will be Part 7B or something. As a result, a lot of the screenshots on this page will all look very same-y and boring, but I promise that it's worth reading through!
Video Archive
Notes
My write-up below only covers some of the highlights from this section of the game. There are all kinds of other differences, big and small, that I bring up during the stream. So if you want to see even more translation comparison stuff, definitely check out today's video.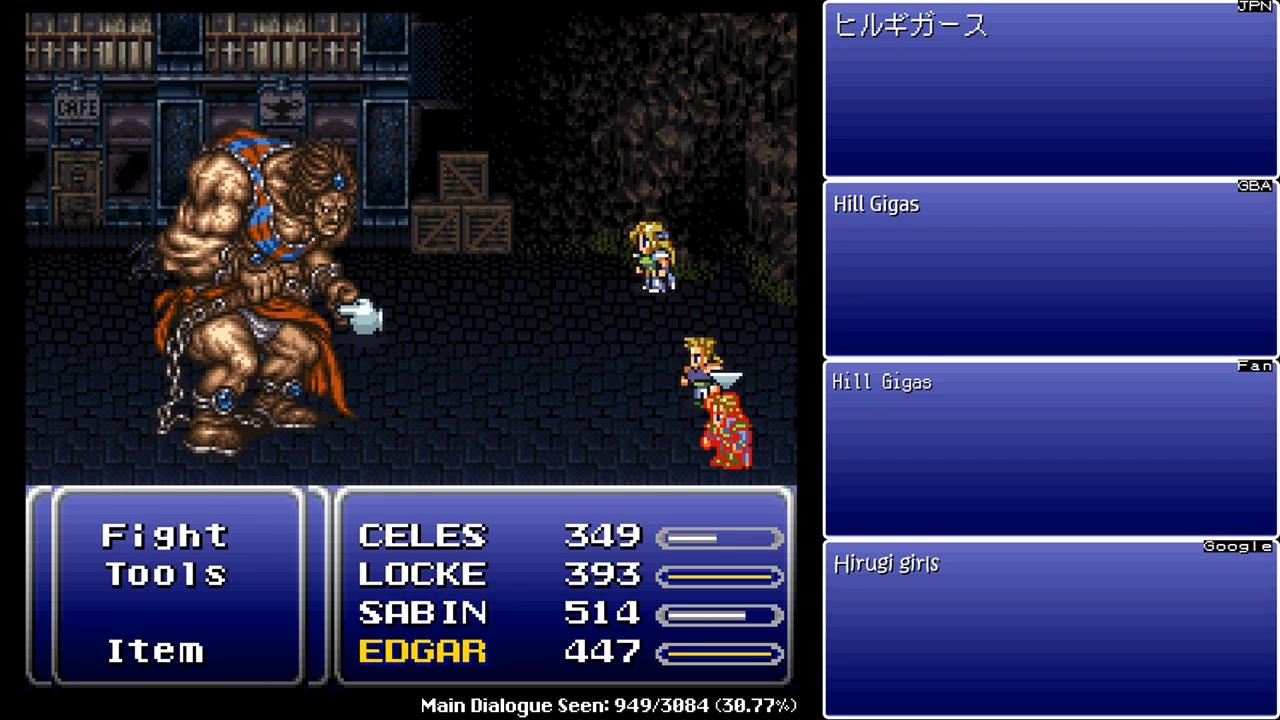 This big enemy is called "HadesGigas" in the Super NES translation, but it's actually just called a "Hill Gigas" in Japanese. This strange name change makes me like 90% sure that the SNES translator accidentally thought it was supposed to be "Hell Gigas" and changed it to "Hades" to get around Nintendo's content policies at the time.
As we can see, the GBA and fan translations both get it correct. Also, this enemy has appeared in the first two Famicom Final Fantasy games, and its name is presumably a throwback to the "Hill Giant" from old Dungeons and Dragons stuff.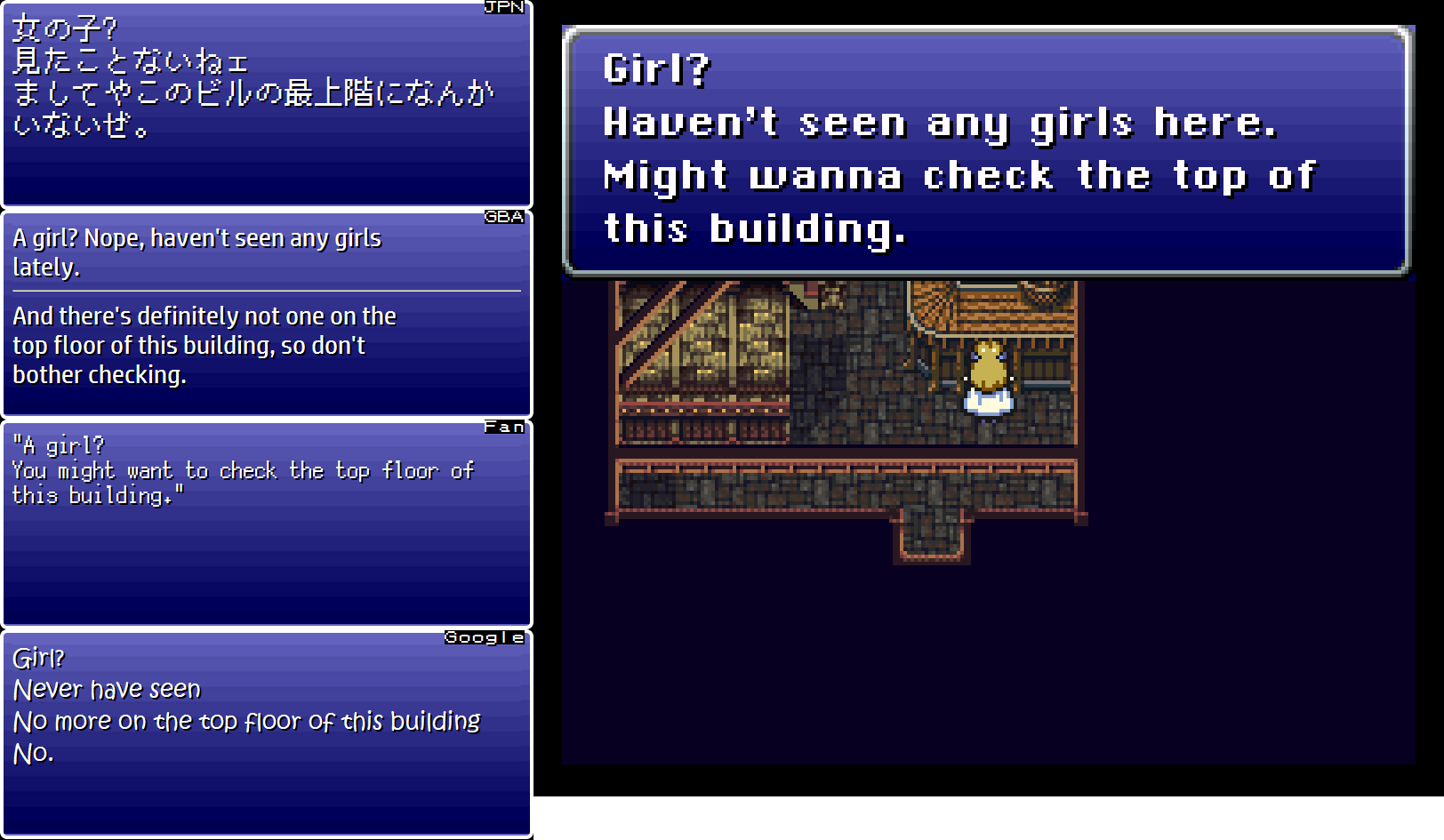 The no-good lowlifes of Zozo can't be trusted – they lie about everything they say. In Japanese, this particular thug says:
A girl? Ain't seen one. And there's definitely not one on the top floor of this building.
When we look at the Super NES translation though, we see that this line got mishandled. Instead of steering you away from the proper destination, now he literally sends you in that direction. But he's supposed to be lying, so the Super NES translation accidentally turns this liar into a truth-teller.
The GBA translation fixes this obvious mistake and adds a little bit of extra text telling you not to bother checking the top floor. The fan translation simply rephrases the faulty Super NES translation, but makes things worse by cutting out the second line of text.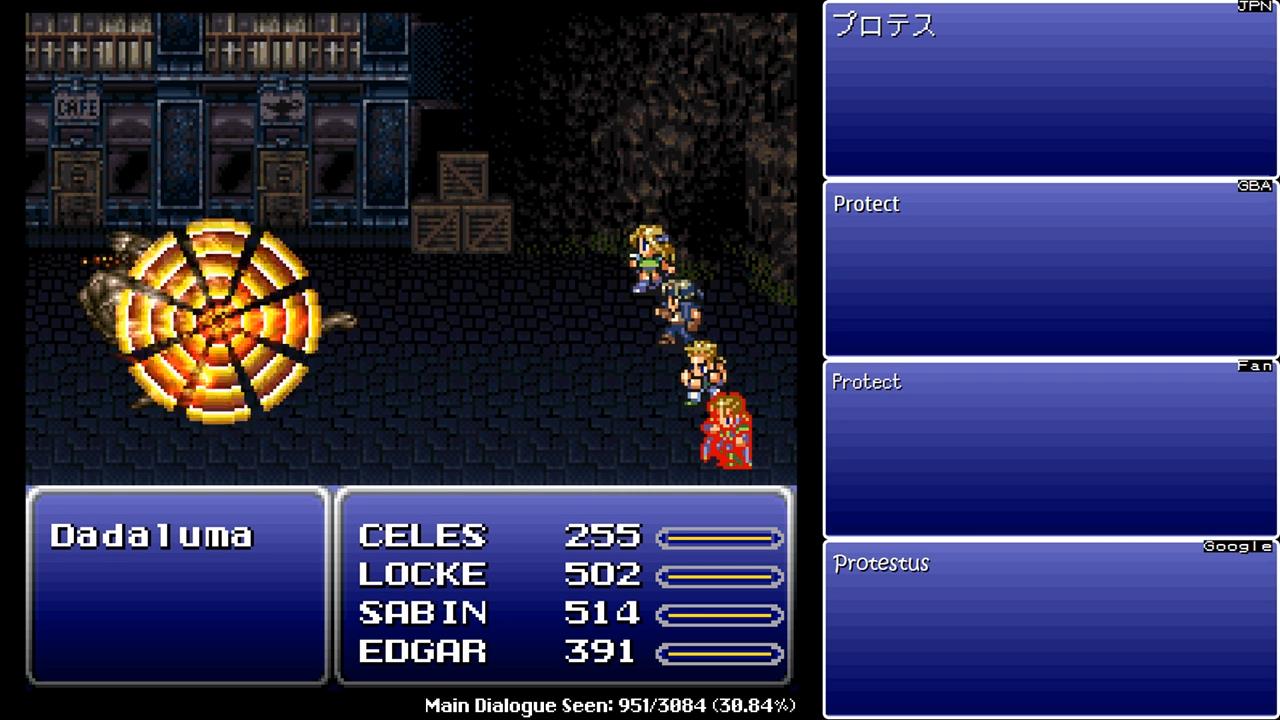 The heroes fight a boss named ダダルマー (dadarumā) in Zozo. I don't think anyone has figured out if his name means anything, but the best guess I've seen is from Japanese fan sites suggesting it's something related to the phrase 筋肉ダルマ (kinniku daruma) which is a word for insanely buff guys, like the kind you might see in muscle/bodybuilding competitions. It fits the enemy's appearance, but I can't help but feel that the name is a reference to something else – so many of the Japanese enemy names in the game so far have been based on real life mythology, biology, and stuff, after all.
Also, during the stream I was suddenly surprised when Dadaluma used a defensive spell on himself – only a few people in the world (outside of Thamasa) should be able to use magic at this point in history, and it's hard to believe this random throwaway boss would've been one of them.
But it turns out one of the official Japanese guides touches on this magical oddity. The first part of his description says something like:
He was originally human, but after excessive martial arts training he was reborn as a monster.
I guess this explains why he can use magic, but wait, are monsters able to use magic in this world at this point in time? I would think that if magical monsters existed all this time, humans would've been using them for stuff ever since the War of the Magi, but we don't really see that. I dunno, it's easy to think too deep into this sort of thing, even if it's fun sometimes.
The party reaches the top of a tall building in Zozo. Inside, they find Terra in Esper form and an old man named Ramuh. Ramuh spends a lot of time explaining the history between Espers and humans and the nature of Espers. This whole scene is very long and info-dense, so there's a lot to unpack.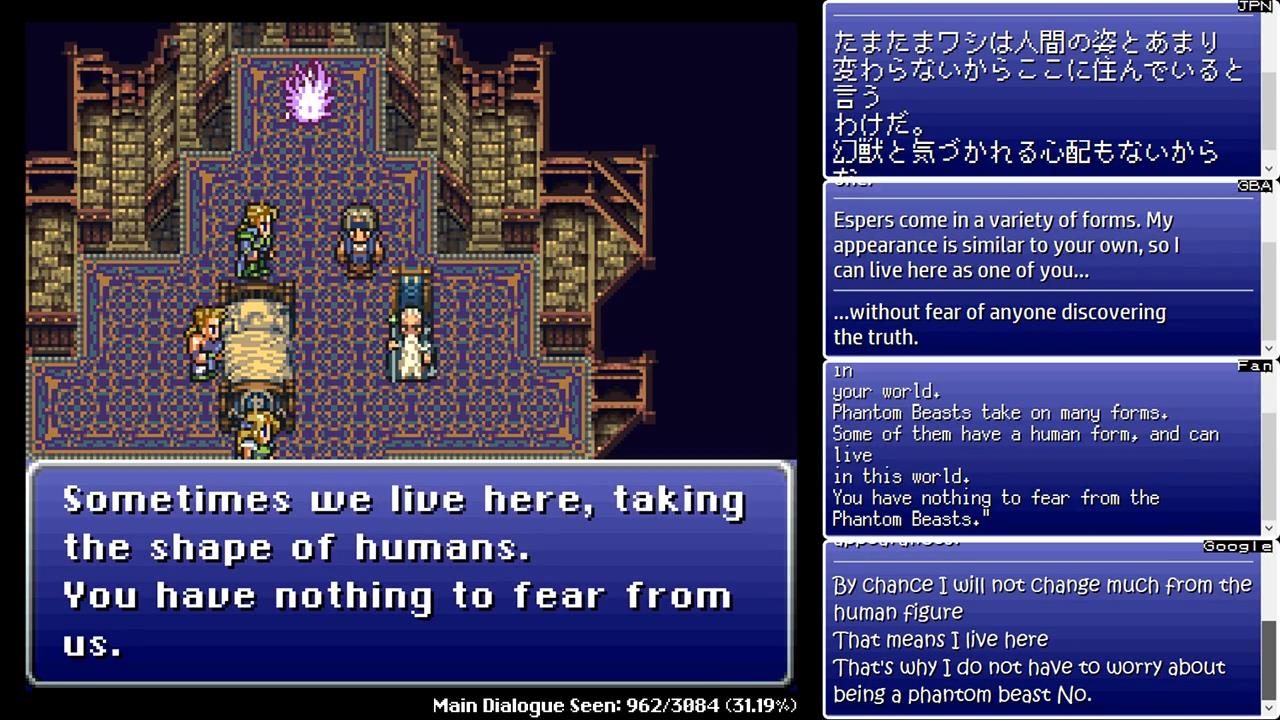 First is the above line, which appears early in the scene. In the Super NES version, Ramuh talks about Espers living in the human world:
Sometimes we live here, taking the shape of humans. You have nothing to fear from us.
If you didn't know any better, you would think this translation is fine. But it's not – in Japanese, he's actually saying:
I just happen to look not very different from humans, which is why I live here. Because I needn't fear being recognized as an Esper.
This is a pretty big difference – he's actually suggesting that he's a rare exception and that most Espers don't live among humans, as the Super NES translation indicates. The line about fear/worry is also misdirected – he's still talking about his personal situation in Japanese, but is comforting the heroes in the Super NES version. Seriously, when you think about it, everything Esper-related that happens in the story is worthy of being worried and scared.
Anyway, the GBA translation fixes this big mistake. The fan translation takes the incorrect Super NES translation and just rephrases it to sound different, but isn't actually a translation.
---
As I mentioned, there are many things of note during this scene. I cover some more problems below, but for the sake of brevity I decided to summarize a few others in list form:
In Japanese, it's stated that humans and Espers once lived together "in this world". This seems like a tiny detail, but since we're about to start talking about multiple realms, worlds, gates, magical barriers, closed-off regions, and such, it's nice to have a good foundation to work from. Every translation but the Google translation drops this detail. Again, not a big deal, but I wanted to mention it for now.
The Japanese script says that humans and Espers "lived" together. Every translation gets this right except for the fan translation, which for some reason says they "worked" together.
According to the Japanese script, after the Espers decided to break away from the humans, they erected a magical barrier and established what they considered their own "realm". It wasn't actually a separate world/dimension as the Super NES translation suggests – it was presumably just some place in this world they called their own.
At one point in the official translations, Ramuh explains about how Espers have Magitek power… except that's kind of weird, as the Magitek name has always sort of implied that it's a combination of the Empire's technology with magic.

Translating 魔導 (

madō

) as "Magitek" probably seemed like a good idea at the start of the game, but as we learn more about the nature of magic in the world, that translation choice is starting to exhibit some flaws. Of course, most players probably don't analyze the script at this level, so it's not a huge deal.
It's explained that one day some people stumbled into the Esper realm. I always thought it was weird that humans would randomly wander into an alternate world or dimension, but now that we know it's just some enclosed area in the normal world, it makes much more sense. It makes me wonder what the magic barrier was meant to do, though – was it just some kind of big camouflage field or invisibility cloak or something?
After humans did a bunch of stuff in the Esper realm, that's when the Espers decided to build an actual, physical gate blocking entrance into their realm. So the original barrier and the big mountain gate aren't one and the same.
If any of this information is new to you, it's probably because the details are missing from many of the translations, particularly the Super NES and fan translations.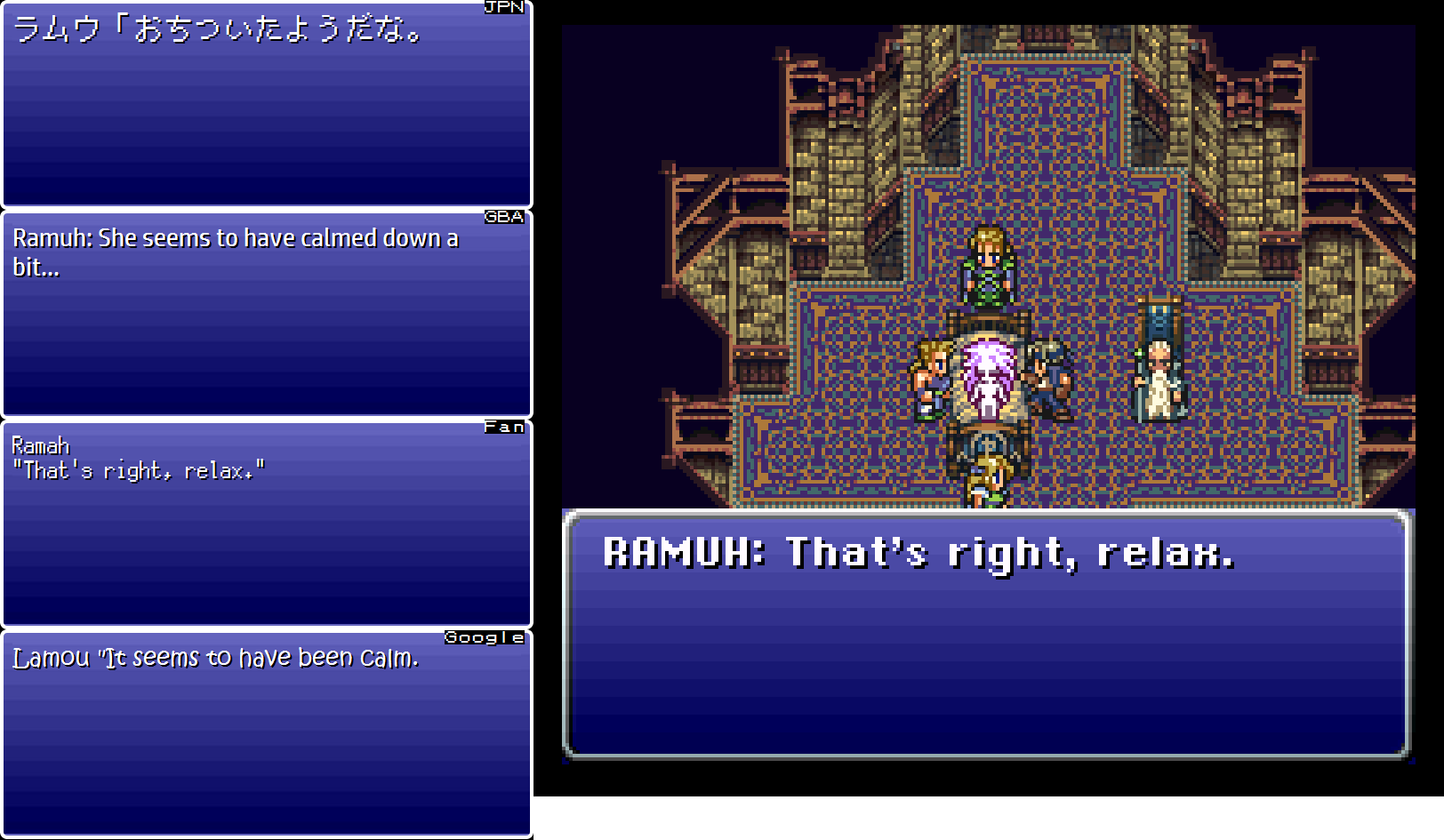 At some point in this long scene, Terra moves around the room with a little less energy than before. After seeing this, Ramuh says in Japanese: "It appears she has calmed down."
The Super NES version mistranslates the line as: "That's right, relax." And, as we can see, the fan translation is a copy of the incorrect Super NES line.
Only the GBA translation gets this line correct. Even the machine translation gets it better than the SNES and fan versions.
---
On a side note, I asked during the stream what this "Ramuh" name comes from. I think there were some theories, but nothing definitive. After checking the Final Fantasy Wiki about Ramuh, it seems there isn't a clear consensus on what Ramuh is based on.
But after visiting that page, I was flabbergasted by how many Final Fantasy games he's been in. Seriously, give it a look – it's insane. Just when I think the list is about to end, it keeps going!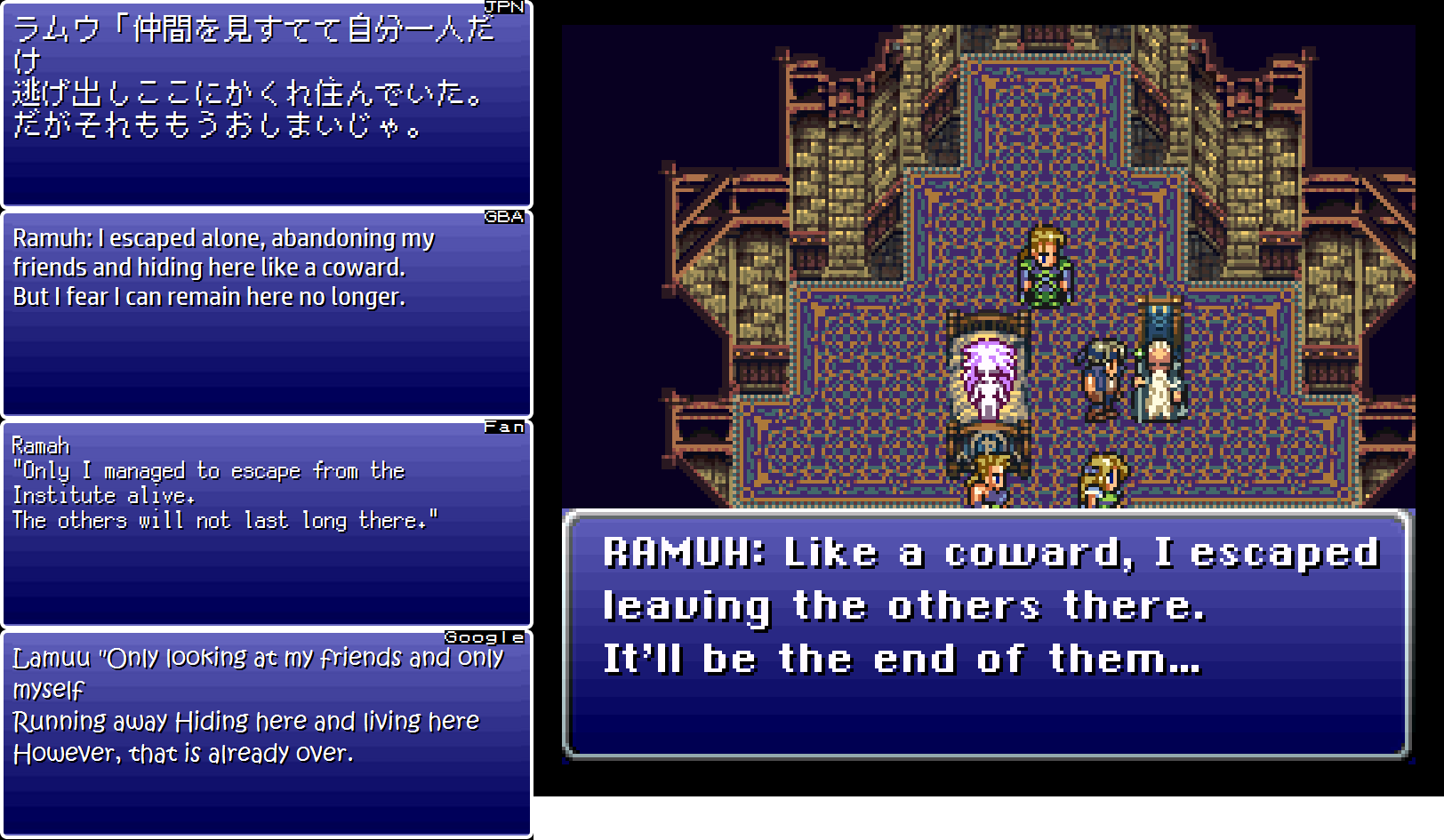 Ramuh continues to explain the nature of the Espers and how he came to be here in Zozo. In Japanese, he says something like:
I abandoned my comrades, escaped by myself, and have been living in hiding here ever since. But now that's come to an end.
The final sentence means that his time of living in hiding is now over. The exact reason why isn't made clear, but there are a number of possible reasons: he's just been discovered by humans, when he called out to Terra with magic he revealed his existence, he's already decided to turn himself into Magicite for the heroes, and so on.
This line gets slightly mangled in the Super NES translation, though:
Like a coward, I escaped leaving the others there. It'll be the end of them.
The idea that he escaped is mentioned, but the fact that he's been living in secrecy is left out. And, as we saw earlier, the fact that Ramuh happens to look human helps him blend in… but that fact was also left out of the Super NES translation. I normally would've assumed these details were dropped due to memory constraints, but then the final line about "coming to an end" is mistranslated in a way that indicates the missing details are missing because they too were misunderstood and mistranslated.
The GBA translation fixes all of these mistakes and ties all the details back together. The fan translation rephrases the Super NES translation but manages to drop even more information. It's now no longer stated that Ramuh willfully abandoned his fellow Espers.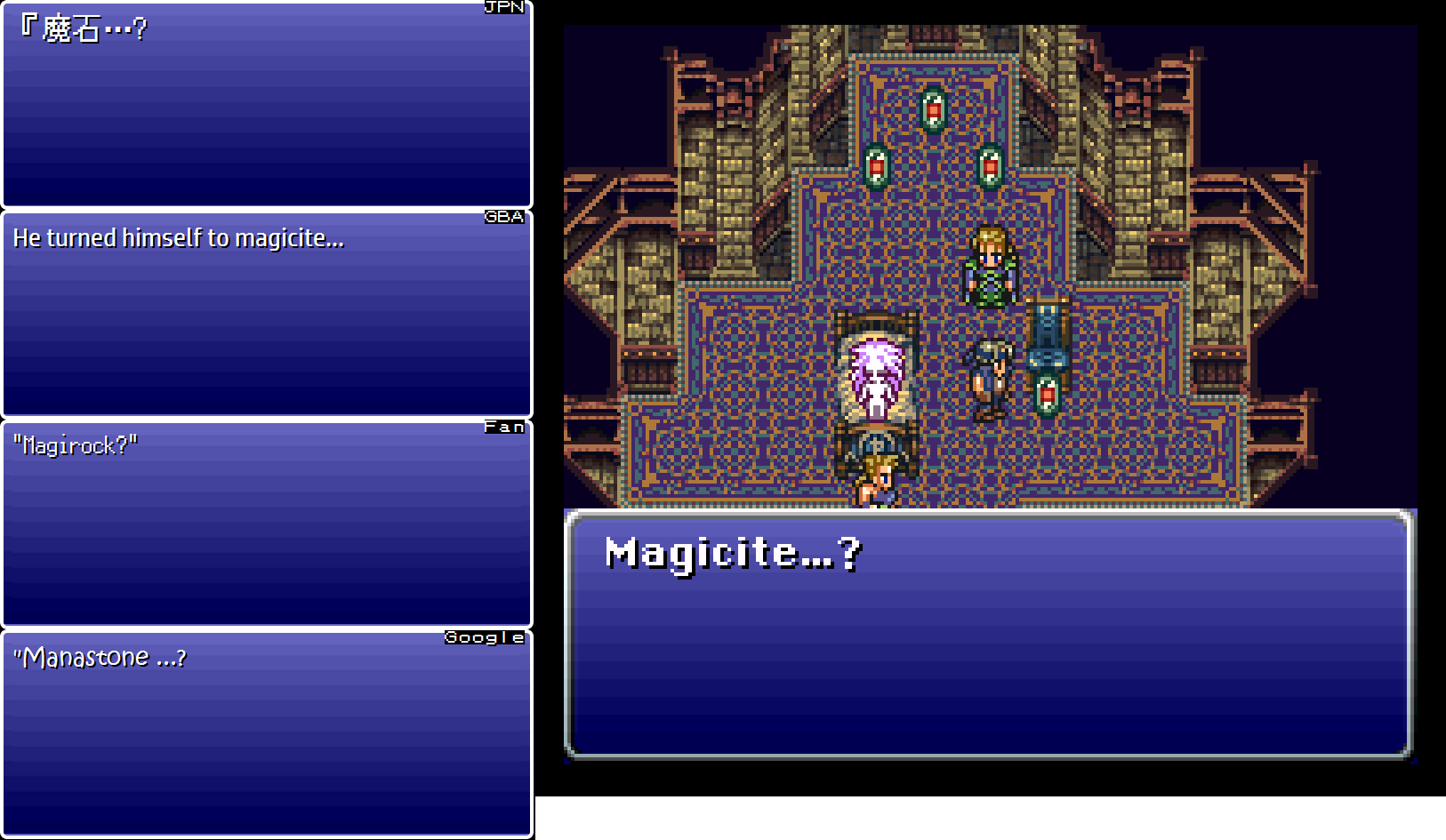 When Espers die, they leave behind a magical object that contains their essence.
In the Japanese version of Final Fantasy VI, these objects are called 魔石 (maseki). The first character is our troublesome old friend ma, which can be translated in so many ways that it's like a mini-boss fight for translators. The second character means "rock" or "stone". So the basic idea is that a maseki is some sort of "magic stone".
Since maseki is more or less a made-up name in this context, there are infinite ways to localize it into English. A few common methods include:
You could just leave it untranslated as maseki – this approach strips all meaning from the name but is a legit option you see all the time, such as with special attack names in fighting games
You could focus on the literal meaning of each individual character in 魔石 – "magic" and "stone" – and combine them to create a literal translation like "Magic Stone" or "Magistone"
You could focus on the overall meaning of all characters combined to create a unique name that fits the ideas/intent of the name while not being tied to literal meanings – some crappy examples off the top of my head might be "Conjurium", "Enchantment Gem", and "Mysticite"
You could just look at the actual thing in question and come up with a fitting name out of the blue, like maybe "Soul Crystal"
You could do what I sometimes call "reverse localization", which is like #3 and #4 but with a twist: you ask yourself, "If this game was originally written in English, what might it have been called?" and then go with that – in this case, maybe something based on Latin or something from old Western mythology? Modern Final Fantasy localizations use this approach a lot.
Note that Method #1 requires the least amount of creativity, and as you go down the list, more creativity is generally involved. Also, these aren't the only methods that exist – there are probably countless more approaches.
Naturally, most fictional, made-up names don't appear in normal dictionaries. So what do you do when you encounter them in a project? You write your own dictionary. In fact, professional entertainment translators often literally do end up writing huge lists of game/series-specific terms and how they're handled.
Anyway, this is all a long-winded way of saying that there are multiple ways of handling made-up names in translation, and there is no single "correct" way. Everything is a case-by-case thing, and whether one method is better than another in any given case usually comes down to personal opinion.
So, consulting the list above, we can see that the Super NES translator went with Method #3 by combining the ideas of "magic" and "stone" to create a new name in English: "Magicite". This name became so iconic that it was retained in the GBA translation.
From what I vaguely recall from like 15 years ago, the fan translators considered Method #2 to be the one and only way to handle made-up names. I feel like this sentiment is common among fan projects in general – that if you absolutely have to translate a name, then Method #2 is the only true way. In this case, the fans used Method #2 to combine "magic" and "rock" into "Magirock".
Again, Method #2 is a legit way to handle made-up names, so when some fans point to "Magirock" and laugh at it, they're laughing at a legitimate translation choice. I feel like if the Super NES version had always called it "Magirock", it would've been accepted just fine. Of course, if the fan translators pointed at "Magirock" and proclaimed that it was better than "Magicite", then that's a different matter altogether. I don't remember if they did that, though.
Incidentally, the official Japanese guides also follow Method #2 and literally translate maseki as "Magic Stone":
I prefer the name "Magicite" myself – it's unique, memorable, and creative. But I wonder if part of my attachment to it is because it was the first name I knew it by. Actually, that's a phenomenon that deserves its own dedicated article sometime.
Can you come up with any new English names for maseki? Share them in the comments – I love seeing how creative fans are!
On a different note, just like the word maō, maseki appears in Japanese entertainment all the time and gets translated in different ways all the time. This is why the Google version translates maseki as "Manastone" – there's probably some other popular game or series out there that translates it that way, so Google equates the two words here.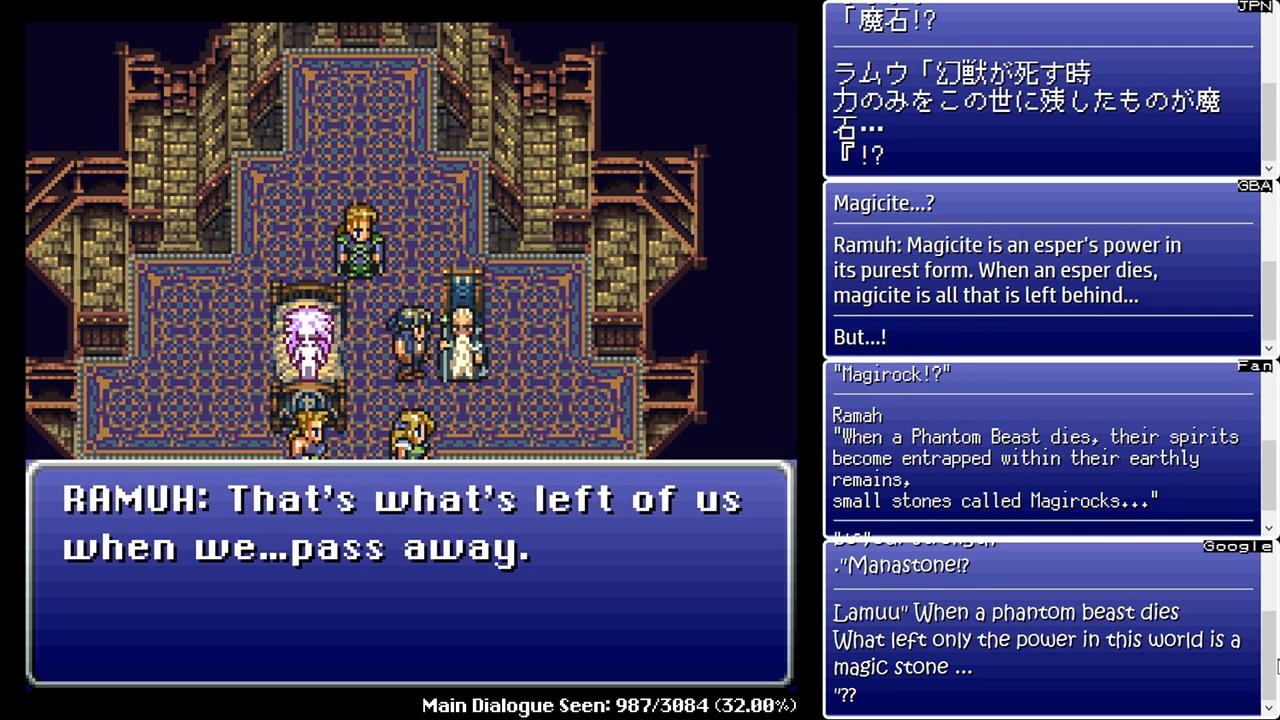 Ramuh explains what Magicite is. The phrasing in Japanese requires a tiny bit of untangling to sound natural in English, but it's something like: "When an Esper dies, it leaves only its power behind in this world as Magicite."
The Super NES translation uses "pass away" instead of "die", and then slims down the text while trying to keep the original idea intact. The GBA translation untangles the original Japanese sentence a bit further than I did above, and puts "die" back in the line.
The fan translation changes the explanation entirely by claiming that spirits are involved and that these spirits are "trapped" in their earthly remains. The original Japanese line has nothing of the sort. In previous streams, we've seen the fan translation add stuff about souls when the original text never once mentions them. I'm not sure why the fans felt the need to insert these soul/spirit elements out of nowhere.
The heroes obtain some Magicite for the very first time. One of these can be used to summon the Esper known as キリン (kirin), which is left as "Kirin" in the official translations and the fan translation.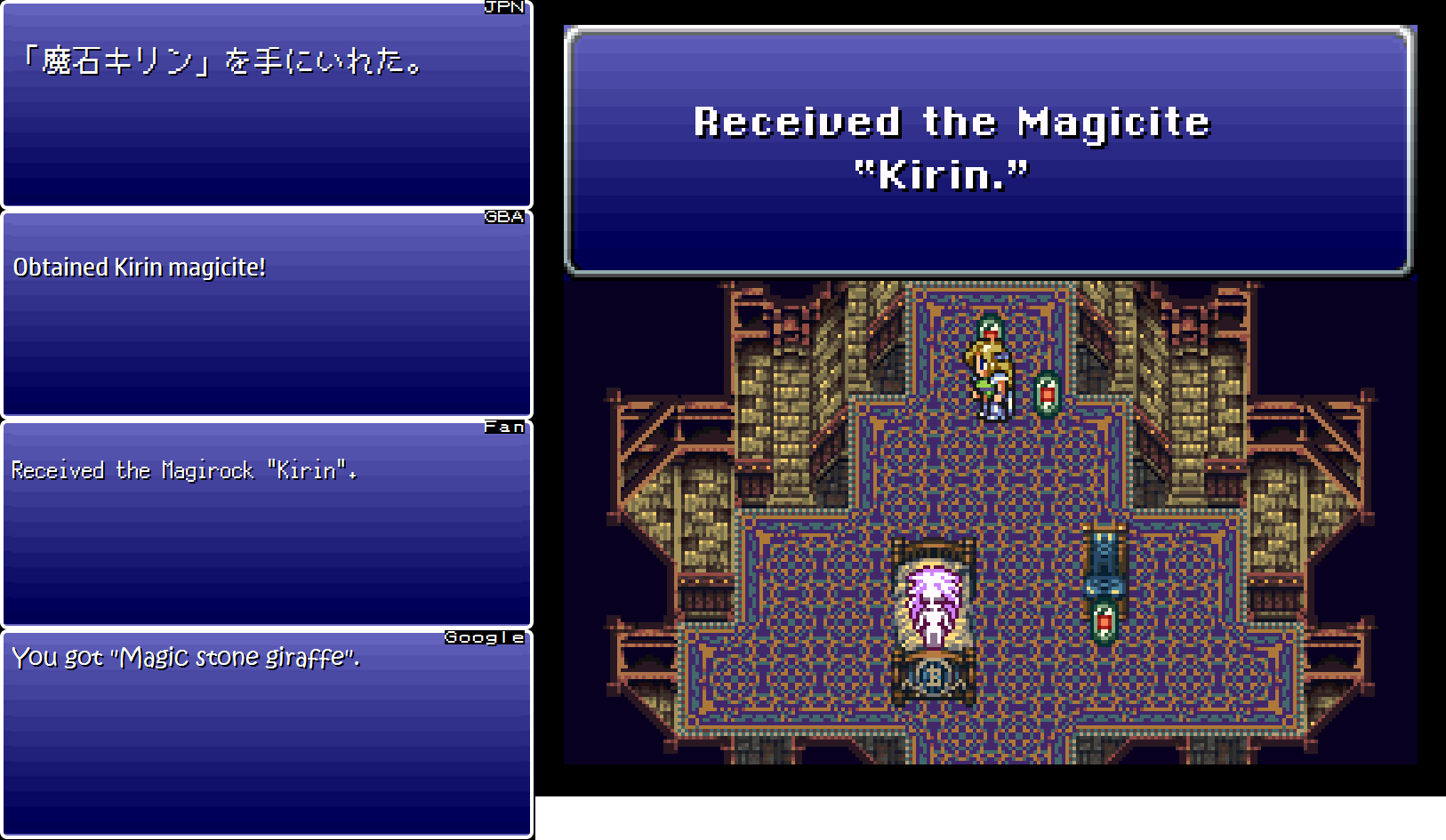 A kirin is a creature from Chinese mythology that's like a bunch of different animals all combined into one. "Kirin" is how the Chinese name is rendered in Japanese, but apparently it would be rendered in English as something like "qilin". See here for more info on the qilin and its really long history.
With this background info in mind, here's what the Kirin Esper looks like in battle: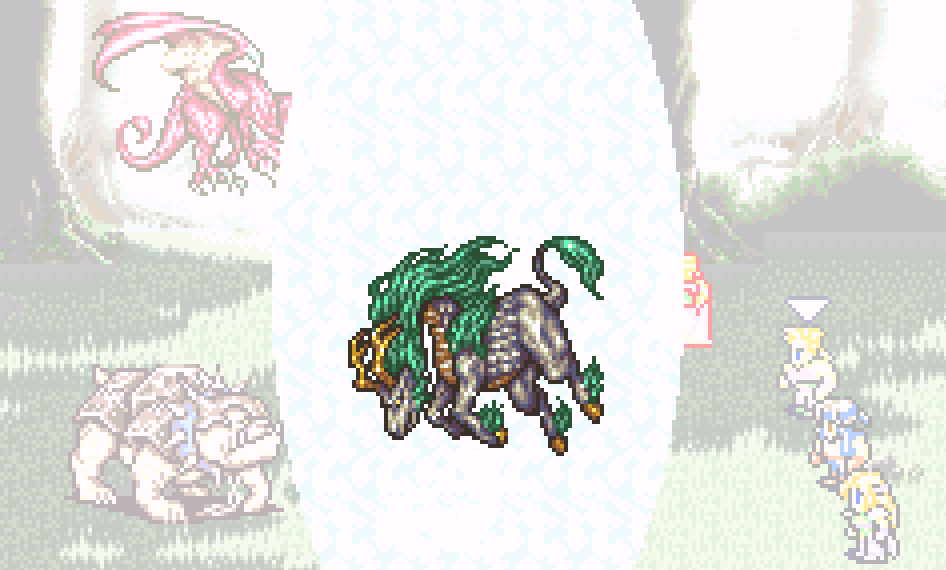 The name kirin also happens to mean "giraffe" in Japanese – apparently long ago someone mistook a giraffe for the mythical chimera creature. As a result, the word kirin also refers to the real-life animal:
It's usually obvious when you're talking about the mythical creature and when you're talking about the actual animal. Google failed to make that determination, though, which is why it thinks we've just obtained a magic stone giraffe.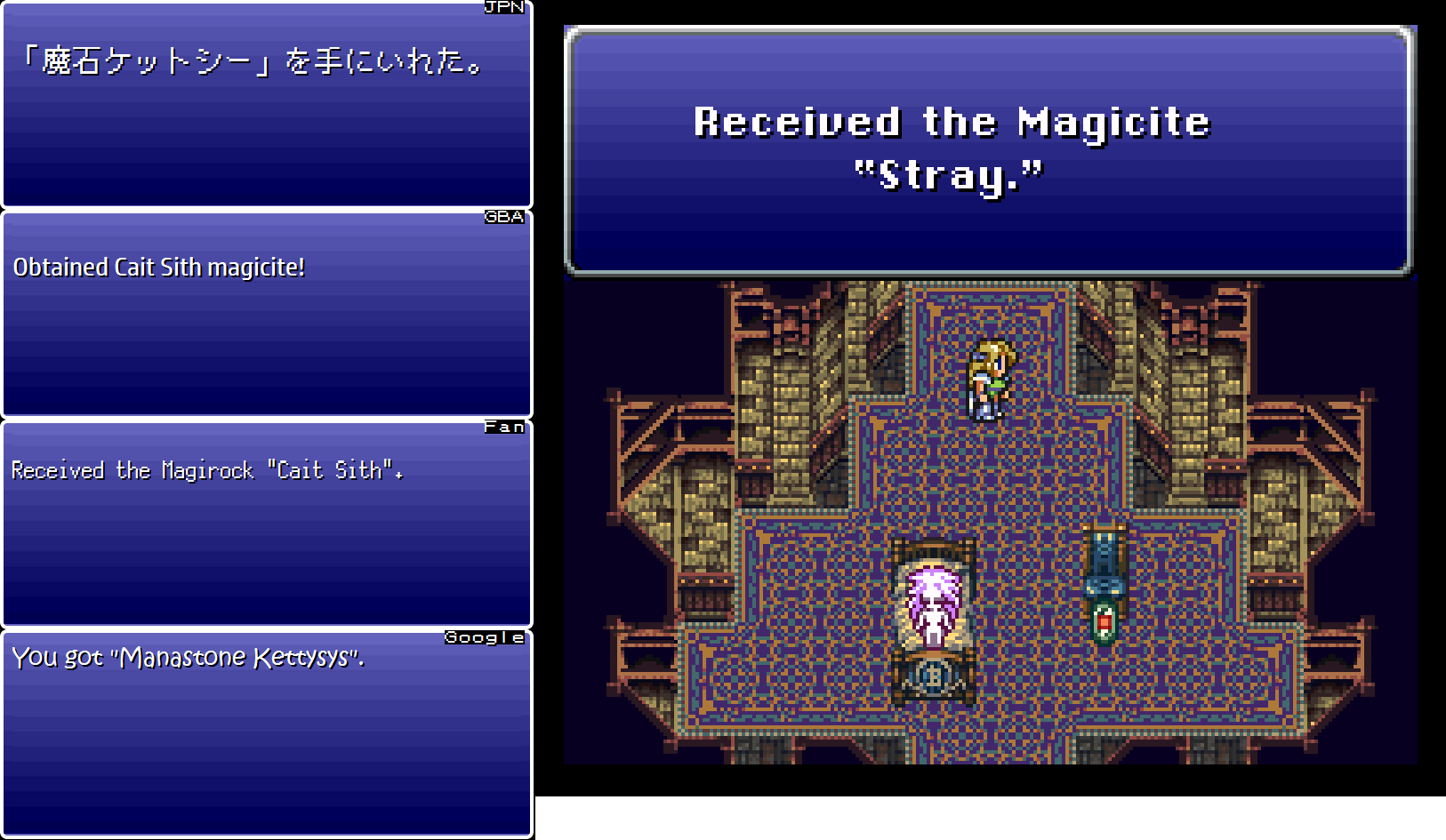 The heroes obtain another Esper that's known as ケットシー (kettoshī). Most translators would probably look at this and be like, "Cetsy? Ketshy? Kettsi?" and go through a whole bunch of other potential name spellings. But in the end, there's no clear answer because it's not an English word and not meant to be an English word.
Using the Internet, it only takes us like five seconds to realize that ケットシー is how "Cat Sìth" is written in Japanese. Cat Sìth is from Celtic mythology and can have its name written in several different ways in English, including "Cait Sith", which is what most Final Fantasy fans know it by.
But the Super NES translator didn't have access to modern Wikipedia or anything like it back then. But the translator had to call this Esper something, so my theory is that the translator went and checked what it looks like in battle and came up with a name out of the blue based on that: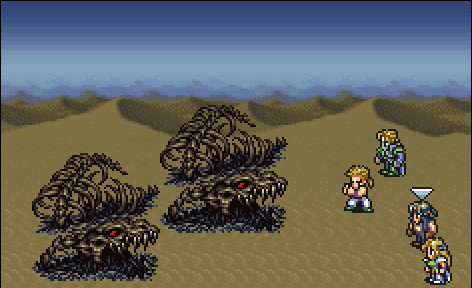 After seeing that the Esper is a cat that runs across the screen and then leaves, the translator understood that it was a cat-related Esper and tried to come up with a fitting name – eventually deciding on "Stray", as in a stray cat. As we've seen during the stream, many of the enemy names have followed this same pattern of "I don't know what this weird Japanese name means, so what does it look like instead?", so it's not a stretch to think that it extended beyond just enemies.
Anyway, that's my theory on why Cait Sith wound up being called "Stray" in the Super NES translation. The name was fixed in the GBA translation, which calls it "Cait Sith". And, as I've mentioned before, if fan translations excel at anything, it's usually name research. So this is another example of when the fan translation genuinely fixes an issue found in the official Super NES translation.
Similar problems with mythological names appeared in Final Fantasy VII too, but it seems like the translators were able to get more and more names right with each new game in the series afterward. Part of this gradual improvement probably stemmed from increased Internet access, easier communication, and the advent of new online resources like Wikipedia and fan sites.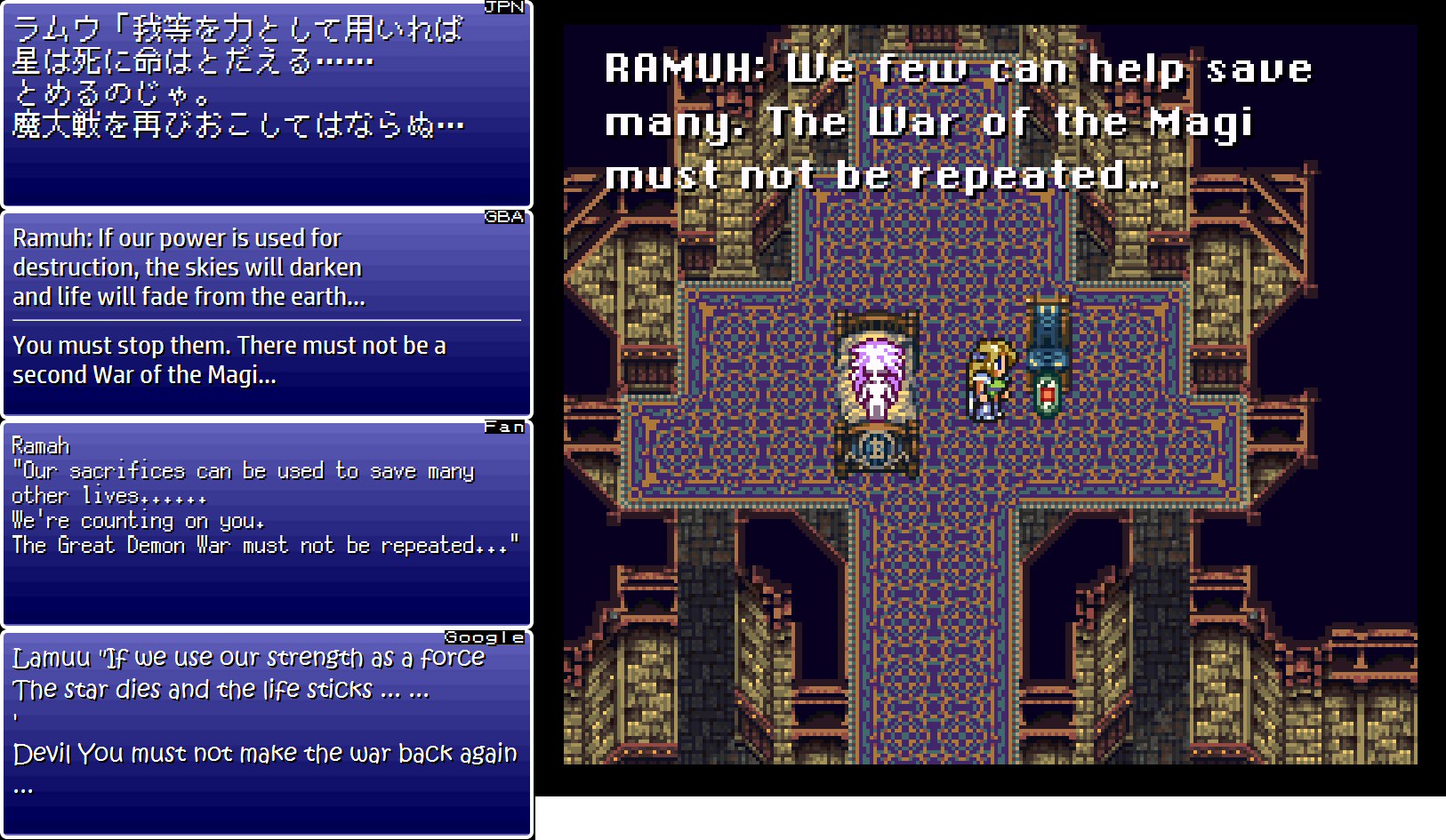 I cover this in more detail during the stream, but basically the GBA translation is the only one to get this line correct.
The Super NES translator either misunderstood the slightly odd phrasing, or tried to condense everything down into something as compact as possible. The fan translation simply rephrases the already-rephrased Super NES translation into something that is clearly not said in the original text.
The most interesting thing for me, though, is that the GBA translation adds in some extra flair not found in the original with the phrase "the skies will darken". With that said, I really like how the GBA translator untangled that sentence- it sounds weird and weak as a literal translation: "If (they) use us as a force, the planet will die and life will end…".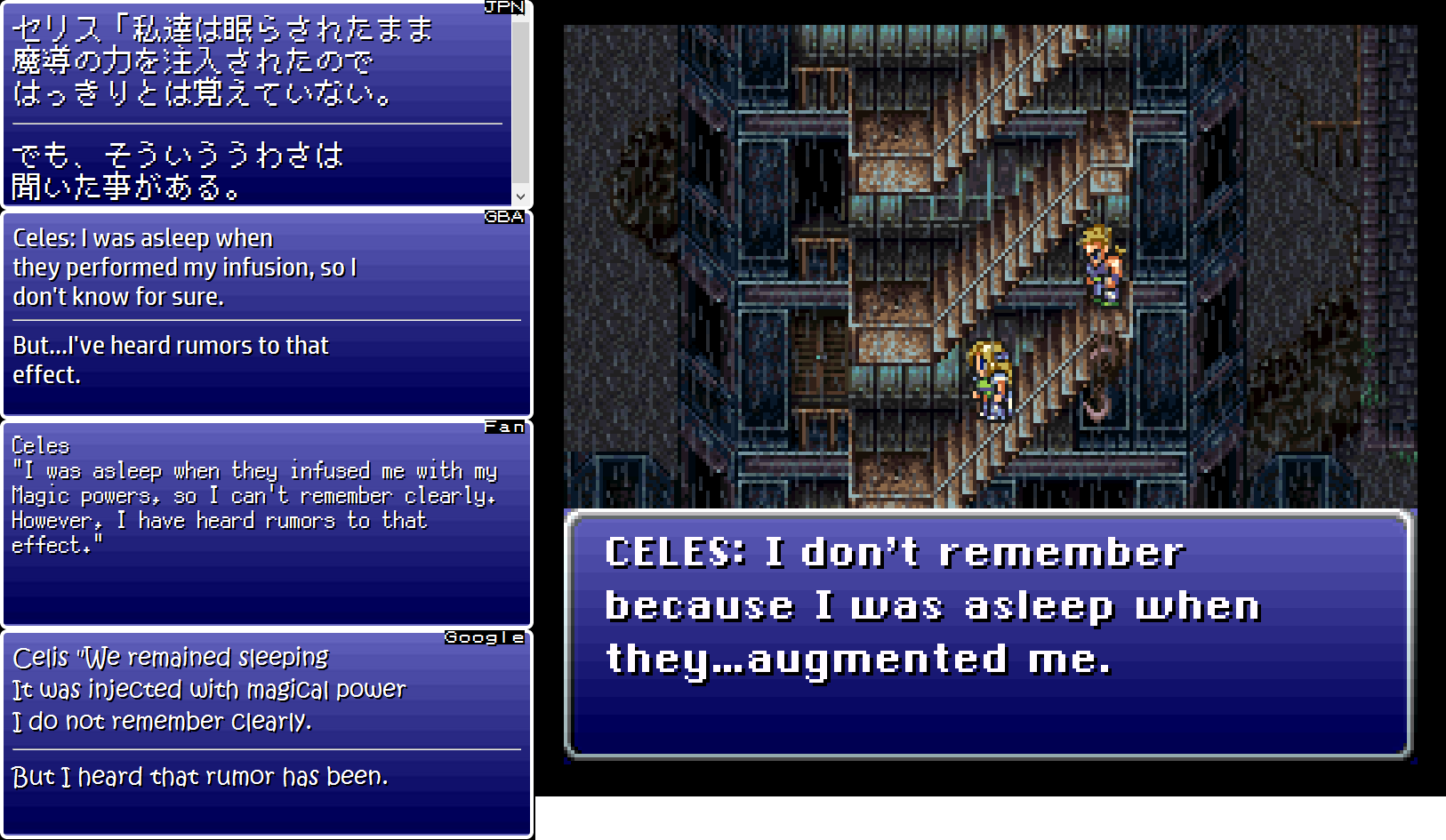 Celes briefly mentions the process in which she was given magic. In Japanese, she says:
We were infused with magic power after being put to sleep, so I don't clearly remember.
The use of "we" makes it seem like multiple people underwent this same procedure all at the same time or within a very short time, one after the other. It's not clear who "we" refers to at this point in the story, but based on Celes' line back before the Kefka battle in Narshe, it can probably be assumed that Terra is a part of that "we".
The Super NES translation changes this "we" to "me", which cuts out that interesting little detail about how the Empire conducted its magic-infusing process. The fan translation follows the Super NES translation and says "me" instead of "we" too.
Surprisingly, the GBA translation also changes this line slightly enough to drop the "we" detail. Only Google keeps it intact!
I've never really analyzed the game at this level, so I don't think most players will ever notice or care about something so minor. But if you're a real Final Fantasy VI super-fan, these kinds of tiny details might be fun to theorize about or just have fun discussing with other fans.
As we saw in the previous article, Locke's motivation was actually set up back in Kohlingen and Jidoor, but this information was accidentally written out of the Super NES script. In Japanese, he's after a special "secret treasure" that's said to be able to call back souls of the dead. What's more, it's stated that this secret treasure is currently in the Empire – but this detail was also dropped in the Super NES translation.
Anyway, just before the heroes leave Zozo, Locke mentions in Japanese that he's still looking for this particular "secret treasure" and implies that he'd like to sneak into the Empire in search for it.
But because of the Super NES translation's previous missteps, Locke motivation gets messed up here too:
There're bound to be treasures there. And besides, I've always wanted an inside look at the Empire!
In short, Locke's hopeful search for this "secret treasure" that can bring his lost love back to life has been replaced with a mindless hunger for any treasure at all. And his motivation for going to the Empire has changed too.
The GBA translation fixes all of these major mistakes and puts Locke's character motivation back on track.
Because the Super NES translation is so clearly wrong in this situation, you would think the fan translation would fix this obvious problem. But it goes in the other direction and makes it worse somehow: "I have my reasons."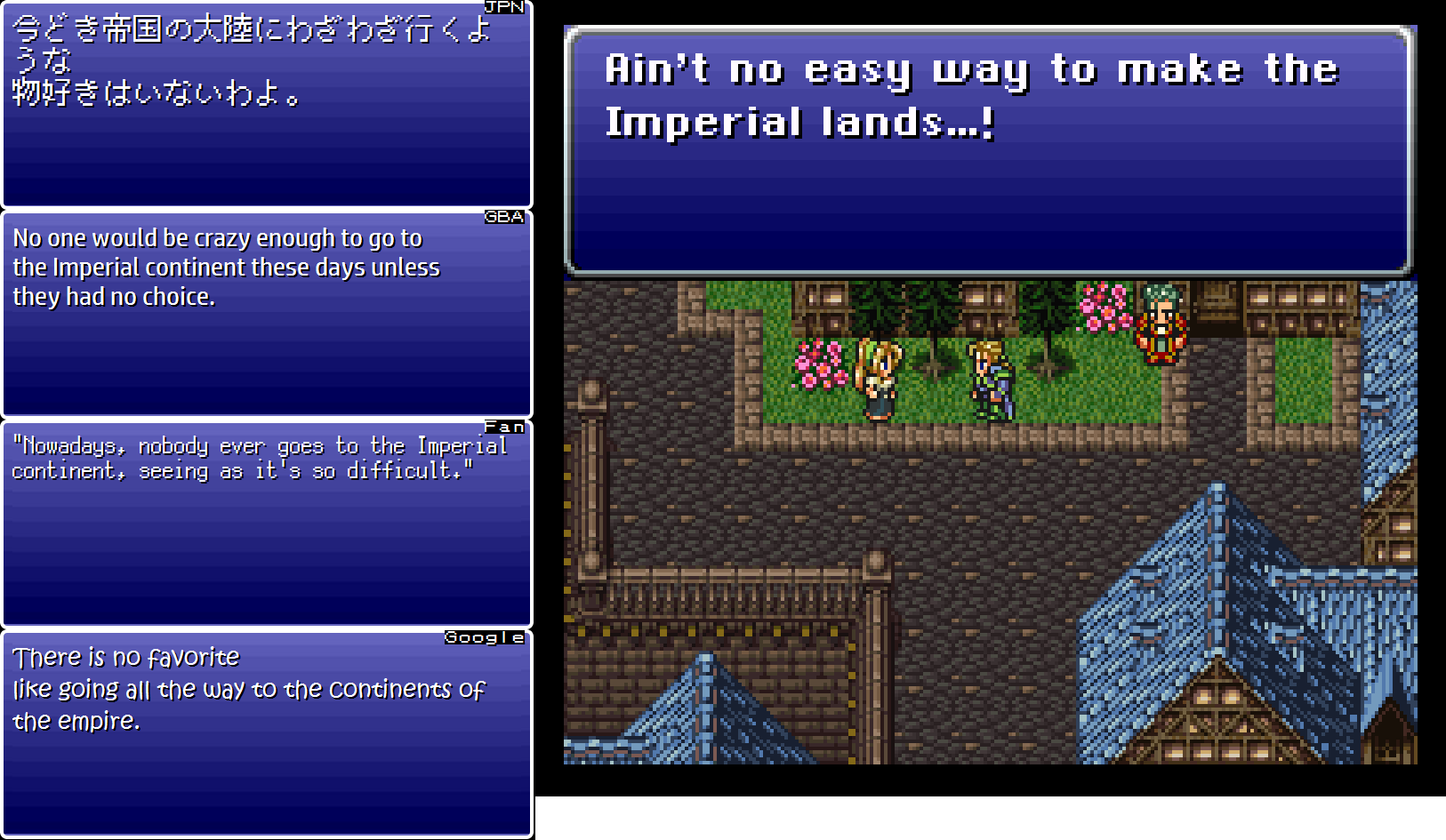 The citizens of Jidoor are mostly rich, fancy-pants aristocrats, and this lady in Jidoor speaks with proper Japanese grammar that matches that vibe. So it came as a surprise to see this lady in Jidoor suddenly start a sentence with "ain't" in the Super NES translation.
At this point in the stream, discussion turned to the word "ain't" and how adults used to say "ain't isn't a real word" or "ain't isn't in the dictionary" when we were all children. That attitude seems to have changed a little since then, and it's most definitely in the dictionary the last time I checked. But I wonder if there's a new word today that gets the same kind of "that's not a real word" treatment.
Anyway, this lady's line is not only unusual because of the word "ain't" – it's actually entirely wrong! In Japanese, she says something roughly like:
There's no one curious enough to dare visit the Empire's continent these days.
The unstated idea is that going to the Empire's continent would be like walking straight into trouble.
The GBA script rephrases things to sound a little clearer in translation, but makes some minor changes at the same time. The fan translators definitely noticed that the Super NES version of this line was faulty and didn't use it as a base. But the end result is still a mistranslation – it's not that going to the Empire's continent is difficult, but more of a death sentence.
So why did this Super NES line get so off track? The line stored immediately after it in the game's data – which is said by a nearby NPC – says sort of the same thing, but in a more polite tone. Maybe the translator wanted to revise the rough "ain't" line but accidentally typed some of it into this line? Or maybe the Japanese line changed at some point and the English line reflects the older line? Whatever the case, some sort of mistake happened here.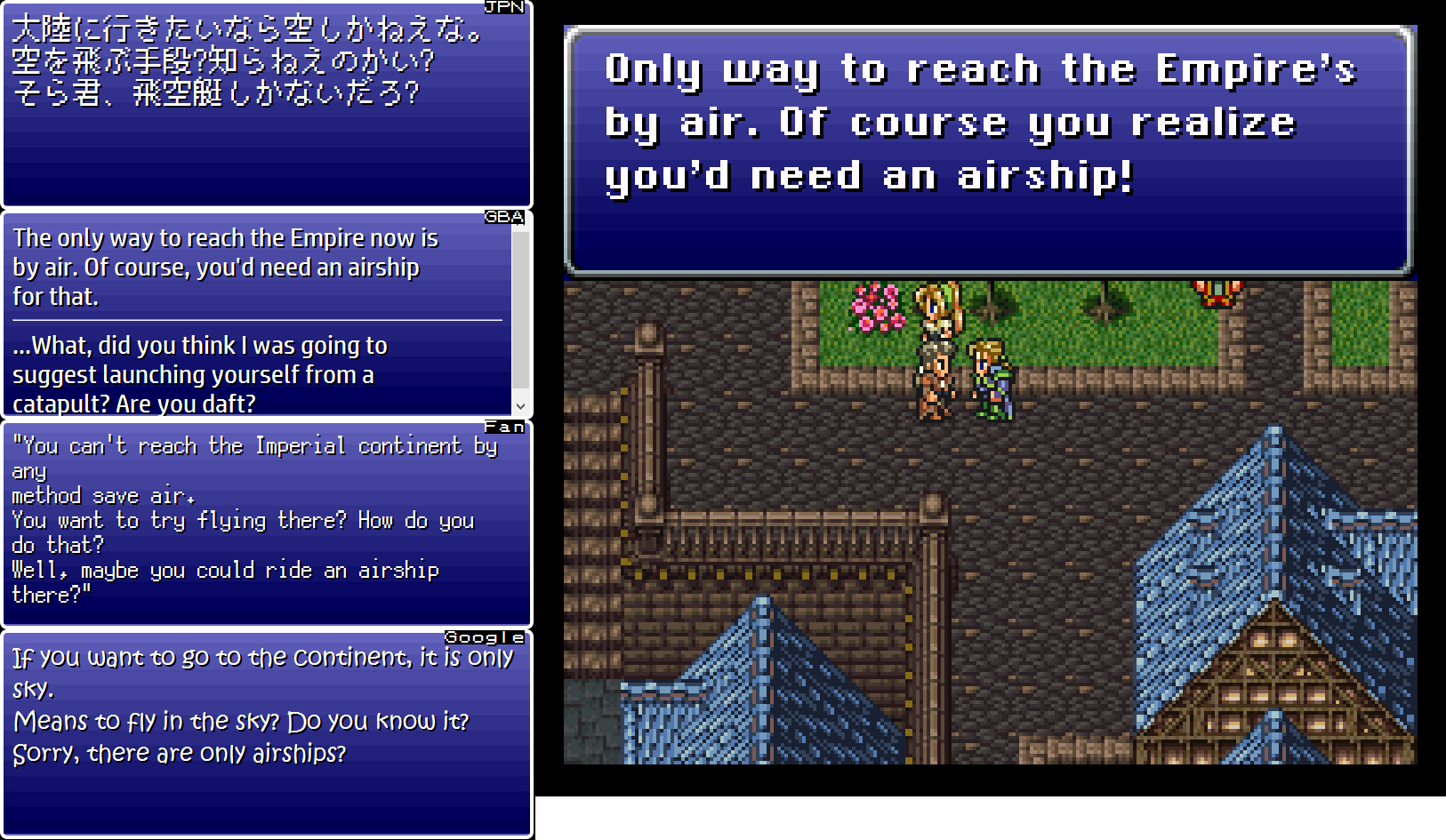 The GBA translation adds a whole second part to this NPC's line for seemingly no reason. The original Japanese text says nothing about catapults, so I'm not sure where it came from.
We've seen the GBA translation quietly add text out of nowhere before, mostly to insert low-key pop culture references… but I'm not sure about this one. Is this a reference of some sort? Is there some pop culture connection between the word "catapult" and calling someone "daft"? It's a mystery to me.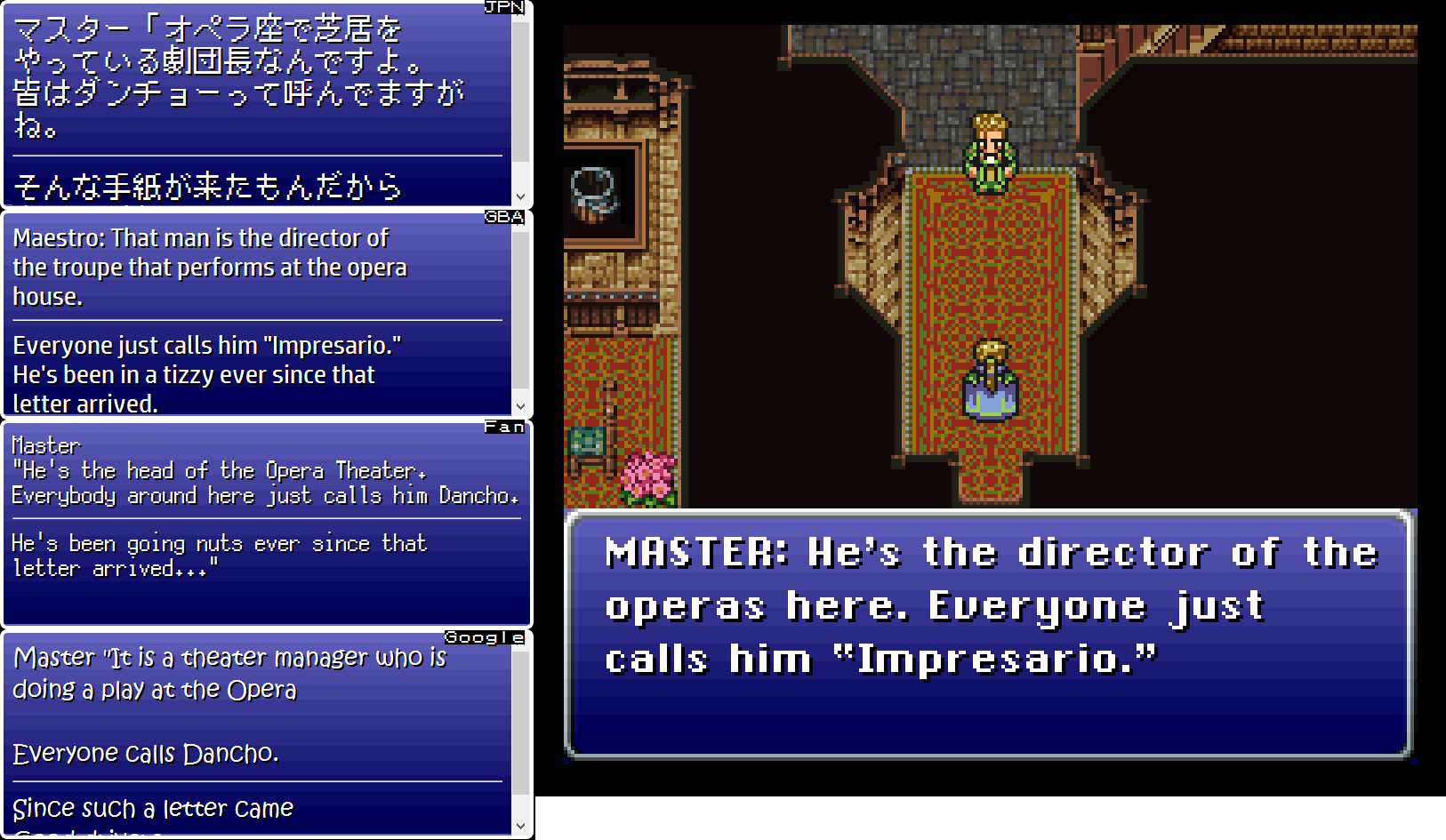 There's an acting troupe at the nearby opera house, and the head of this troupe plays a big part in the upcoming events.
In Japanese, an acting troupe is called a 劇団 (gekidan), and the head of such a group is called a 団長 (danchō). This is important, as this guy in Jidoor explains:
He's the danchō of the acting troupe that's performing at the opera house. Everyone just calls him "Danchō".
This makes perfect sense in Japanese, but it's problematic in translation because the word danchō doesn't exist in English. Leaving his name as "Dancho" would break the logical connection that exists in the original script, so the Super NES translator tried to find a good, single English word that can mean "troupe leader".
Based on this weird mistake we noticed back on the Phantom Train, my theory is that the Super NES translator had temporarily renamed this troupe leader "Conductor". But then later on, the translator probably discovered that the troupe leader isn't the actual music/play conductor and came up with the more appropriate name of "Impresario", a word which apparently means "a person who organizes and often finances concerts, plays, or operas".
This was the first time I'd ever heard the word "impresario" in my life, so whenever I hear the term I immediately think of Final Fantasy VI now – it's that memorable. I assume many other fans had the same experience, so it's no surprise that the GBA translation retains the "Impresario" name.
In the fan translation and the machine translation, we can see that the troupe leader's name is left unlocalized as "Dancho". The explanation behind his name is lost in translation, but since the fan translation feels primarily targeted at fans already familiar with the game, it's only a minor detail that's quickly overlooked and forgotten.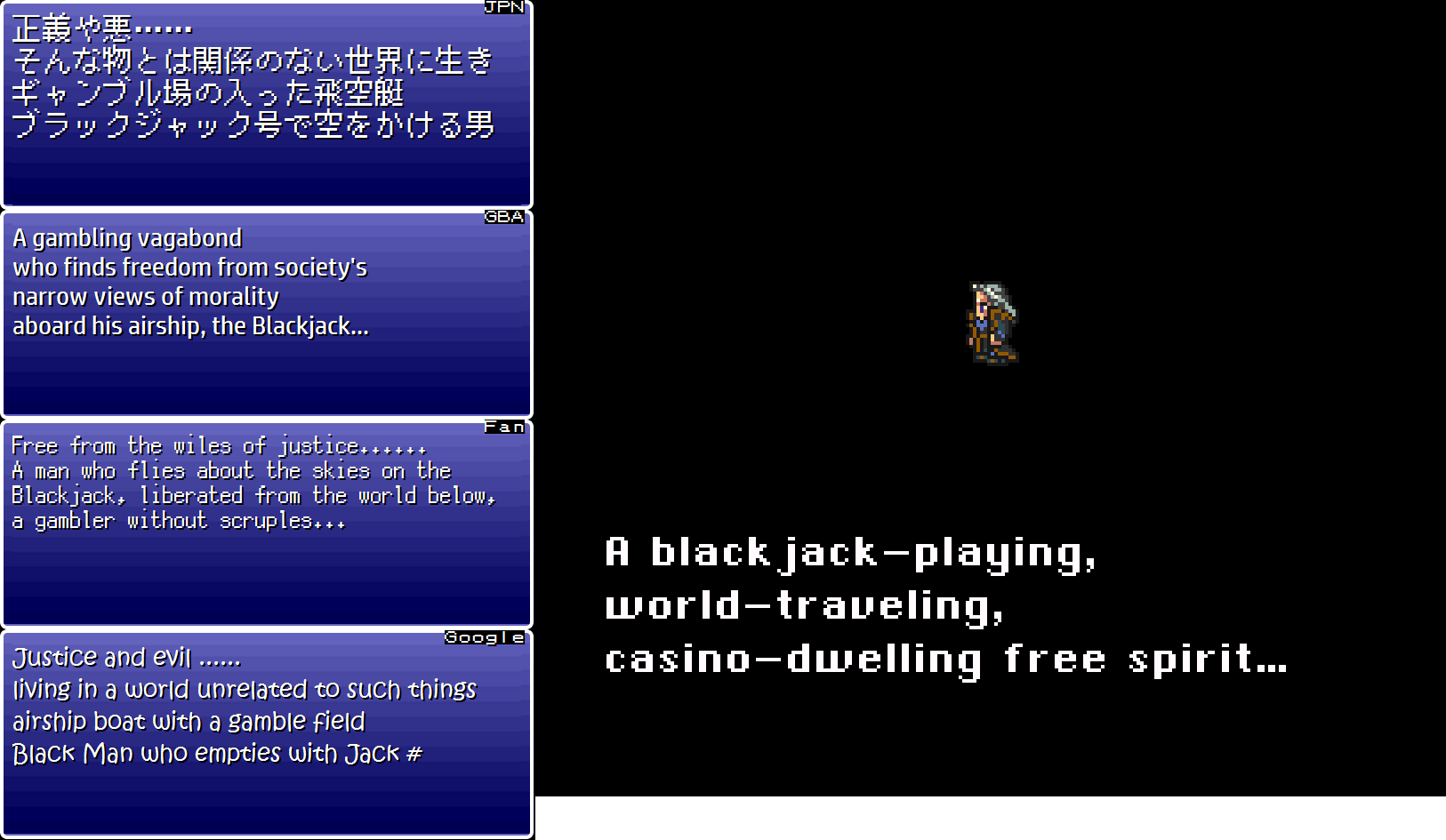 We can see that the Japanese text for Setzer's introduction is pretty long and complicated, so each translation handles it slightly differently:
| | | | |
| --- | --- | --- | --- |
| Japanese Script (basic translation) | SNES Script | GBA Script | Fan Script |
| A man who lives in a world where things like good and evil have no relevance and who soars through the skies aboard the Blackjack, an airship that contains a gambling venue. | A blackjack-playing, world-traveling, casino-dwelling free spirit… | A gambling vagabond who finds freedom from society's narrow views of morality aboard his airship, the Blackjack… | Free from the wiles of justice…… A man who flies about the skies on the Blackjack, liberated from the world below, a gambler without scruples… |
The Super NES translation does an impressive job of trying to touch on all the main points brought up in the Japanese script, while also condensing the text to fit within the English game's tight length limitations.
A chatter in the stream also asked if this translation is wrong because the word "blackjack" is used in terms of the card game and not as the name of the airship. My instinct says this change wasn't due to a misunderstanding, as "Blackjack" is clearly labeled as a ship in the Japanese text.
The GBA translation is granted a little more breathing room, so it's able to say more than the Super NES translation, but still not quite as much as the Japanese script. The text was rephrased to sound more natural in English but hits all the main points in the Japanese script. Except for the fact that the Blackjack has an entire gambling area on it – that detail gets cut out.
The fan translation clearly tries to do its own thing and not borrow from the Super NES translation, but it makes some basic mistakes in the process. The Japanese script essentially says that good and bad don't mean anything to Setzer – he's basically a free spirit whose worldview is based entirely on the luck of the draw. But the fan translation emphasizes that Setzer is "free from the wiles of justice" and that he's "without scruples". This suggests that he's a criminal at heart with contempt for law and justice.
Of course, soon after this, Setzer does interrupt the opera and kidnap a woman, so the fan translation description fits in that situation. But when we finally do meet Setzer and learn about his past, we see that he's not some vile criminal. Nor is he a good guy. He's just a free spirit who does his own thing, regardless of what's considered right or wrong. That important character trait is missing from the fan translation's description.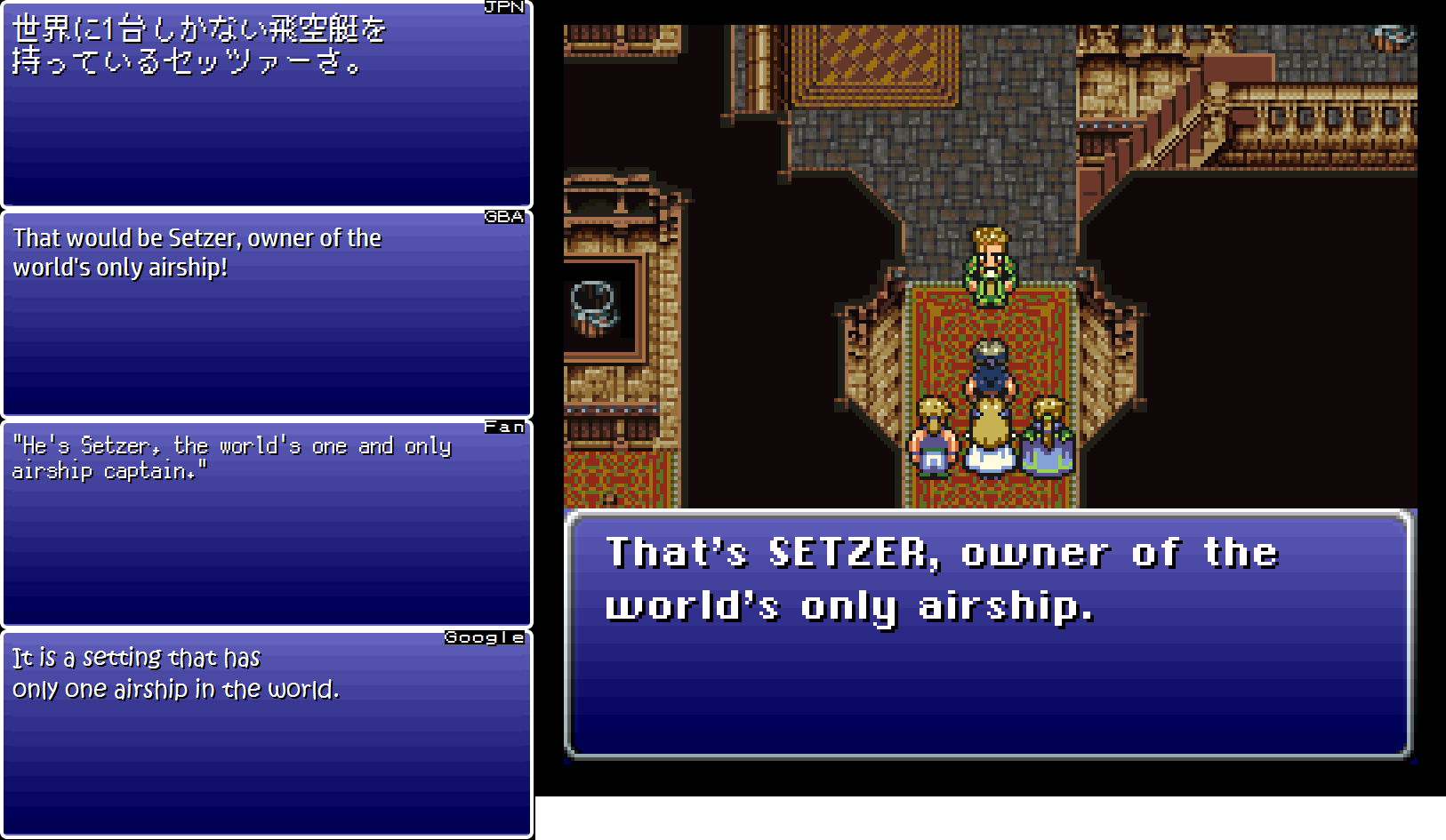 This man in Jidoor goes on to explain that Setzer owns the only airship in the world. Every translation gets this detail right but the fan translation. Instead, the fan script says that Setzer is "the world's one and only airship captain". At first glance, this phrasing doesn't seem problematic, but the new wording opens up the possibility that there could be a million airships in the world. It reminds me of when someone accidentally opens up a legal loophole because of poor wording in a contract.
As we learn over time, the fact that the Blackjack is the only airship in the world makes it extremely special. And then we later learn that it's only unique now because of a tragic event years earlier.
Of course, the fan script's implication that Setzer is the only one who can pilot airships keeps it in line with the fact that the heroes will still need his help. But it's still a mistranslation of the original line to begin with.
---
On a separate note, in English, we occasionally use "counter words" when giving a specific number of things. For example, we say "3 heads of lettuce" when counting lettuce. Japanese does the same thing, but with basically every word. This topic is kind of complicated and takes a long time to learn, but there's a good overview on Wikipedia here.
Anyway, in Japanese, ships are generally counted using the word 隻 (seki), so you might think that airships would also be counted using seki. But as we can see in this line in the Japanese script, airships are apparently counted using the word 台 (dai), which is usually used for things like cars, bicycles, some machines, and even household appliances.
Since I didn't grow up in Japan or speak Japanese natively, I probably never would've guessed that airships would be counted this way. Since these kinds of airships are fictional, maybe other games use a different counter word – I feel like airships built for war might use a different counter, for example. I haven't looked any deeper into how to count airships though, so if anyone knows more, let me know in the comments!