This is part of my ongoing series in which I compare four translations of Final Fantasy VI with the original Japanese script. For project details and my translation notes from Day 1, see here.
We streamed a little longer than usual this day, with the hope of making more progress than usual. We did manage to see lots of important story elements, from meeting Mog to visiting the Esper gate to allying with the Empire after a formal banquet. We also got to see an often-missed, optional scene on the airship. Lots of good stuff all around!
Video Archive
Note: I wound up wasting a bunch of time on the Veldt in search of a certain Rage for Gau. I talked about stuff while walking back and forth across the Veldt, but I forget if I discussed anything important. If the story scenes are what you enjoy most, then you can probably skip everything between 29:00 and 59:00.
Notes
We covered a lot of ground – and translation topics – during this stream. I've highlighted some noteworthy bits below, but I cover many, many more in the video. So if you want to learn about even more, check out the archive video above.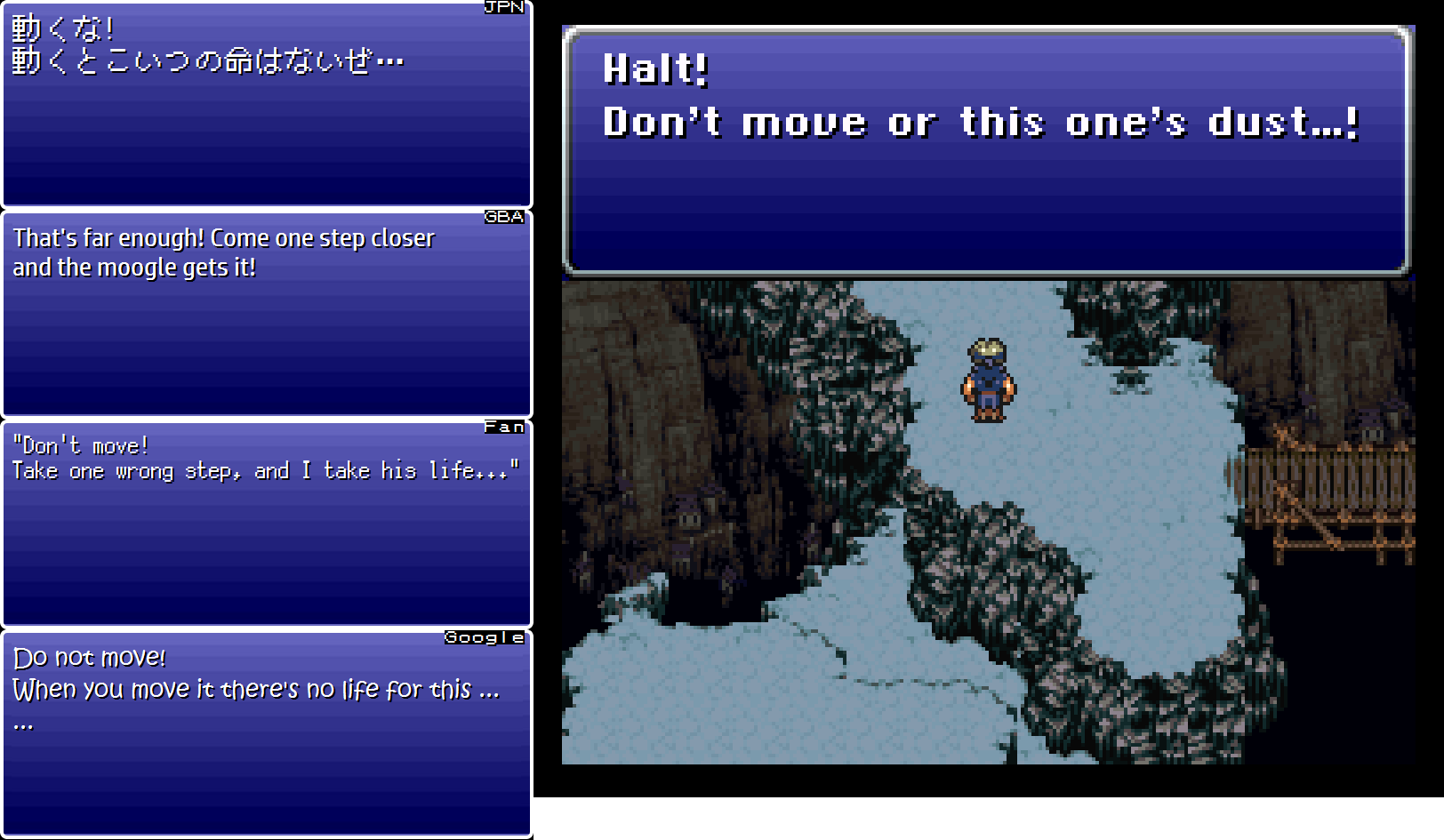 In Japanese, a wolf character threatens to take Mog's life. In the Super NES translation, this was phrased as "Don't move or this one's dust…!". Although the Japanese version doesn't use the actual words for "kill" or "die", the odd English wording makes me think the Super NES translator was being extra careful to adhere to Nintendo of America's content policies about death.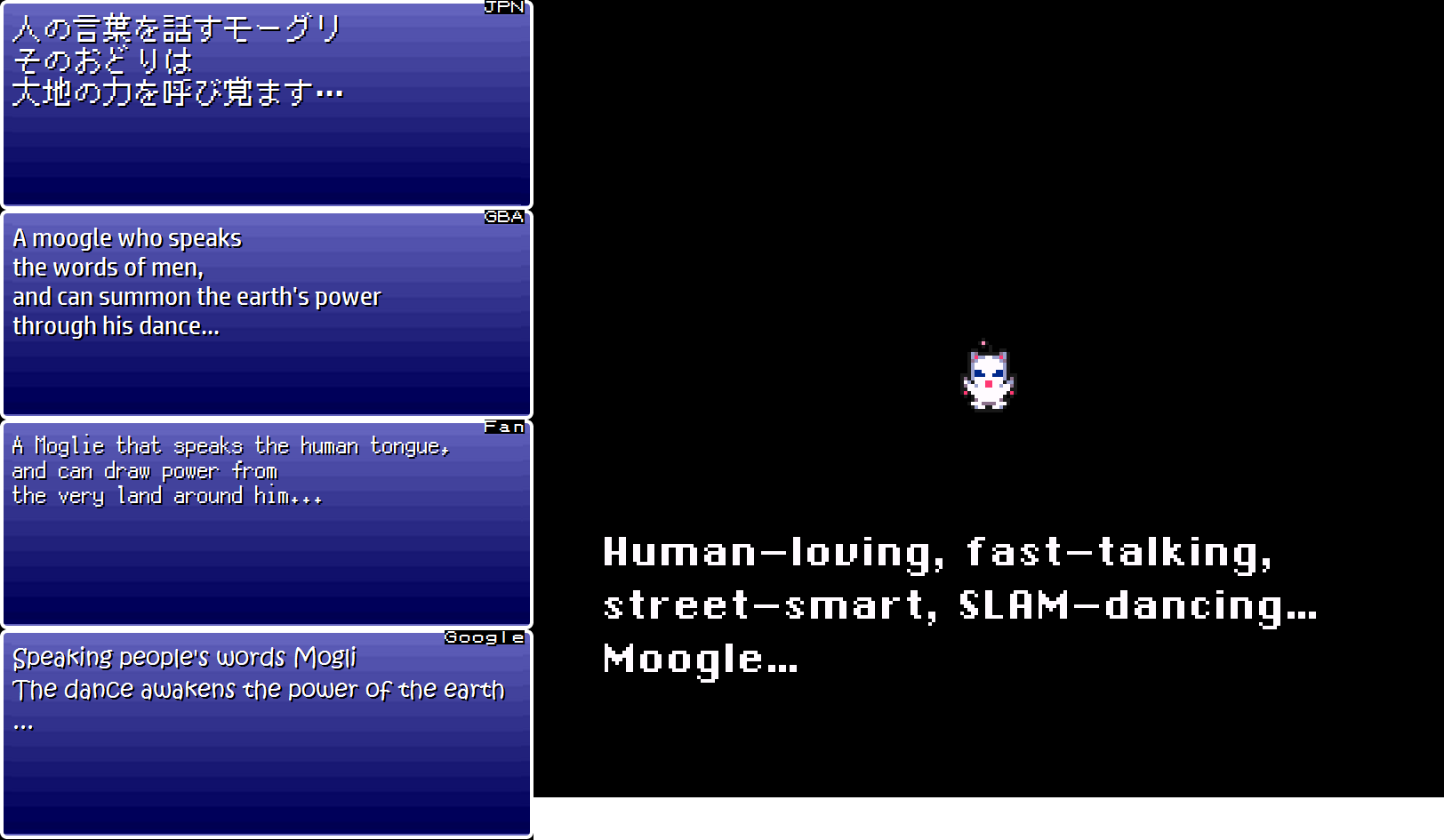 In Japanese, Mog's introduction is something like:
A Mо̄guri who speaks human language and whose dances can summon the power of the earth…
The Super NES translation takes this in a very different direction, though:
Human-loving, fast-talking, street-smart, SLAM-dancing… Moogle…
This new version definitely gives him much more attitude and personality than the original text. For some reason I always saw Mog as a "90s character with attitude" that stood out compared to everyone else, but I guess that was because of this Super NES translation change. That, and the way Mog was portrayed in all the North American marketing media:
All of this attention centered around Mog gave the impression that he'd be an up-and-front character who oozes personality. But now that I'm looking at the scripts side-by-side and looking at the bigger picture in general, Mog feels like a pretty normal character in Japanese. He doesn't have any "fast-talking, street-smart, SLAM-dancing" attitude or personality from what I can tell so far. He hasn't really had much dialogue so far, but just for reference, he uses the boyish pronoun boku in Japanese.
Also, for some reason, this whole character change reminds me of how "Poochie the Dog" got invented:
Mog's attitude injection also feels a lot like when Nintendo of America injected 90s attitude into Master Belch-related text in EarthBound the following year.
Anyway, the GBA translation undoes all of the Mog-has-attitude stuff: his in-game introduction is now properly translated and he's no longer used as a hip mascot. The fan translation also drops the SNES translation for a more faithful translation of the original text.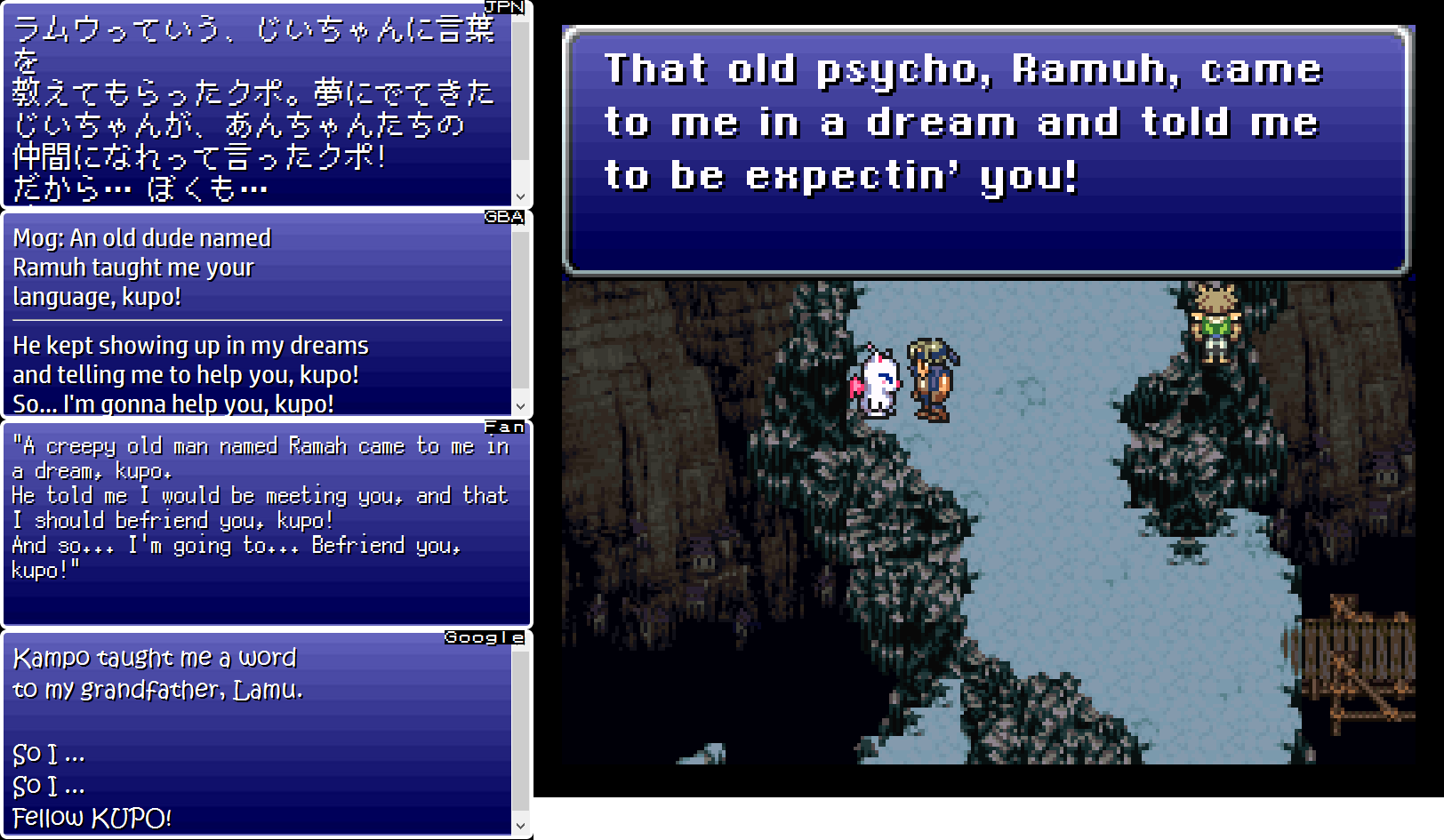 In the Super NES translation, Mog calls Ramuh an "old psycho". The original Japanese text had nothing of the sort though – he just calls Ramuh something like "old man" or "old guy". The GBA translation undoes this change, while the fan translation rephrases the "old psycho" part of the Super NES line into "creepy old man".
Also, the Super NES translation seems to have removed some instances of the word "kupo", but the GBA and fan translations put them back in. It's interesting, because the Super NES translation actually adds a creative "kupo" by saying "Thankupo!" at one point in this scene when no "kupo" existed in the original text.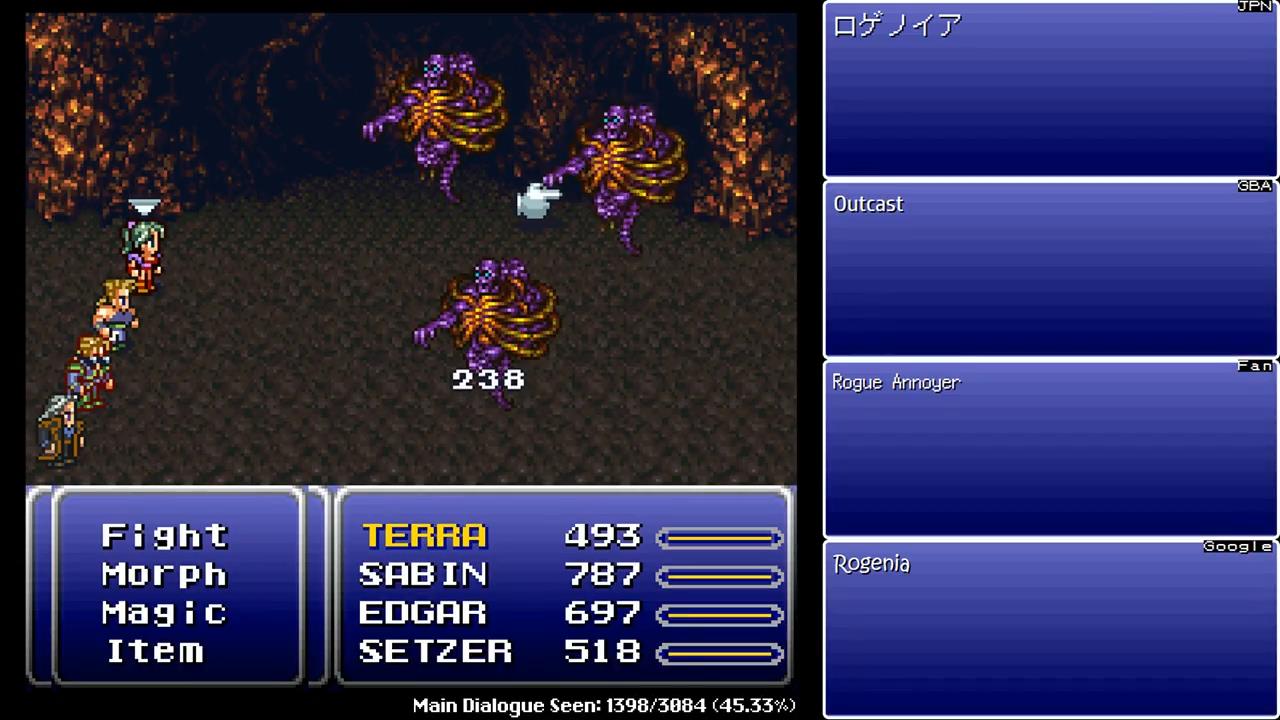 During the stream, I pointed out that I had no idea what these creepy exoskeleton monsters are supposed to be called in Japanese. They're known as ロゲノイア (rogenoia), which strikes me as something from Latin or biology or weird old mythology.
After a while, some chatters pointed out that the name is actually a backwards name. With this in mind, the Japanese name would be アイノゲロ (ainogero), which means something like "vomit of love". Is this really the only reason for the name? I have no idea personally, but I've seen Japanese fans joke about it and share memories of when they discovered how it reads backwards.
In any case, the enemy was renamed "Ing" in the Super NES translation. Apparently this is a reference to something mythological called "Yng" or "Yngvi", but I haven't looked into it myself. The GBA translation changed the name to "Outcast", and the fan translation tried valiantly to find meaning in rogenoia and eventually got "Rogue Annoyer" out of it.
You don't hear about it too often in interviews and such, but man, enemy name translation is tough!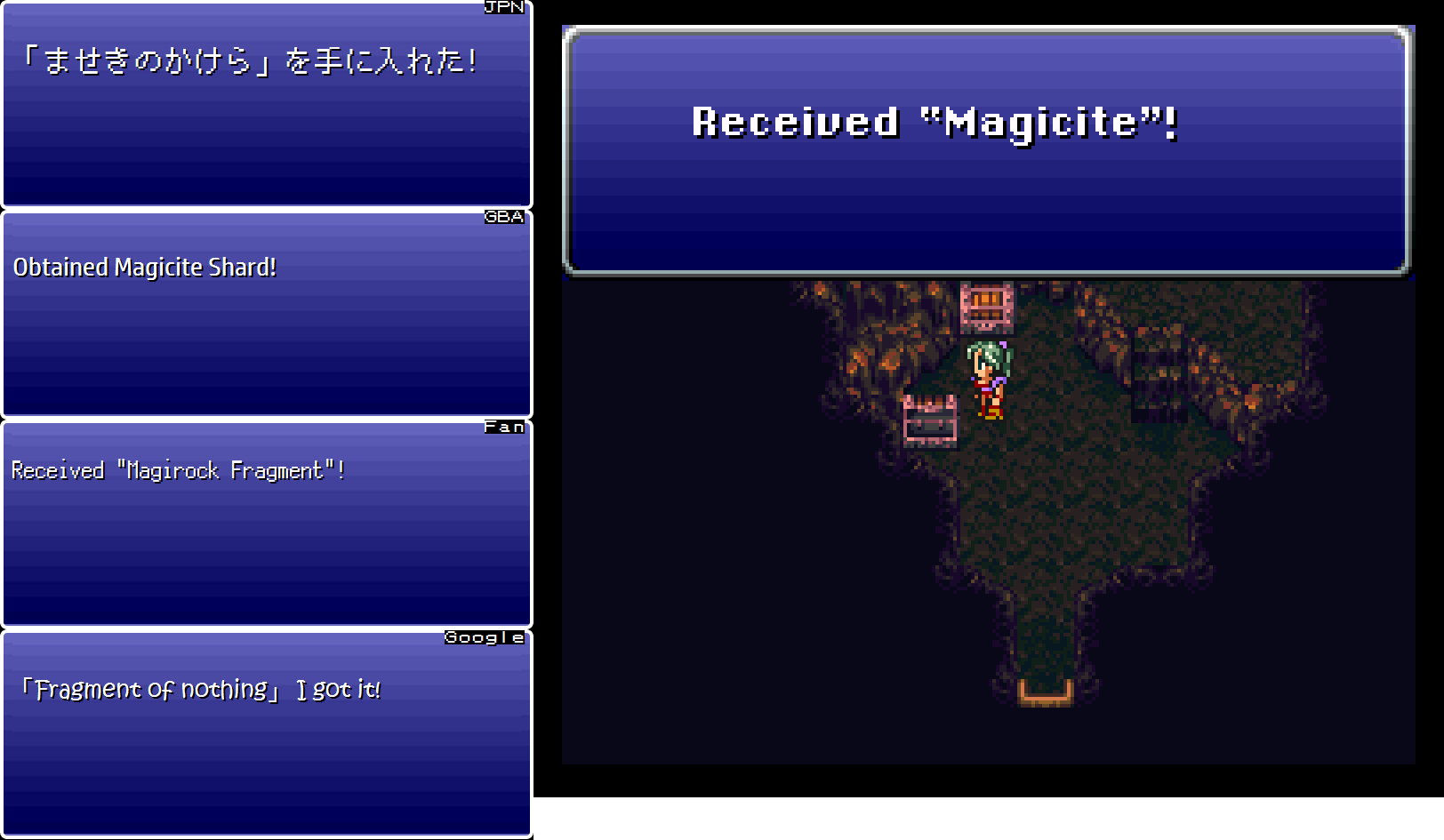 In a previous stream I noted that the Super NES translation improperly referred to full pieces of Magicite as "Magicite shards" in the main story text. Here, we discovered that there are actual items called "Magicite" that you can get from treasure chests and special events – except these are actually called "Magicite shards" in Japanese.
Basically, the Super NES translation messed up and got things backwards. Of course, I can understand why the item is simply called "Magicite" – all item names have strict length limits in the Super NES version. Still, I feel "Mag.Shard" or something similar would've worked. In the end it's not a big deal, but it's a quiet inconsistency I never noticed before.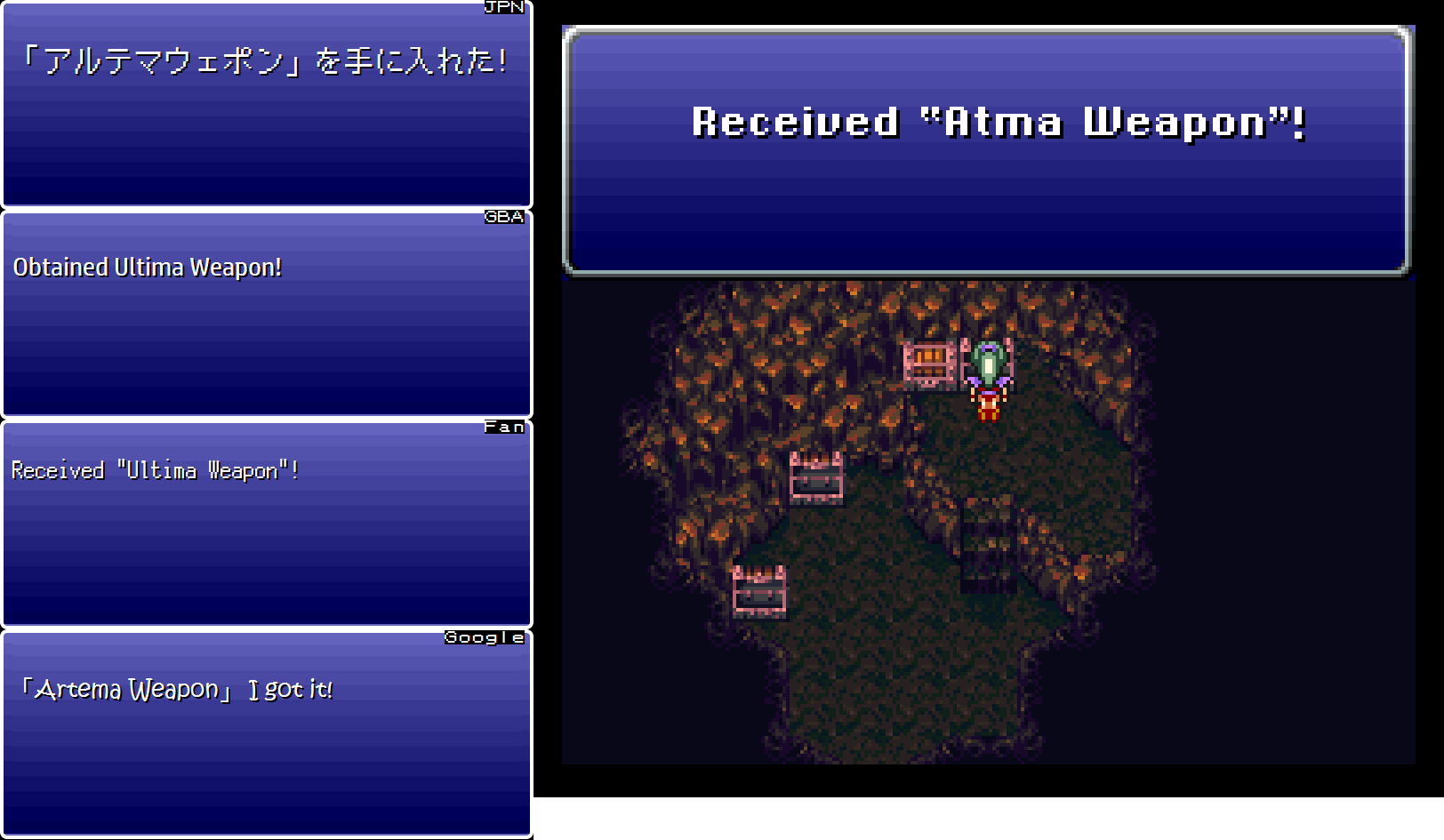 At one point in the game, you learn that there are two legendary weapons in the world – one is a special sword, and another is a living weapon. Both weapons go by the same name.
In Japanese, these weapons are called アルテマウェポン (arutema wepon). The second part is just the English word for "weapon", but what's the arutema part? At first glance, it's not really obvious what it's supposed to mean. My own translator instinct would probably suggest "Artema" or "Altema" at first. What's more, a quick online search shows that both of these spellings are used in a variety of situations, so they're within the realm of plausibility in this situation too:
The problem is that arutema is intended as neither of these words, at least in the context of Final Fantasy VI. Instead, it's a phonetic attempt at how we would say "Ultima" in English. As we've previously seen here, there are lots of problems with As and Us, Ls and Rs, and Is and Es whenever a word goes from English into Japanese or the other way around.
So, because of this phonetic craziness, it isn't 100% immediately obvious that arutema is supposed to be "Ultima". In fact, games in the Ultima series use a very different Japanese spelling: ウルティマ (urutima).
All of this is to say that spelling gets complicated whenever an English word gets transformed into Japanese, but it gets even crazier when that Japanese word gets transformed back into English.
As a result of all this confusion, the Final Fantasy VI Super NES translator misunderstood the name entirely and improperly called it "Atma". Yet, the translator did properly translate the word elsewhere in the game: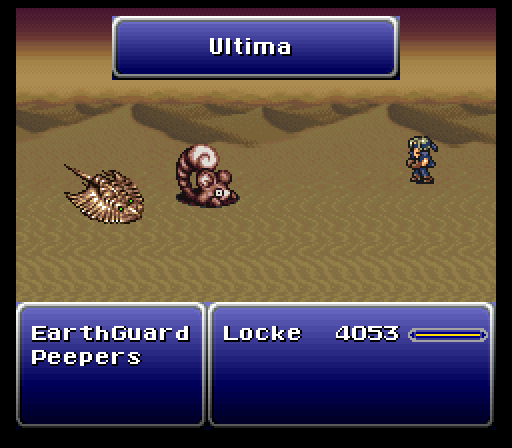 Basically, the Super NES translation features a weird blend of incorrect translations and inconsistent translations here. Luckily, both the GBA translation and the fan translation fix this ultimate problem.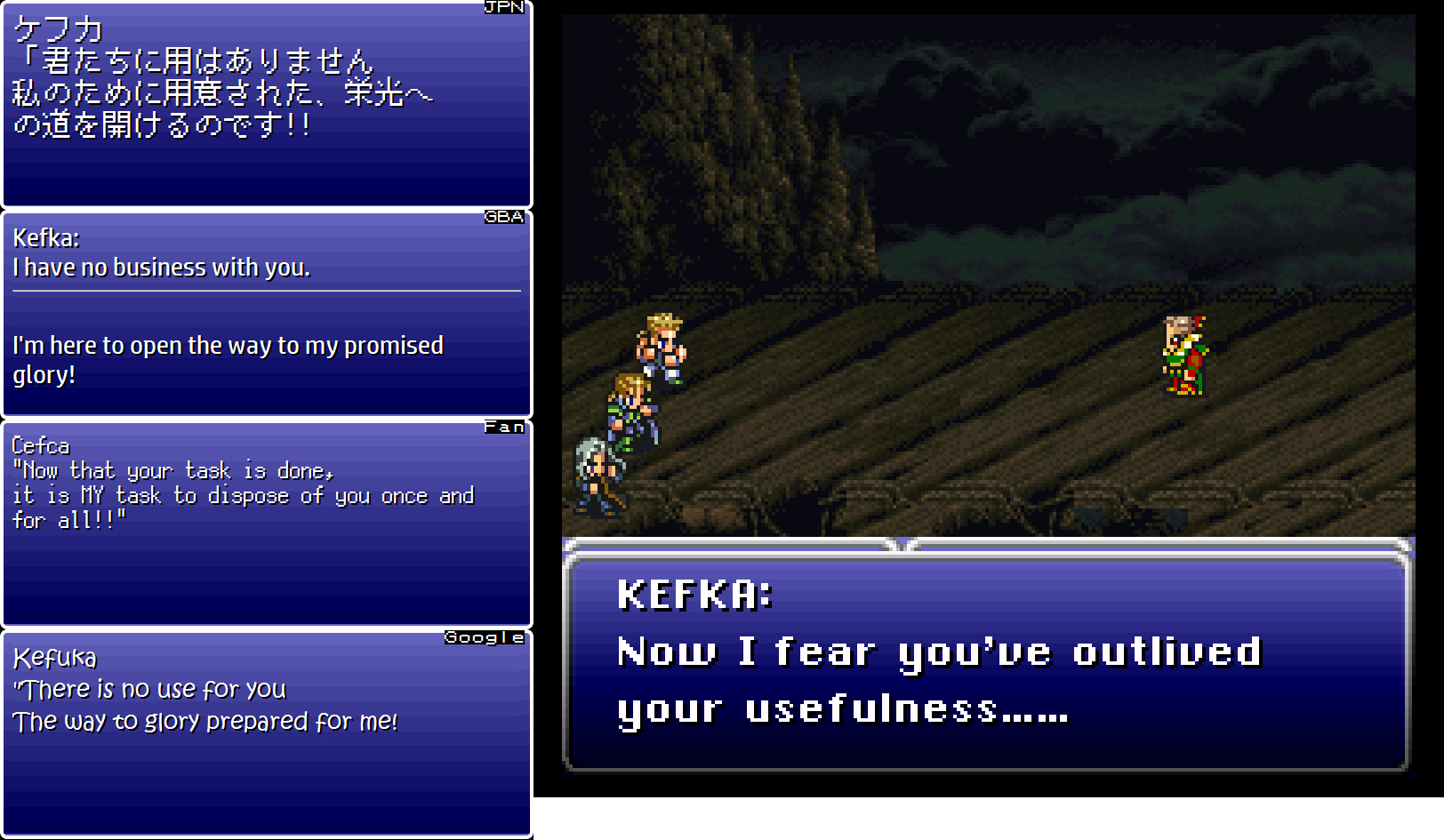 Kefka shows up to cause trouble. At one point, he mentions how he tricked the heroes into doing exactly what he wanted and that he has no more use for them anymore.
After this, Kefka mentions that he's about to follow the path to glory that has been prepared for him. This line was dropped entirely from the Super NES translation, so now the scene flows a little strangely:
Kefka: Now I fear you've outlived your usefulness……

(The heroes get ready for a battle): "You'd better think again, Kefka!"
The GBA translation fixes this problem by putting the missing line back into the scene:
Kefka: I have no business with you. I'm here to open the way to my promised glory!

(The heroes get ready for a battle): You'd better think again, Kefka!
The fan translation doesn't fix the mistake present in the Super NES translation, though. Instead, it seems to be a mistranslation of Kefka's first line coupled with a fanfic-esque rewrite that adds text out of nowhere.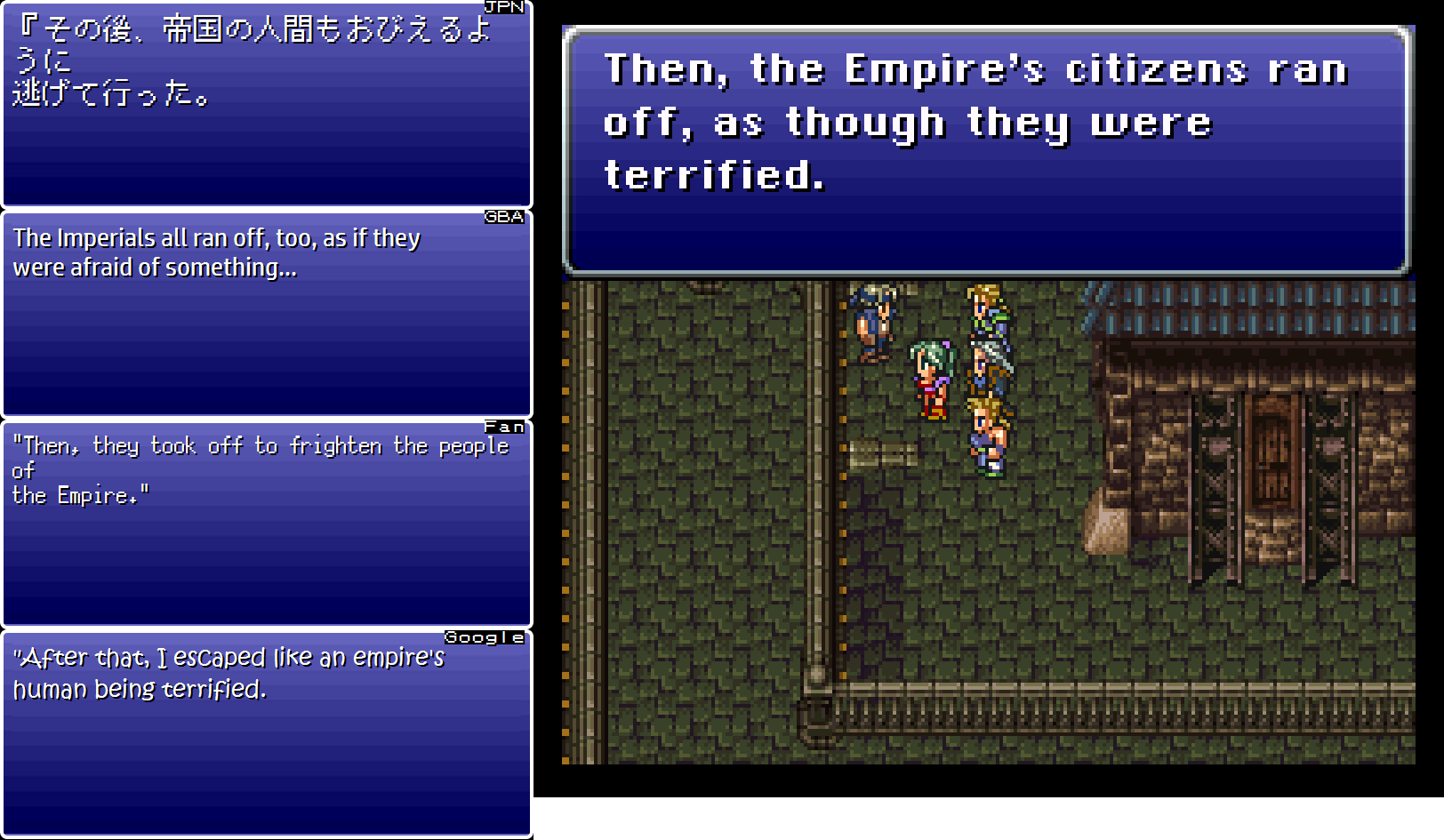 One of the main characters explains what happened after the Espers broke out into the human world. In Japanese, this explanation includes a line that says "Afterward, the people of the Empire ran away as if afraid."
The Super NES and GBA translation both get this detail correct, but the fan translator wasn't fully accustomed to the grammar involved, so the end result was quite different:
Then, they took off to frighten the people of the Empire.
I can see why this mistake happened, though – it's a combination of multiple grammar misunderstandings you might see from a student with a couple semesters of Japanese under their belt.
If you're curious about the language details, the fan translator mixed up transitive and intransitive verbs here and misunderstood how
ように
works in this situation. There might be more problems, but those are the two main ones that popped out for me.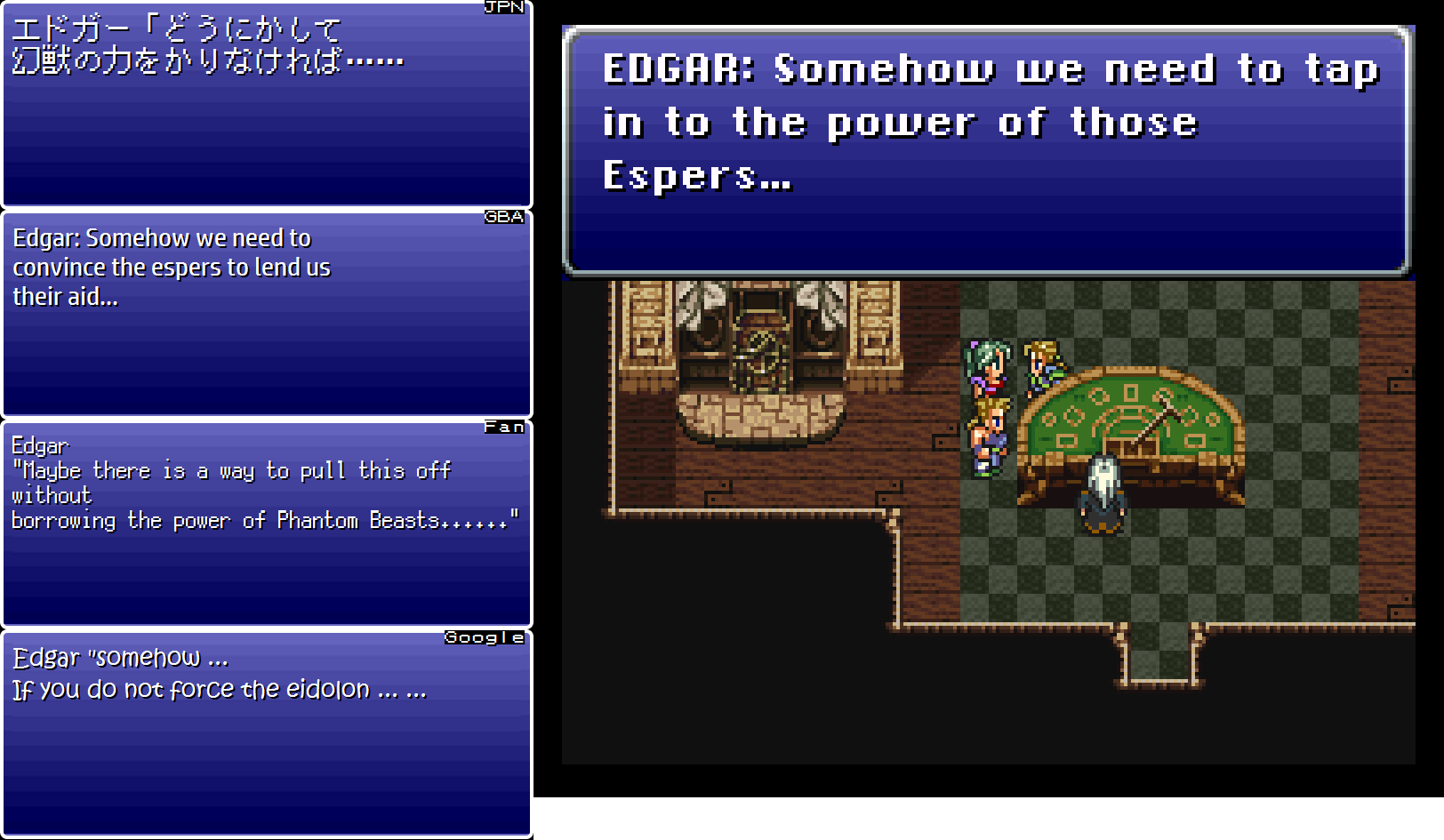 I mentioned it during the stream, but this line involves the Japanese word 力 (chikara), which is often translated as "power" or "strength" or "energy". But in many contexts you can consider it to mean "help" or "assistance" instead. There are lots of Japanese phrases that use chikara this way:
力になる (

chikara ni naru

) literally translates as "to be/become/act as someone's power" but functionally means "to help someone" or "to assist someone"
力を貸す (

chikara o kasu

) literally translates as "to lend power" but functionally means "to give help" or "to lend a hand"
力を借りる (

chikara o kariru

) literally translates as "to borrow power" but functionally means "to receive help" or "to get assistance from"
These are pretty common phrases, but translators-in-training aren't always familiar with them, so it's common to see amateur translations stick with the literal meanings rather than the functional meanings. In fact, we see that this fan translator uses "borrowing their power" in this line about Espers. Even the Super NES translator falls into the same trap by using the phrase "tap in to the power of those Espers".
Of course, it's an understandable mistake in rare situations like this that happen to involve special powers. Still, if you stop to think about it, the story at this point in time is basically "the Empire sees Espers as disposable resources, but the good guys are against that", right? But because the Super NES and fan translators misunderstood the Japanese phrasing, the good guys now view the Espers as a resource too.
In contrast, the GBA translation fixes this mistake by properly translating Edgar's phrase. Now, instead of viewing the Espers as some sort of resource to be used as suggested by the Super NES translation, Edgar sees the Espers as living, thinking beings and even hopes to work alongside them.
Between this line and other tricky lines we've seen before, it's clear the GBA script was handled by someone with a lot of experience in this field.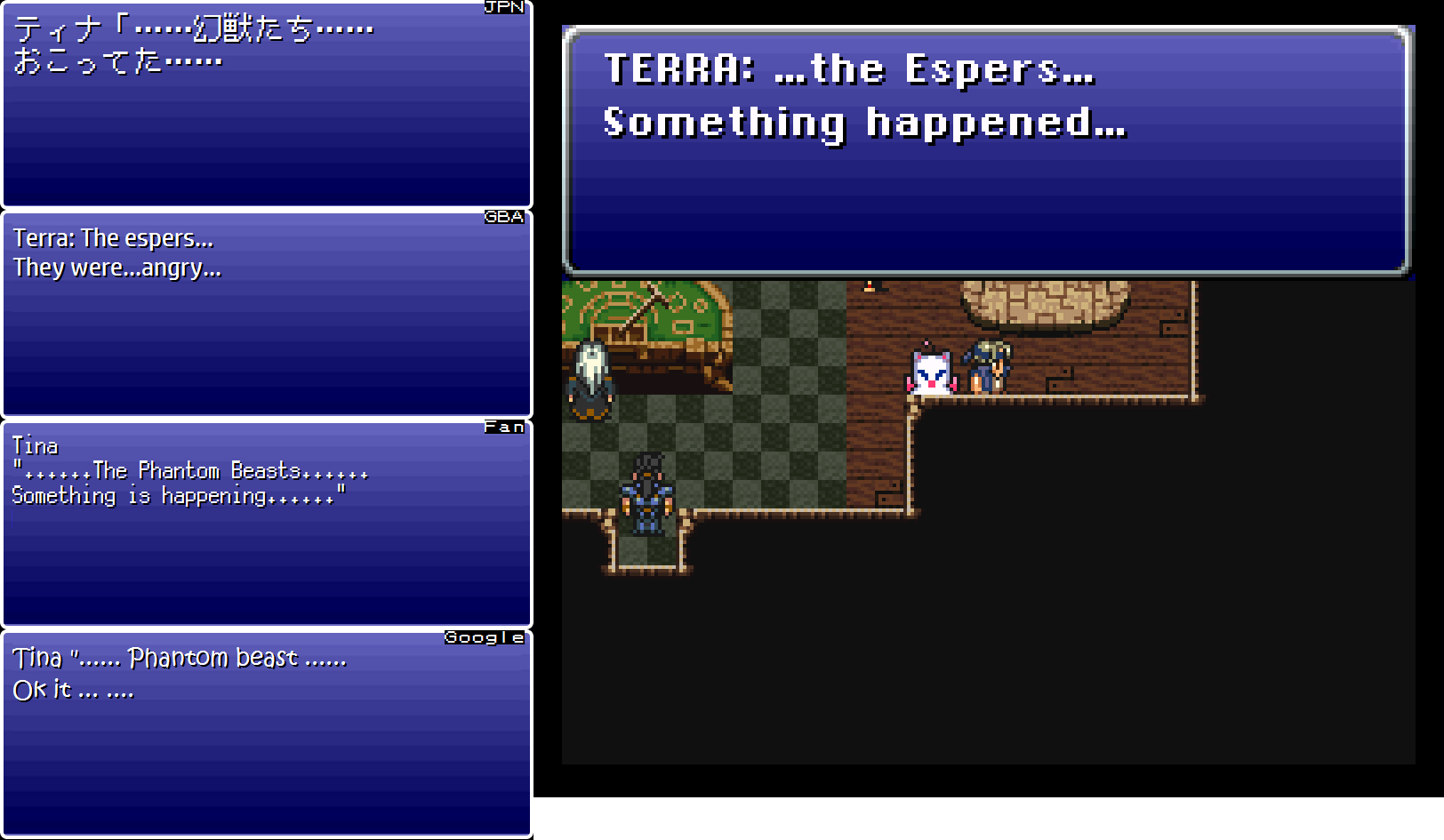 In the Japanese version of this line, Terra says:
…The Espers… were angry…
There's a translation trap here, though: the word おこる (okoru) has many different meanings, including "to be angry" and "to happen". Usually it's clear which meaning is intended based on context and other factors, but the Super NES translator fell for the trap and mistranslated it as "something happened" instead.
The GBA translation handles the word correctly, while the fan translation is either a rephrasing of the Super NES line or another instance of someone making the same translation mistake.
Also, given the full context, it seems really weird for Terra to say "Something happened…" here. She was literally right there when the "something" happened, as were a bunch of other party members.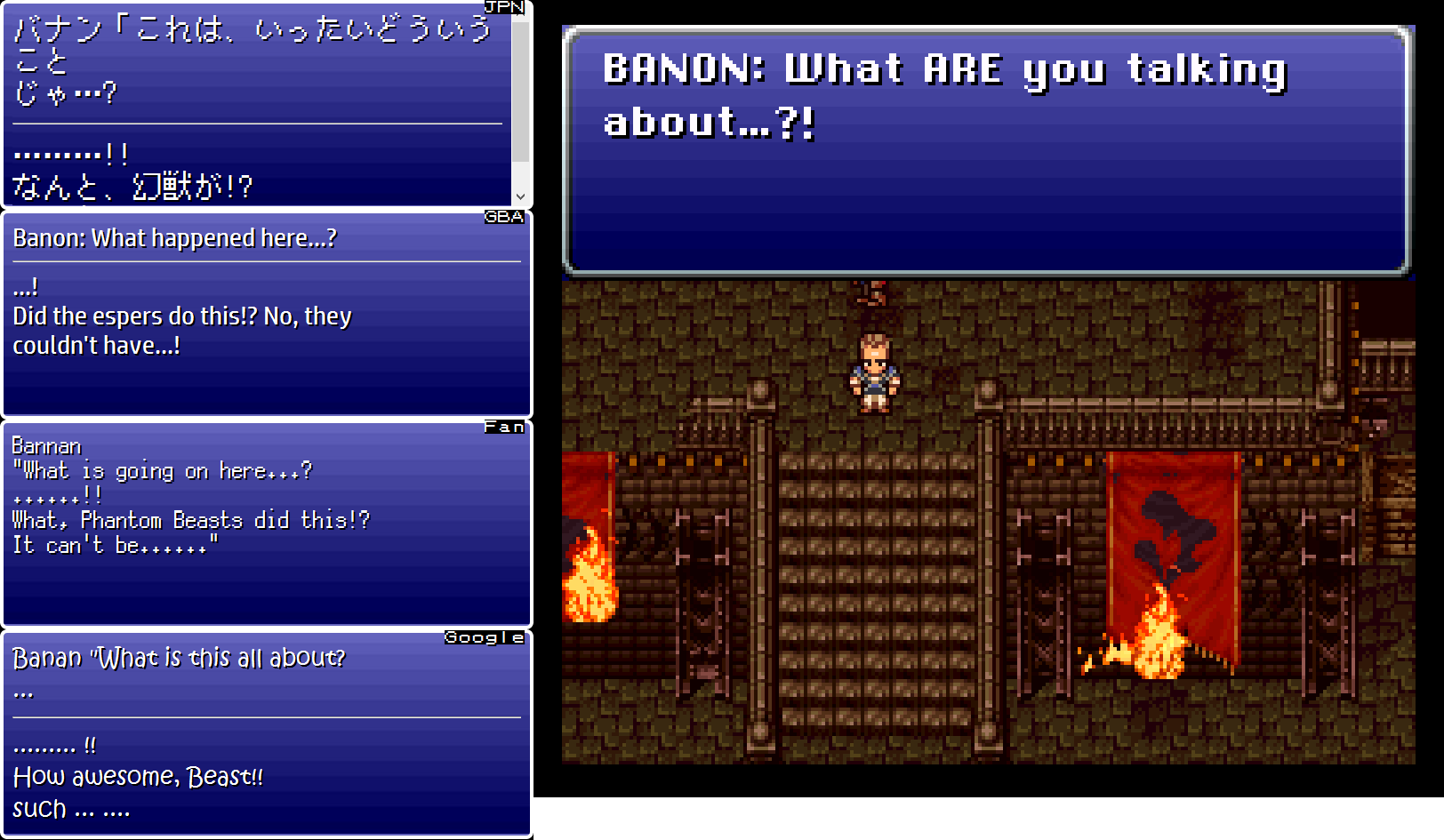 Banon and the Returners are now in the imperial capital of Vector. Banon's text in the Super NES version is incorrectly translated due to lack of context and an incomplete sentence:
| | |
| --- | --- |
| Japanese Version (basic translation) | Super NES Translation |
| What in the world happened here…? | What ARE you talking about…?! |
| ……!! | ……!! |
| What?! The Espers did this?! That can't be…! | Talking with…Espers…? |
Both the GBA and fan translations fix this mistranslation.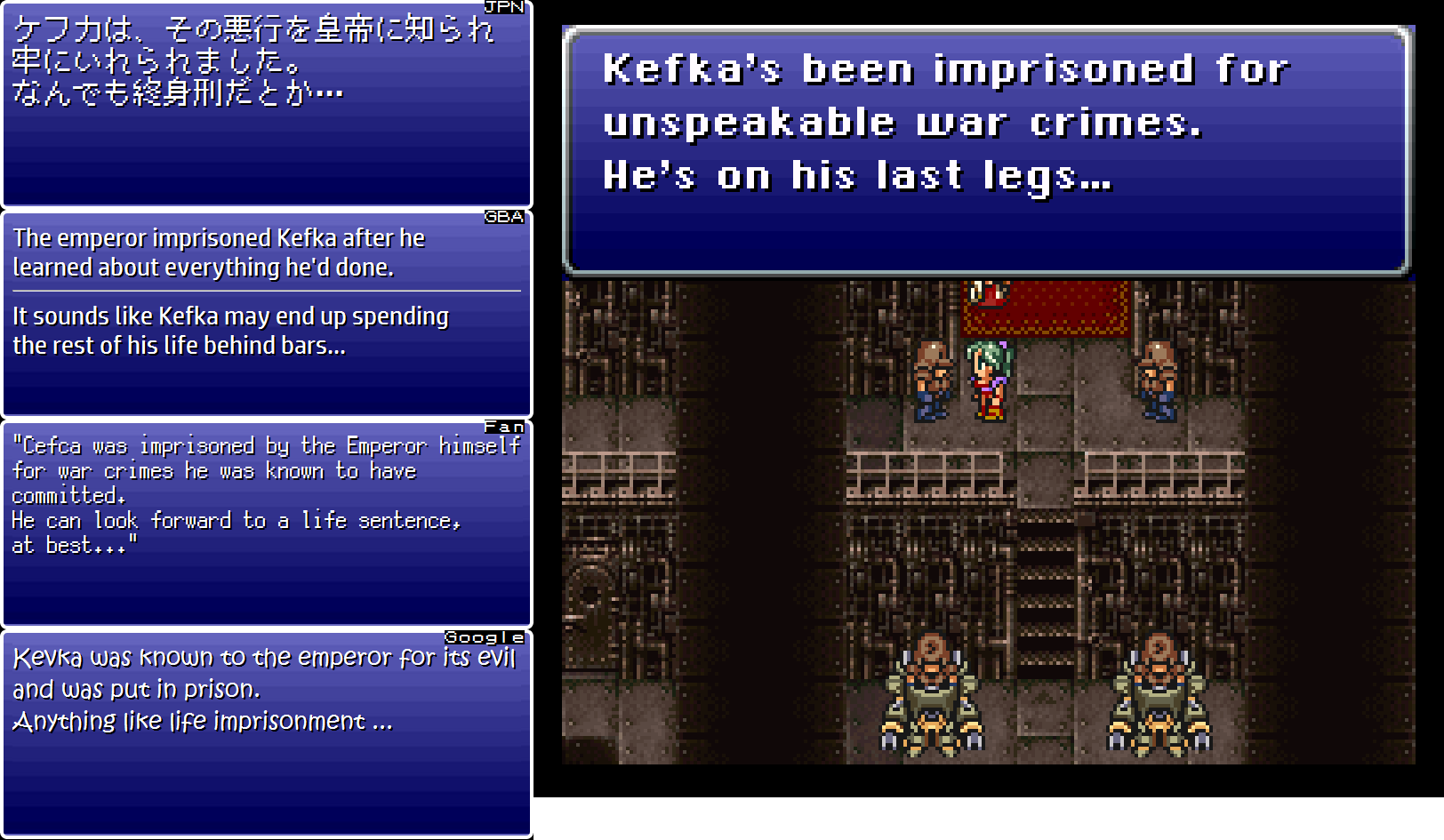 One of the soldiers in Vector talks about Kefka. In Japanese, he says:
Kefka was imprisoned once the emperor learned of his evil deeds. Word has it he's been given a life sentence…
The Super NES translation changes things a bit:
Kefka's been imprisoned for unspeakable war crimes. He's on his last legs…
The fact that the emperor himself imprisoned Kefka has been dropped, and the part about getting a life sentence was replaced with something else entirely. I'm not quite sure why the change to "he's on his last legs" was made, though.
In Japanese, Cid says:
When the (the Espers) learned that their comrades had all been slaughtered/killed, they tore up the town and left.
The Super NES translation replaces the "killed" part with "perished" to avoid Nintendo of America's policy against such content. But the change also unintentionally takes the blame off of the Empire. Of course, if you follow the story closely you know how they perished, so it's not a complete change.
Strangely, the GBA translation also keeps the violent talk out of the script by using "none of them were alive". Even the fan translation goes with "they were all dead". Only the Google translation properly explains what happened to the Espers, which also explains why the Espers tore up Vector specifically.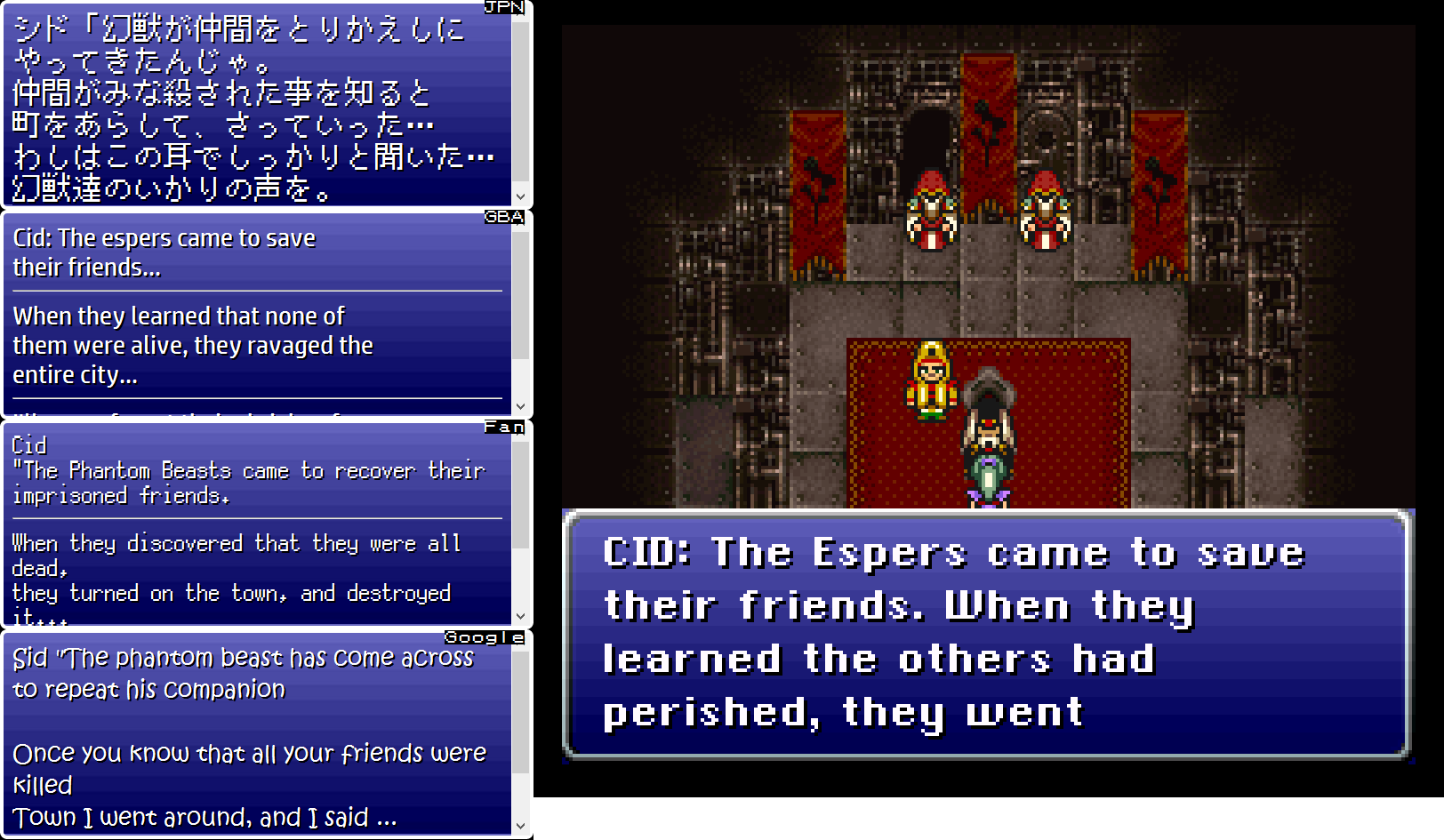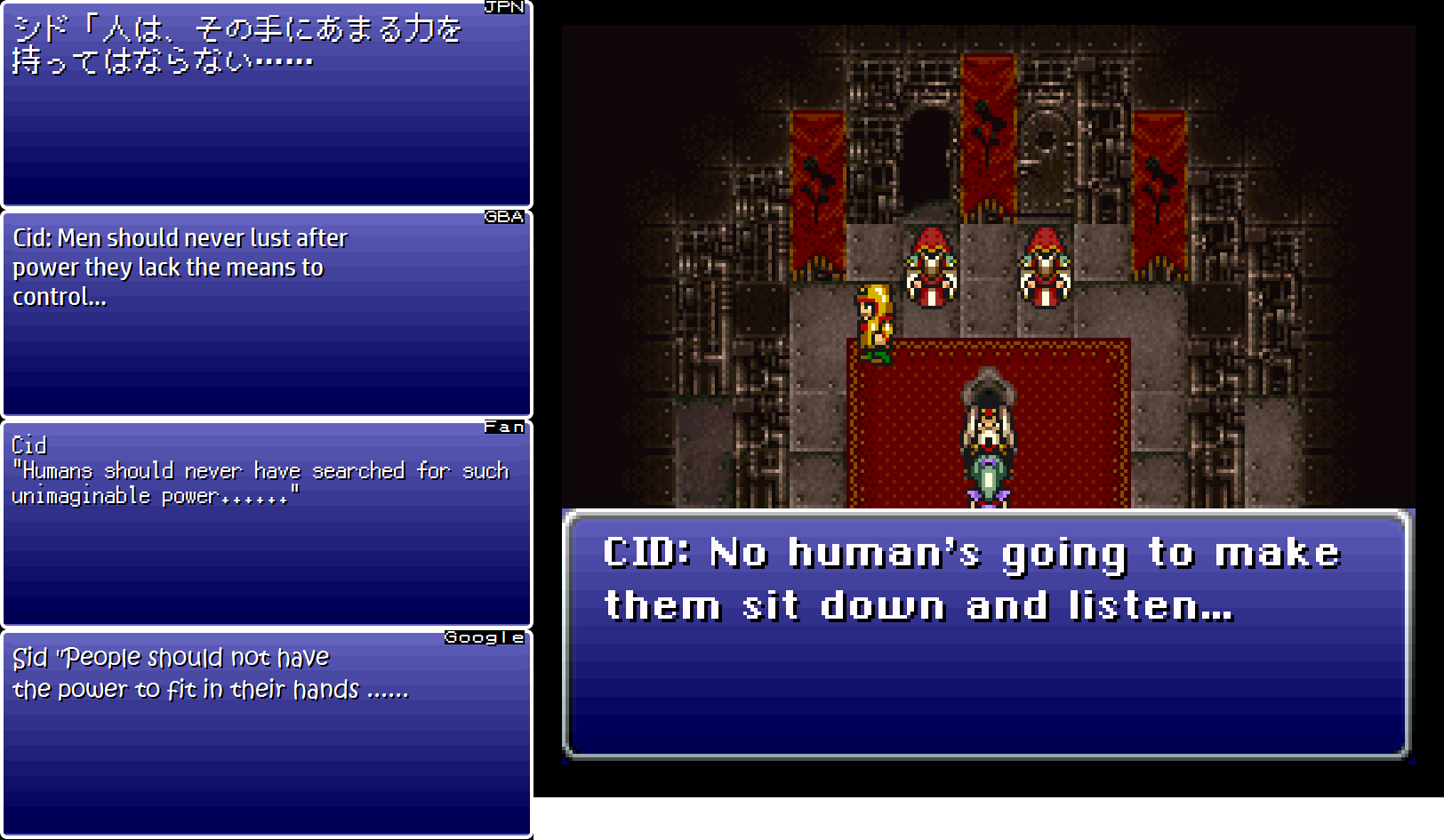 In Japanese, Cid says something like:
Humans should never possess power that is too much for them to control.
For some reason, this line is very different in the Super NES translation:
No human's going to make them sit down and listen…
I don't know why this line wound up so different in translation. Either it's a completely made-up line or a really heavy mistranslation.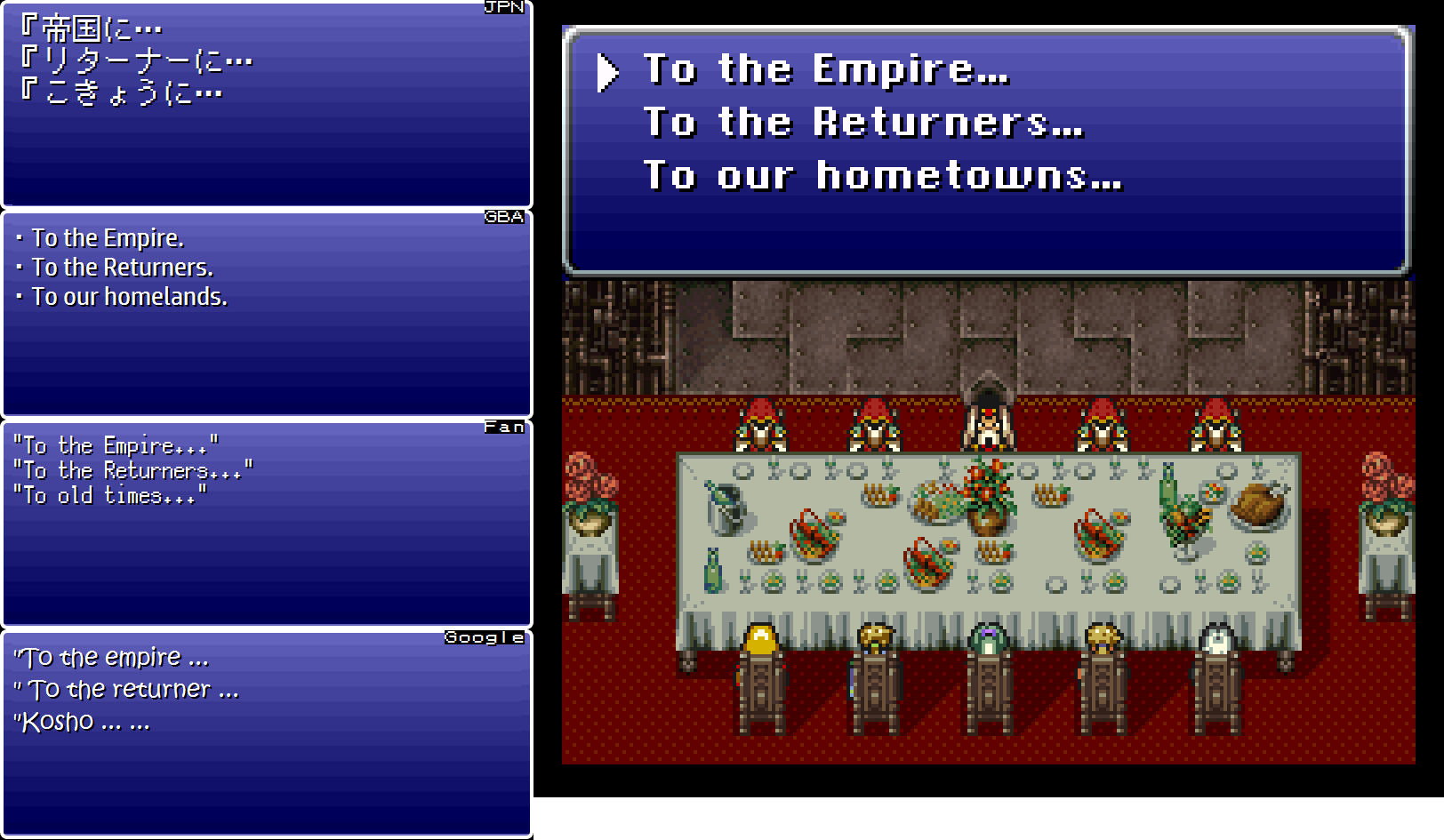 During the banquet with the emperor, you get to choose a bunch of questions and answers that lead to slightly different results by the end of the event. One of the early choices is about what everyone should give a toast to.
In Japanese, the three options are:
To the Empire…
To the Returners…
To our homelands…
The Super NES and GBA translations get this right, but the fan translation changes the third option:
To the Empire…
To the Returners…
To old times…
I can't tell if this is a mistranslation or not… but if it isn't, then I don't know what it is. I have no idea how こきょう (kokyō) could end up mistranslated as "old times".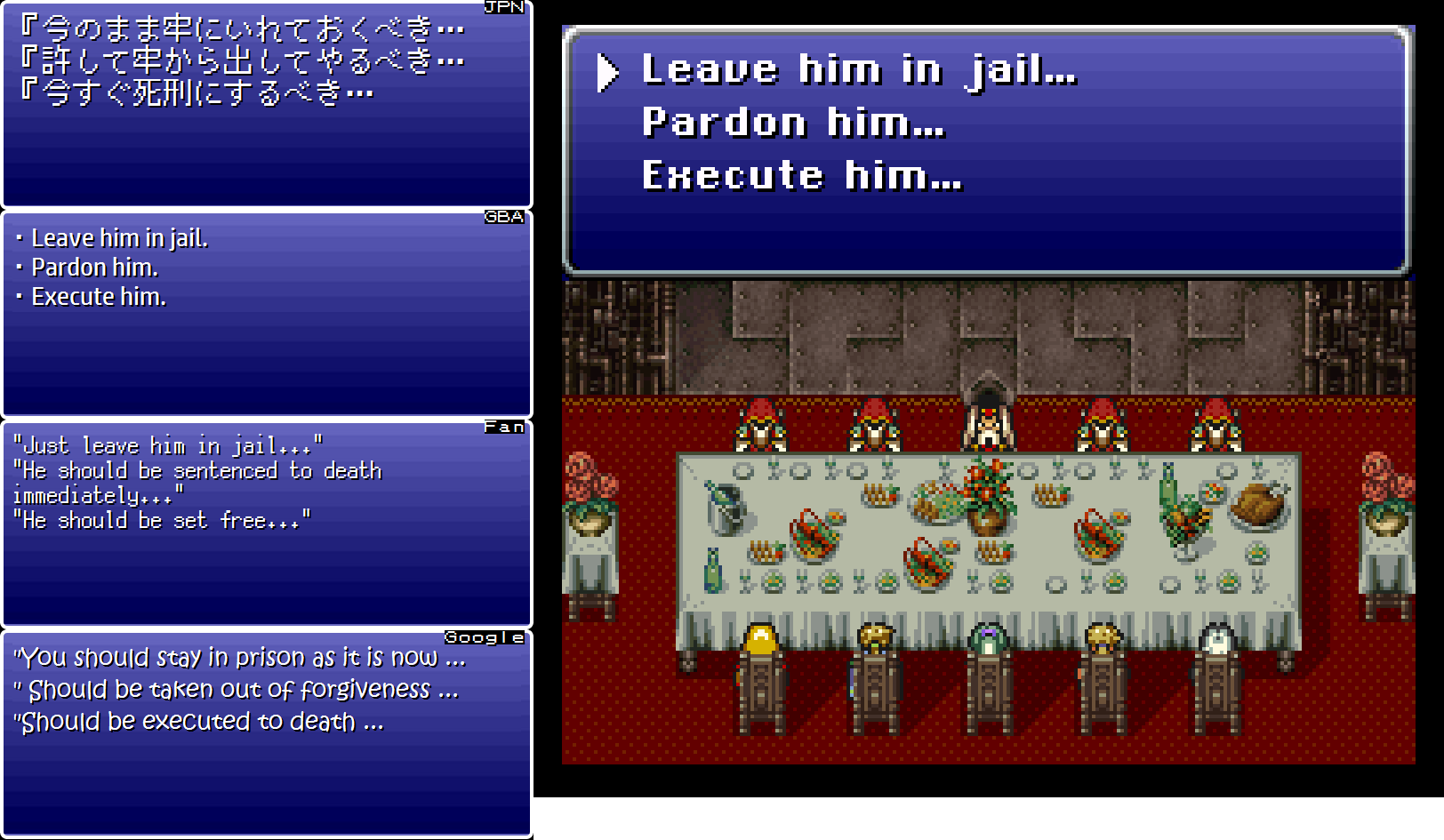 Later in the banquet, the emperor asks what should be done with Kefka. The three options available in Japanese are:
Leave him in jail…
Forgive him and let him out of jail…
Execute him immediately…
Both the Super NES and GBA translations handle this fine. In fact, I'm surprised the Super NES translation leaves the execution part in!
The fan translation does something different, though:
Just leave him in jail…
He should be sentenced to death immediately…
He should be set free…
For some reason the second and third options have been swapped. I'm not fully familiar with the banquet's internal points system so I don't know if this line swap makes a difference, but it's still a pretty crazy thing to get jumbled up.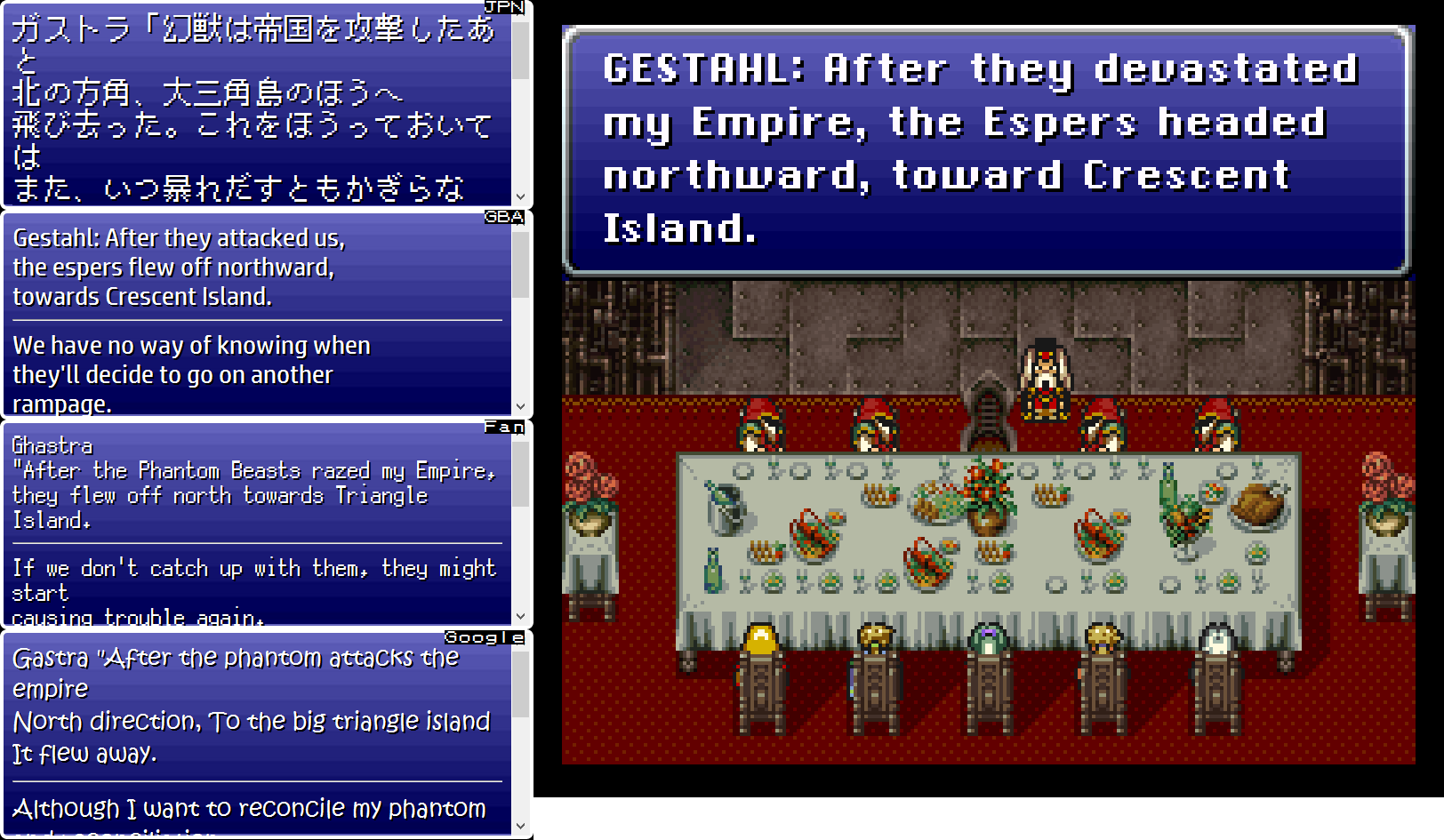 The next big destination is a place called "Big Triangle Island" or "Great Triangle Island" in Japanese. The Super NES translation gives it a different name, though: Crescent Island. The weird thing is that it's not a crescent at all!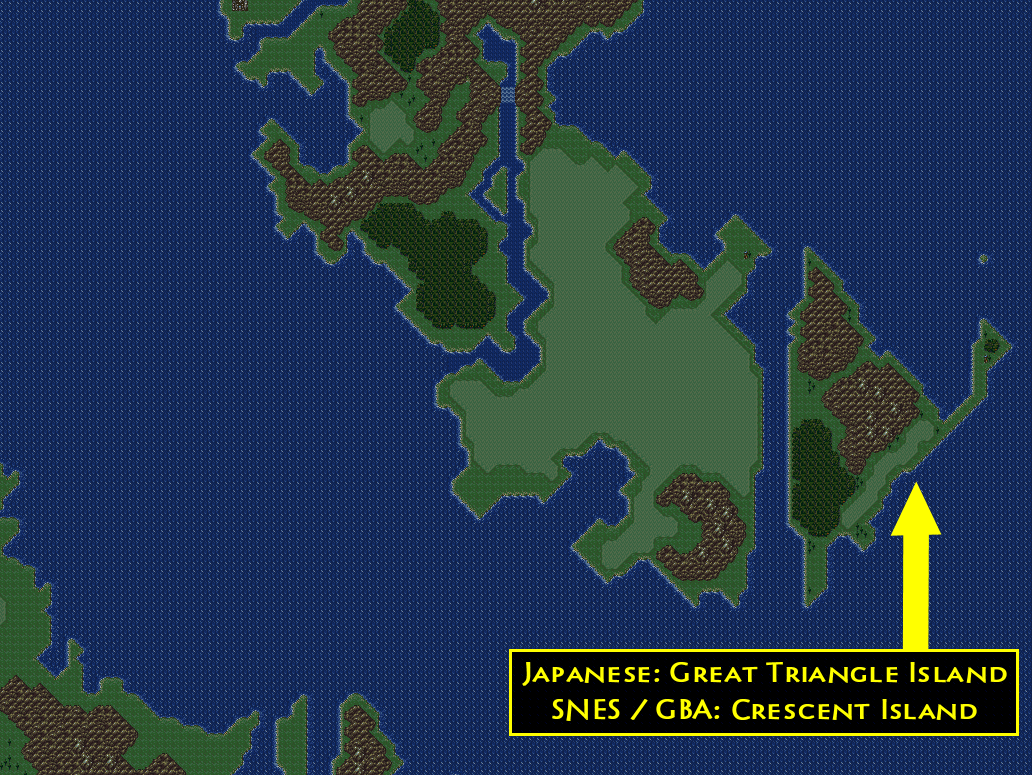 My best guess is that the Super NES translator was speeding through the script with no time to pause. The Japanese word for "crescent" is 三日月 (mikazuki) which literally means "three days moon", and the word for "triangle" is 三角 (sankaku) which literally means "three corners". Both words involve the number three and look kind of similar, plus there was already a place named after a crescent elsewhere in the script. So maybe the translator made some hasty assumptions and accidentally went with "Crescent Island".
On a side note, I haven't found an official answer on how the Japanese name for this island should be pronounced. It's written as 大三角島, which my first instinct says should be called daisankakujima, but it could also be called о̄mikadojima or possibly several other things. I checked some Japanese videos and the name seems to cause confusion and/or hesitation with native speakers too. Out of the few videos I checked, I've only heard sankakujima so far, and even then it's with hesitation. If anyone has any more info or can confirm the pronunciation, let me know!
Anyway, whatever the cause of this weird name translation was, the GBA translation left it as "Crescent Island". We've seen that many important names in the game were kept as-is between the Super NES and GBA translations, so this doesn't come as too much of a surprise.
Incidentally, the official Japanese guides call it "Grand Triangle Island", as we see here: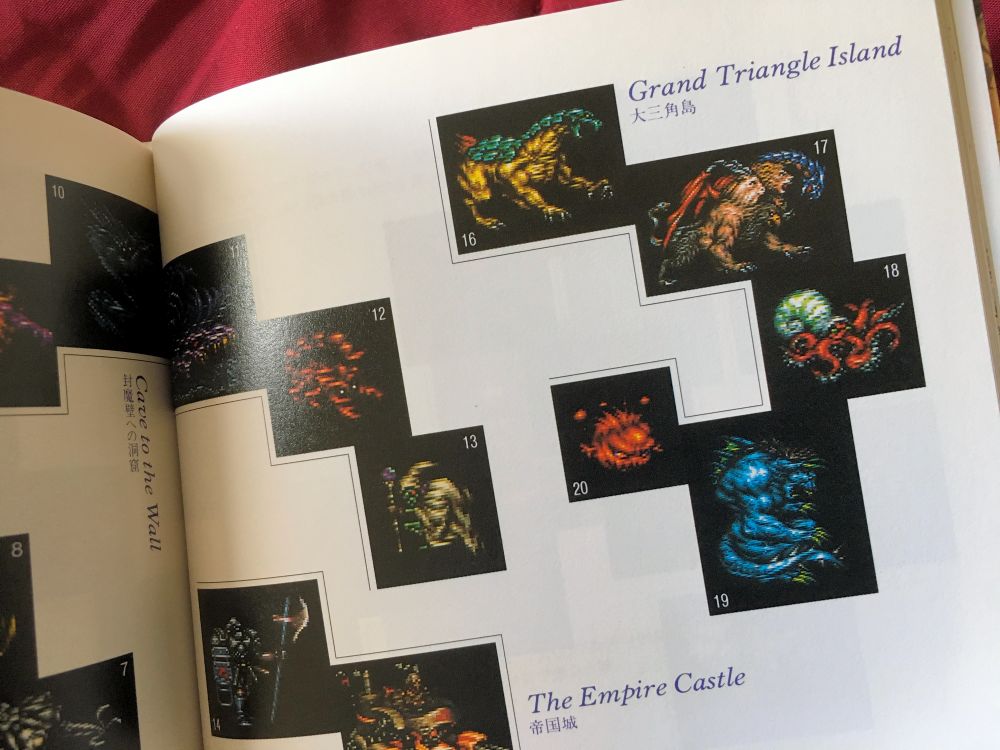 If you're a fan, you're probably about to say, "Wait, there already is a Triangle Island in the English versions!". Indeed, the tiny northeastern island with weird creatures is known as "Triangle Island" in Japanese too. That's why this one is called the "Grand Triangle Island".
So, if you put all this info together, this means that "Grand Triangle Island" is a rare case of when the fan translation is more correct than the official translations, while Google is even better than all the others and gets it completely right!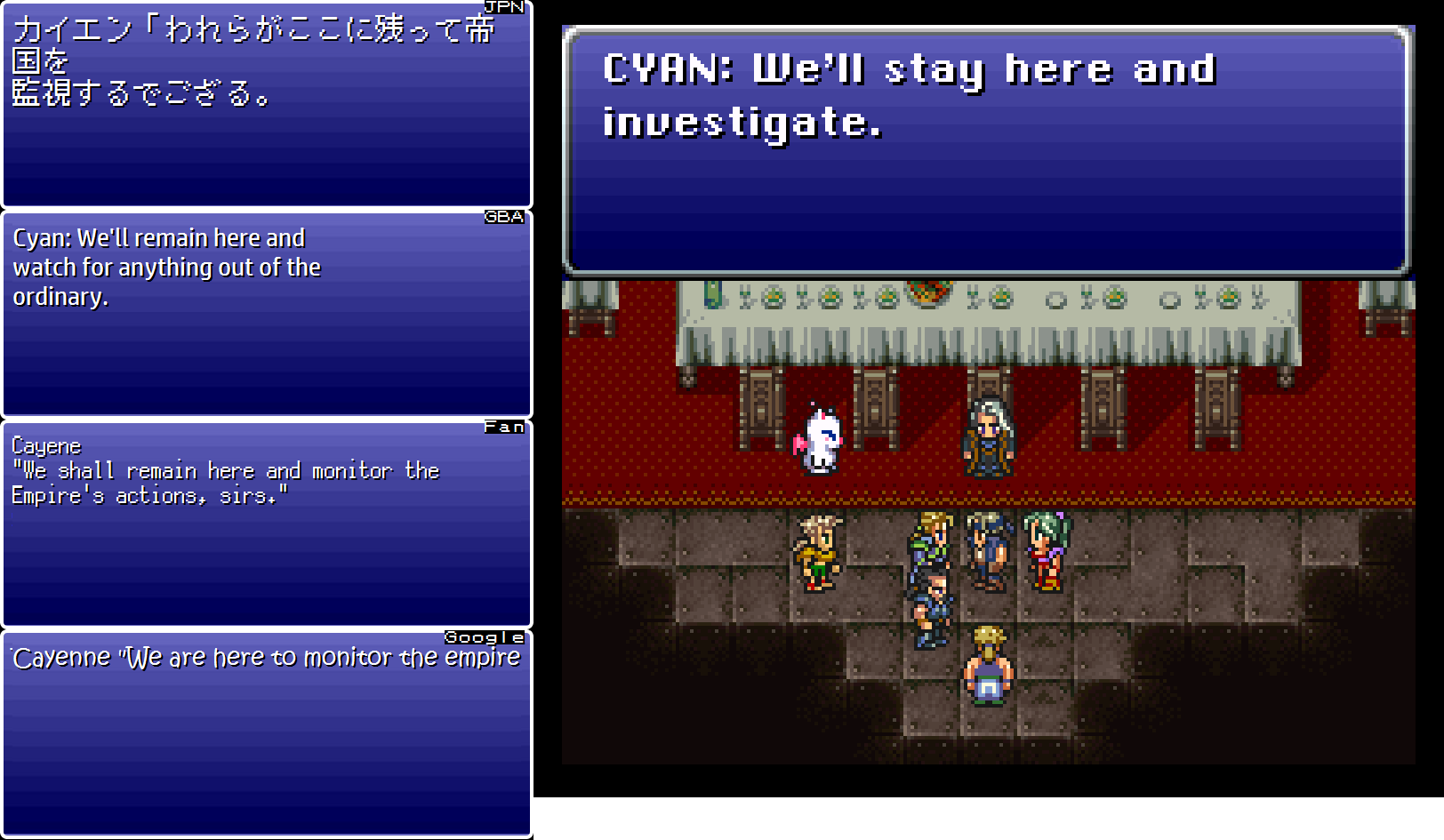 After the banquet ends and the Returners agree to team up with the Empire, the heroes still feel suspicious about the whole deal. In Japanese, they say that they're going to keep an eye on the Empire while the main party goes out and does its thing.
This idea of the heroes watching the Empire and keeping an eye on the Empire is brought up in multiple places, but the Super NES translation mistranslates it all from the very start. Instead of keeping an eye on the Empire, the heroes now talk about investigating the Empire, breaking into the Empire, and other things that go beyond just watching.
When you think about it, why would they need to break into the Empire anyway? They literally just had a meal with the Emperor himself and got permission to run around the Imperial headquarters as they please!
The GBA translation fixes this series of subtle mistakes. The fan translation and the machine translation also correct the Super NES translation's mistakes.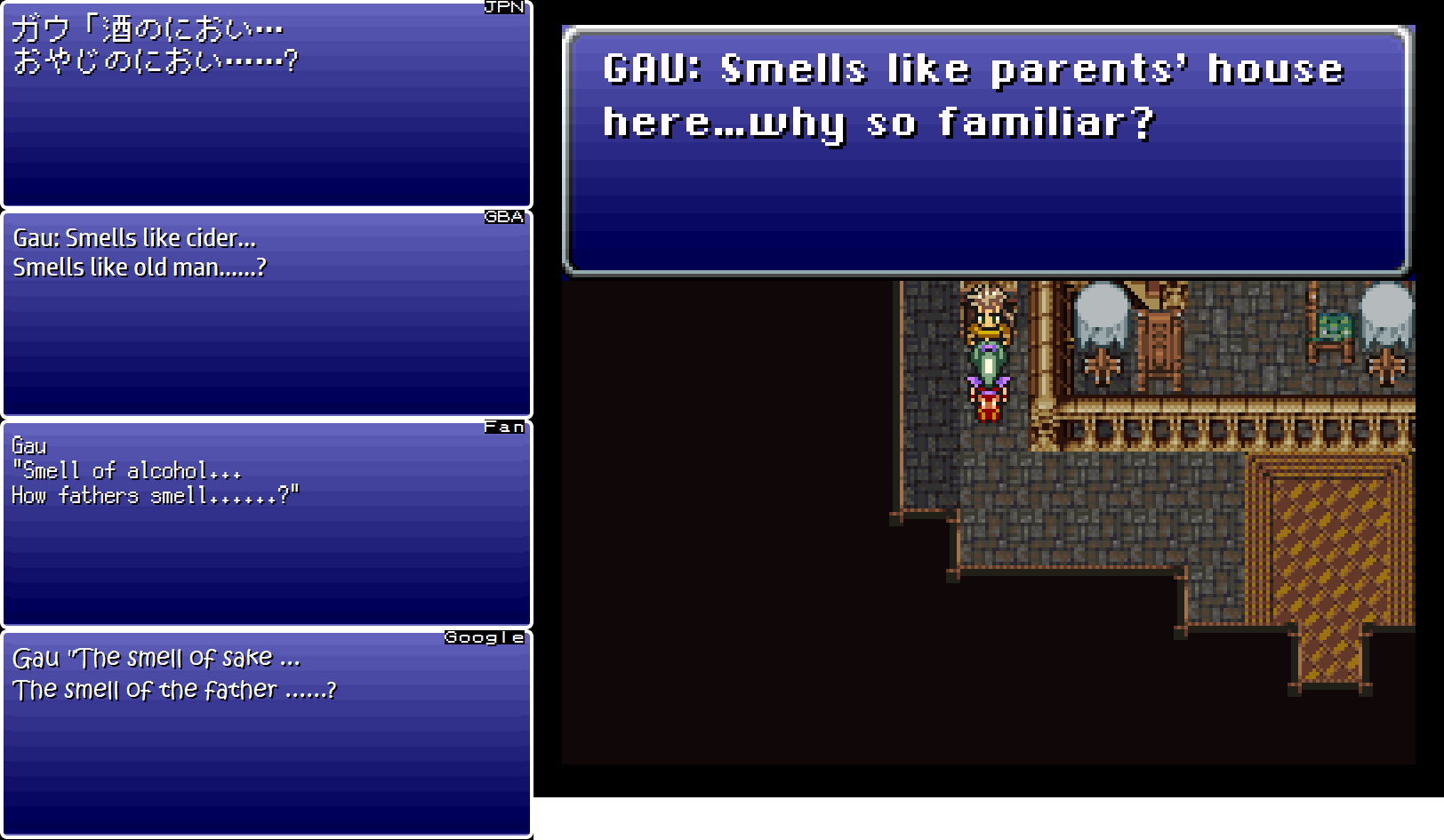 If you visit the pub in Vector at this point in the game, Gau has an interesting line. In Japanese, it's roughly something like:
The smell of alcohol… The smell of Dad/old man…?
The Super NES translation removes the alcohol reference. The GBA translation specifically mentions "cider", while the fan translation goes with "alcohol". I actually really like the fan translation's phrasing for the second sentence: "How fathers smell…?". It made me realize that Gau has probably only ever known one father, so who knows, maybe he thinks this is how all fathers smell. The Japanese writers probably didn't have this interpretation in mind when they wrote the line, but the phrasing does allow for it to be read that way too.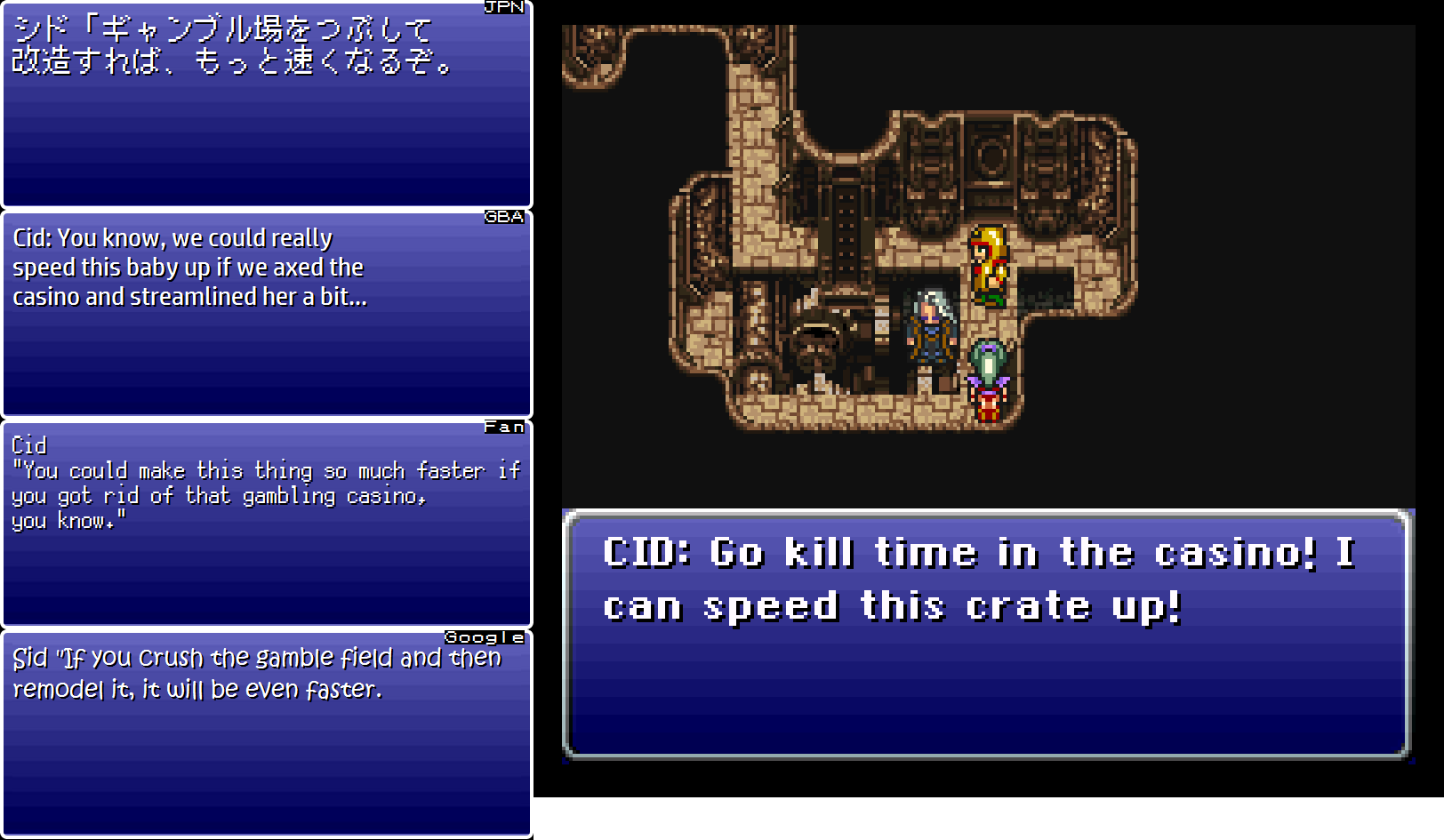 There's an easily missed optional scene that you can see if you visit the crashed airship before leaving for Crescent Island. The scene involves Cid and Setzer trying to repair the airship. At one point, Cid tells Setzer in Japanese:
We could make it go even faster if we tore out the gambling area and did some remodeling.
The Super NES translator misread this line, which resulted in a very different translation:
Go kill time in the casino! I can speed this crate up!
The problem revolves around the word つぶす (tsubusu), which usually means "to crush" or "to wreck", but it also appears in phrases like 時間をつぶす (jikan o tsubusu) or 暇をつぶす (hima o tsubusu), which mean "to kill time". So it looks like the translator was reading too quickly and thought this line was talking about killing time in the casino rather than destroying the casino.
Every other translation gets this line correct – even the Google version.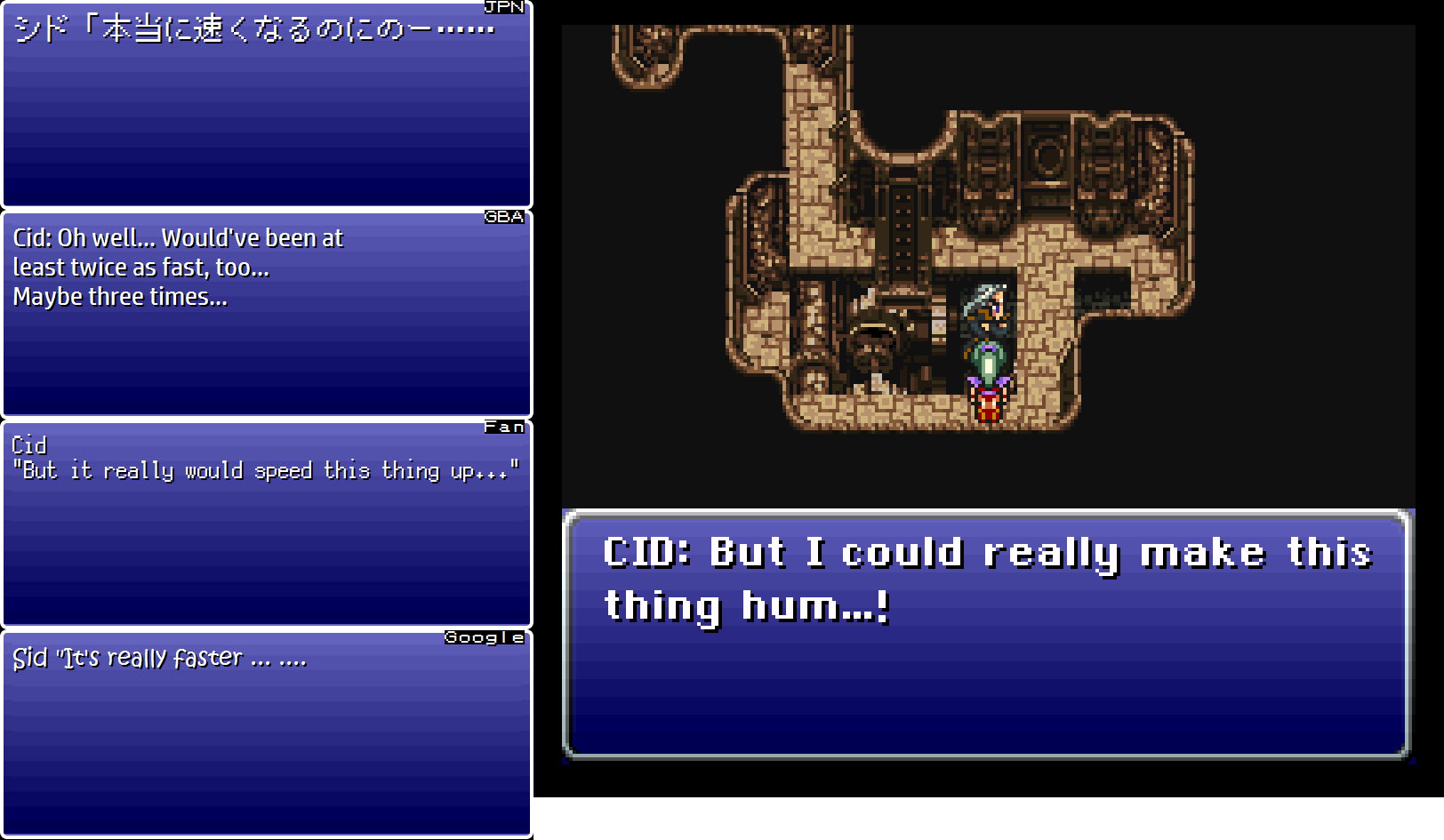 In the same airship scene, Cid says something like "But it really would make it faster…" in Japanese.
The Super NES and fan translations handle this line properly. The GBA translation changes it a tiny bit:
Oh well… Would've been at least twice as fast, too… Maybe three times…
The original text doesn't include any such details, and it's been pretty rare for the GBA translation to add stuff like this out of nowhere. Whenever we've seen new stuff like this added in the GBA version, it's usually been a reference to pop culture or something similar. I get the feeling that isn't the case here, though. How odd.
Update: Commenters suggested that this is very likely a reference to the "three times faster/three times ____" meme that arose from the Gundam series. It's been a meme in Japan for a long time and it's been a meme outside Japan too. Just look up "3 times faster" on Google and you'll find all kinds of joke videos, joke sub-Reddits, and joke images.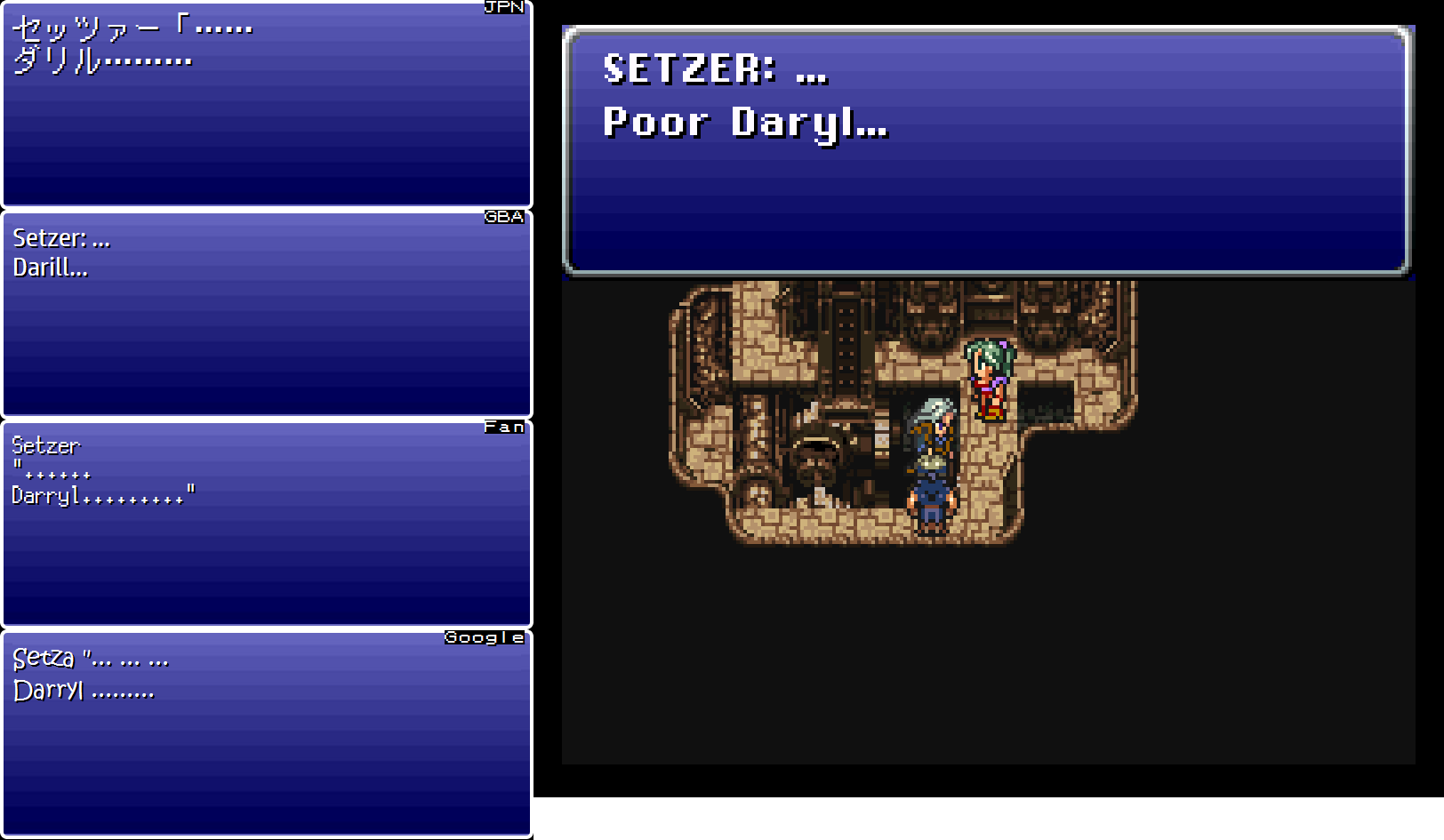 This airship scene is the first time we hear about Setzer's background and his relationship with a woman. In Japanese, this woman's name is ダリル (dariru), which could probably be spelled 20 different ways in English.
The Super NES translation spells her name "Daryl", the GBA translation goes with "Darill", and the fan and Google translations use "Darryl".
I'm surprised to see the GBA translation use a different spelling than the Super NES translation – after all, we just saw how the GBA translation kept the mistranslated "Crescent Island" name as-is. On a hunch, I decided to look through the official Japanese guides, and yep, it seems they spell it "Darill" too: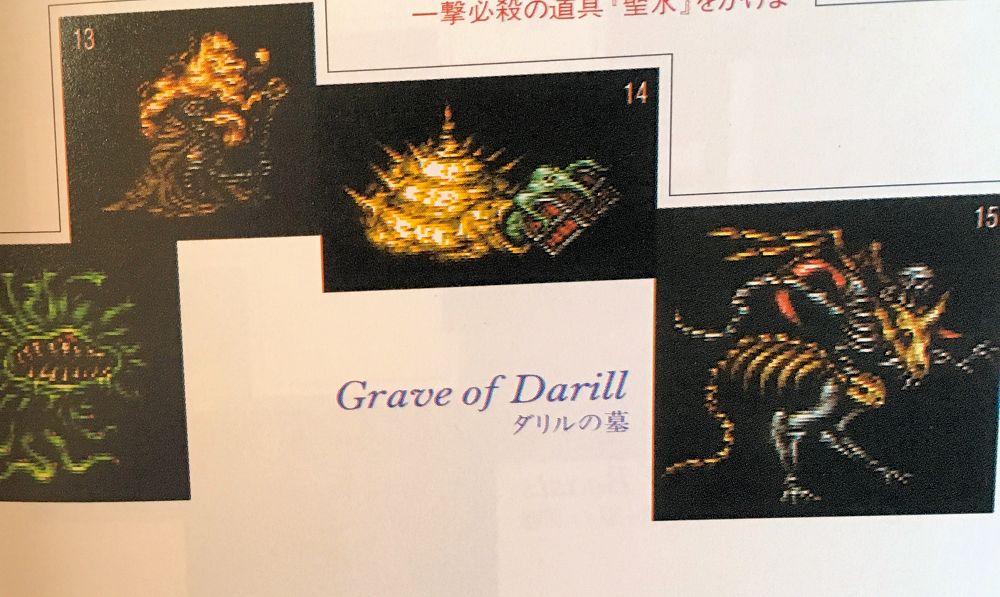 The "Daryl" spelling in the Super NES version wasn't incredibly wrong or anything, and it's a legit English name, so I'm not sure why it got changed when other names didn't. It makes me wonder if she's referenced in any other Final Fantasy games and how her name might be spelled in them.