This is part of my ongoing series in which I compare four translations of Final Fantasy VI with the original Japanese script. For project details and my translation notes from Day 1, see here.
We've looked at four different translations of Final Fantasy VI in great detail and compared each one with the original Japanese script. Each version has its own pros and cons in terms of gameplay, presentation, content differences, and so on. But in terms of translation only:
I feel that the Game Boy Advance translation of Final Fantasy VI is unquestionably the best translation out of all of them, by far.
For all the full details behind this conclusion, check out all my previousFinal Fantasy VI comparison notes and the live comparison videos here.
If you haven't followed along on this big comparison journey, here's an overview of each translation we looked at.
---
This was the first English translation of Final Fantasy VI. It was released in 1994, when serious game localization was still in its early stages. I loved the game as a youngster, and I'm sure its translation helped push me toward becoming a professional translator years later. So it's got an important place in my heart.
Going into this project, I knew the Super NES translation had some flaws and mistranslations, but I was fond of the game, fully enjoyed it without issue at the time, and had many good memories of it. So I always assumed these translation issues were minor in the grand scope of things. I was wrong.
It turns out the Super NES translation has many deeper problems than I think most fans realize. It has major mistranslations and issues right from the start and doesn't let up until the game is over. Here are a few quick examples:
These kinds of problems are unrelenting from start to end. And this isn't even counting the more obvious things like typos, censored content, out-of-place phrases, and so on.
Until I did this project, I always assumed the issues with the Super NES translation were limited to a handful of names, the "frightful dragon" line, Setzer's quote about business, and stuff like that. So I was surprised to see how many deeper issues there really are.
Again, I loved the Super NES version of the game when it was released, and I didn't even notice these issues at the time. Looking back, I think it's because the game itself shines so brightly that it makes the translation flaws seem less obvious and less significant.
Note that none of this is meant to disparage Ted Woolsey, the Super NES translator. In fact, I've always considered him a pioneer in the game translation field, a legend, and a personal inspiration. Not only did he help bring game localization quality to a new level, he also worked under tremendously tough conditions and deadlines. Even the best translators out there would (and do) make mistakes when rushed or given inadequate resources. So despite its countless flaws, the Super NES translation still manages to be impressive.
---
Final Fantasy VI got a fresh re-translation when it was released on the Game Boy Advance in 2007. Game localization had improved greatly by this point, but I recall there were a lot of "Why does it even need to be retranslated? The original translation was just fine" comments back then. I felt the same way myself, plus I didn't like the new tiny font on the already tiny GBA screen, the weird new colors, or the weird new audio. Between these issues and my love for the original translation, I never gave this new version of Final Fantasy VI a serious chance. I think I played it for an hour in 2007 and then never again.
It felt like many fans were still attached to the original translation, and I'd heard on various sites that while the GBA translation did fix old translation issues, it was also a lot wordier, had less spirit, and that it added in memes. I saw this repeated enough that I never paid much attention to the new translation until now. So I was pleasantly surprised to see how much better the GBA translation actually is!
The Game Boy Advance translation does indeed re-translate almost everything from scratch. The new translation is wonderfully accurate, almost every line retains the same tone as the original Japanese text, and character nuances are recognized and conveyed properly. Almost every story detail and piece of world-building that was broken in the Super NES translation is now correct and firmly in place. If this were a translation class, I'd probably give the GBA translation a solid A. The Super NES translation would get a D.
The GBA translation isn't flawless, though. It has a couple minor translation mistakes, and it's true that it adds references and memes into the script. They're handled with more tact than the references inserted into the Super NES translation, however. In fact, I'd wager most of the GBA translation's references go unnoticed unless they're pointed out and explained.
During this project, I also learned that the Game Boy Advance translation isn't exactly a full re-translation. It does borrow some translation choices from the Super NES translation, and it also tries to incorporate some of the Super NES translation's more iconic lines.
I can see both sides to this homage approach: the purpose of the translation is to be fun, and including these throwbacks helps keep things fun, particularly for old fans who might get a smile out of seeing an old famous line. At the same time, I can also see the mindset of "if you're going to do a full re-translation, then you should stay true to that and not look back". I think it boils down to how different people view the game.
---
As part of this big comparison project, I also looked at the prominent RPGOne fan translation of Final Fantasy VI, often known as the "SkyRender" translation. It was first released in 2004, but we looked at the latest updated version from 2005.
I hadn't played this fan translation before, and I only knew little snippets about it from random forum posts I'd seen over the previous 13 years. I basically saw it described every time as being too dry, stiff, or literal. The few complaints I saw usually referred to the Experience Egg password and one or two other very small, specific things.
It's true that the writing in the fan translation is kind of stilted, but I was surprised to see how many severe translation problems it contains. It's clear that this was a labor of love and that the project members were driven by their passion for the game. But the task was just too much for the translator's skill at the time. The best comparison I can make is if an eager student who just started studying algebra tried to take a college calculus test. Their intentions are good, even laudable, but they still need many more years of experience.
Anyway, after examining the fan translation side-by-side with the other versions, we learned that a large portion of the text was taken from the Super NES translation and simply rephrased, much like what happened with the unrelated Final Fantasy IV fan translation a few years before. This means the SkyRender Final Fantasy VI fan translation has many of the mistakes found in the Super NES translation, on top of its own countless translation mistakes.
I should also mention that in terms of reprogramming and such, this fan translation is impressive. It even includes optional fixes for bugs and glitches found in the original game. Still, if this were a translation class, the fan translation would get a failing grade. And it might also lead to expulsion for plagiarism.
---
As I mentioned before, we actually looked at the latest version of the fan translation for this project. But afterward, I started to wonder what the initial release was like. I only took a quick peek, but here are some screenshots:
I bring this up not to crap all over the fan translation, but because I wished we had examined this initial release instead. I didn't realize it at the start, but spotting translation mistakes and then explaining why they're mistakes was arguably more interesting and educational than simply looking at the official translations.
So while the latest fan translation offered a lot insight into the Japanese language and all the translation hurdles that come with it, I think the initial release would've provided much more to look at.
We also looked at a machine translated version of Final Fantasy VI. For reference, I ran most of the game's text through Google Translate in June 2017.
After my hilarious Google Translated version of Final Fantasy IV from a few years before, I don't think anyone had high hopes for this Final Fantasy VI Google translation. I included it on a lark at first, mostly because it was easy to add. But just like with the fan translation, it turned out to be much more educational than I ever expected. It even regularly helped me make my point when I would explain how the other translations worked.
Google's crazy translation choices were indeed funny, but being able to point out why those crazy choices happened was a highlight of the project for me. Of course, sometimes the choices were so bizarre that I had no explanation for them. But then there were moments when the Google translation were genuinely good. And there were even rare times when the Google translation handled things better than all the other versions.
All in all, the Google translation was entertaining and enlightening. But the overall translation was so poor that I would never recommend anyone play a game using a machine translation of this quality. If this were a translation class, rather than give the translation a grade, I'd probably have a meeting with the student and suggest a different career path.
We looked at four different translations of Final Fantasy VI during this project, but there are actually more than that. Here are some others that might be fun to look at someday.
---
Final Fantasy VI received a PlayStation port in 1999. The English translation appears to be nearly identical to the Super NES translation, but I do know of two small changes at least:
| | |
| --- | --- |
| | |
| "Vicks" in the Super NES translation | Changed to "Biggs" in the PlayStation translation |
| | |
| --- | --- |
| | |
| "Fenix Down" in the Super NES translation | Changed to "PhoenixDown" and "Phoenix Down" in the PlayStation translation |
This makes me wonder what else might've been updated for the PlayStation translation. Unfortunately, I don't think anyone's done a detailed comparison. I was planning to do one myself, but I'm not familiar enough with PlayStation programming to extract the game's text at the moment. It'd be a fun topic for a future article, though.
---
A mobile port of Final Fantasy VI was released in 2014, and a PC version of the mobile port was released in 2015. I haven't been eager to play either of these versions, but I've heard that they use the Game Boy Advance translation's text, which is a good sign.
Even so, the mobile port left a poor first impression when it couldn't even get the word "esper" right during the game's introduction: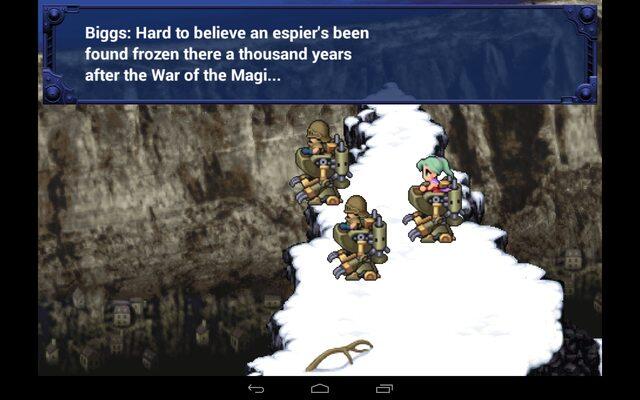 This obvious mistake also left fans wondering how it could've even happened in the first place. My theory is that someone had to manually re-type every line from the GBA translation into this new version, but that's just a guess based on what happened with Final Fantasy IV and its modern ports. In fact, just like with Final Fantasy IV, it's very possible that the GBA, mobile, and PC translations all have slight differences that have yet to be documented.
---
We looked at the most prominent fan translation of Final Fantasy VI during this project, but there are more out there. I haven't paid much attention to the fan re-translation scene, but here are some others that I've been told about:
I'm sure these aren't the only fan re-translation projects out there, so let me know if I've missed any.
I originally intended for this project to be a simple, quick, stream-focused comparison of Final Fantasy VI translations. But even though it wound up turning into a monster of a task, it's taught me so many things, pushed me to develop and release helpful tools, and helped me discover a new focus for this site.
As we've seen, there's still a lot more we could look at, analyze, and compare. There's still about 350 lines of text we could still look at too: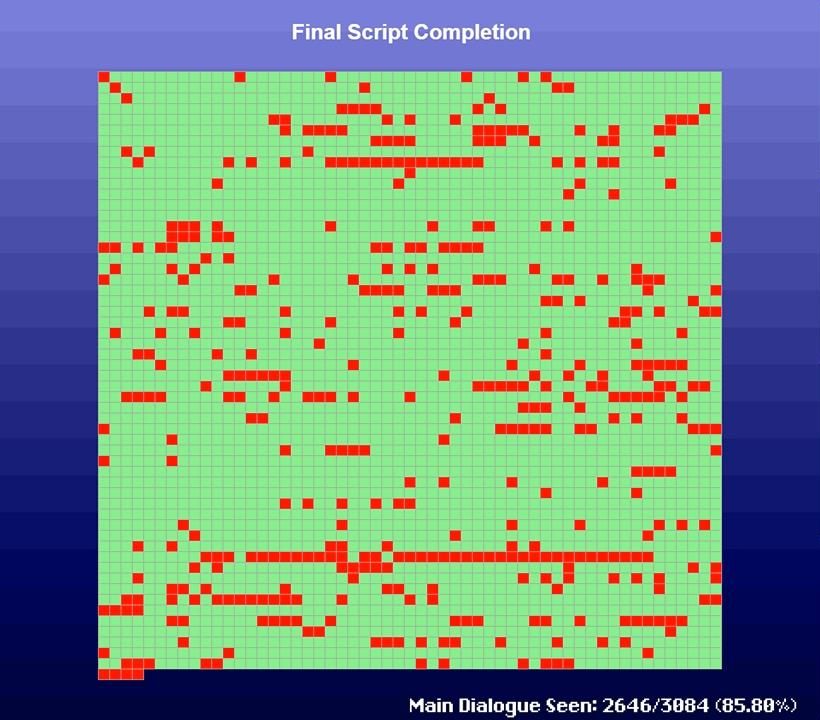 But for now, I think it'd be nice to bring this project to a close. Who knows, maybe we'll take a look at all this other stuff in future articles or a book or something. Although I imagine a book would focus less on side-by-side comparisons and be more like my EarthBound book. At the very least, I don't think I'd cover the fan translations or machine translations in a book.
Anyway, all that aside, I had a lot of fun with this Final Fantasy VI comparison project, and I learned so many new things. I hope you enjoyed it too. I'd actually like to make this kind of live, interactive, multi-comparison project a main focus for my site, so hopefully this is just the start of things to come!